Home » Adventures » Moab
Moab, Utah
The Plan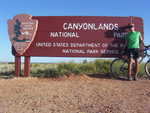 After a full day of work on Thursday April 19th, I will hop in my car and drive west for a long time along I-80. That night will be spent sleeping in my car parked at a rest area somewhere in the middle of Nebraska after I become too tired to drive. The next morning I will continue motoring west until I hit Grand Junction, Colorado where I will pick up my race information for the Desert R.A.T.S. Spring Desert Ultra Trail Running Festival and enjoy its pasta dinner. The next morning I will run my first long distance trail race (twenty-five miles, which is the short race that day) and stick around for awards that evening. Late that night I will drive into Moab, Utah so I can meet an outfitter early Sunday morning for a whitewater expedition along the Colorado River. The almost-marathon recovery rafting adventure will lead into four days of backpacking through Canyonlands National Park, concluding with an extraordinary day of mountain biking. After eight days of pure outdoor adventure my car will head eastward so I can arrive home by Sunday night to start a new work week that Monday.
I will try to keep Mormon jokes to a minimum, although I make no promises.
Preparation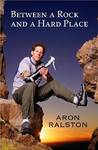 To undertake such a great odyssey, naturally a lot of preparation — logistically, mentally, and physically — would be required. I ran too much anyway and although a bunch of crap filled my car, I would still forget a bunch of supplies, so that left only mental. Naturally, I read Between a Rock and a Hard Place by Aron Ralston to get in the right frame of mind. For those not in the know, Aron is the guy whose arm was crushed beneath a boulder, and he had to amputate it himself to survive. This extraordinary event occurred in Canyonlands National Park (although in a completely different area than I would be visiting). Somehow I always forgot to mention this event whenever I talked with my parents about the trip. The book was a good read though, and got me psyched to explore that unique landscape.
Schedule
The following calender shows the daily planned itinerary for my trip. Not everything necessarily happened on its assigned day though.
Sunday
Monday
Tuesday
Wednesday
Thursday
Friday
Saturday
Work

---

Drive from home to the middle of Nebraska

Drive from Nebraska to Grand Junction, CO

---

7:00 p.m. - Pasta dinner

6:30 a.m. - Desert R.A.T.S. Start

---

8:30 p.m. - Awards

---

Drive to Moab, UT
7:00 a.m. - White Water Rafting

---

Drive to Needles district of Canyonlands

Backpack to Devils Point 1 campsite

Backpack to Lost Canyon 1 campsite

Backpack to Salt Creek 4 campsite

Pack out of the backcountry

---

Drive to Island in the Sky district of Canyonlands

WRIAD

Drive back to Nebraska, do something fun in Denver
GPS
Although I did not record many of my travels using GPS, I cobbled together GPS tracks for most routes. The requisite data files and neat pictures are posted on the GPS page.