Home » Adventures » Moab » Day 7
Thursday April 26 — The Mars Rover
After spending my last night in the backcountry, I started the trek back to my car that morning. It was only a couple miles though, so I would have time afterwards to explore more trails in the Needles district of Canyonlands. Since I covered most of the trails in the Peekaboo area the prior day, the Chester Loop via the Elephant Hill trailhead would be my playground. This excursion would also hit much of the scenery and landscape missed from a cancelled backcountry day due to rescheduled whitewater rafting.
To survey the trail of elephants, I backtracked the length of Salt Creek Road once again soaking my feet. My car was at the Cave Spring Trail parking lot, so I explored that short trail as well. It showcased the remnants of an old cowboy camp, which picked the spot due to its natural shelter and a spring in the rocks. Despite the small oasis, Dusty and Lefty must have had an extremely difficult life raising cattle in the arid desert.
Elephants on Parade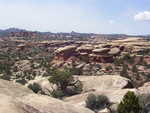 Alien Landscape
The last several miles on the gravel road leading to Elephant Hill trailhead were more difficult than the farm roads encountered in Iowa, and they challenged my little Cavalier. My car held on though and proudly pulled into the parking lot. This lot was however, just the spot where the actual off-road trail began. My car would rest here instead, as foot would be my method of travel.
Leaving motorized transportation behind, I hiked towards Chester Loop, gazing upon the sights missed from dropping my first day backpacking. This area was amazing — red rocks pillars grew from the desert floor in unearthly formations, rocks bubbled up from the ground into mushroom shaped formations, and deep vertical gouges scared massive sold rock mounds. The exotic landscapes made it feel like an alien planet. These were sights to behold.
After uncovering more unusual rock formations, I encountered the Joint Trail. This special section was a major reason I chose this route. The Joint Trail squeezed through narrow crevasses in the rock — in some spots narrowing to less than shoulder width. I turned sideways and pressed my belly and back against the walls to barely fit through the slender gap. With this trail's popularity, I never feared becoming stuck and just enjoyed the magnificent spot. Few other places allow adults such unrestricted access to their playgrounds. Forcing myself through the narrow cracks was a nostalgic reminder of crawling through small plastic tubes in a fast food restaurant. I never have (or want to) grow up.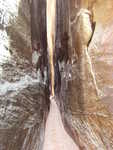 The very narrow Joint Trail
In a section connecting two of the narrow slots, a room was filled with cairns gone mad. In a small enclosed area visitors built a plethora of the rock piles. As far as I could tell, they served no specific purpose, and the phenomenon was just a case of monkey see, monkey do.
I became a little disoriented after emerging from the birth canal. The sign gave directions, but my naive mind failed to realize that "straight to lookout point" really meant to the left, and "left to Elephant Canyon" was directly behind me. Unaware of these minor corrections though, I stumbled around all the nearby trails trying to find the right one. I remained calm despite my navigation difficulty, but became frustrated from being stranded and delayed. Other hikers eventually came to my assistance and pointed me in the right direction. What ultimately was my trail, I originally believed led to the Chester Point campsites' loop. An incorrect marker plus my own horrible sense of direction played out as expected.
I now went in the right direction but was still deep in the desert. The path out through Elephant Canyon was uneven and difficult on my joints. I was no billy goat crossing the uneven trail and made lethargic progress. The tortoise's strategy prevailed though, and I finally arrived back at my car exhausted.
Last Meal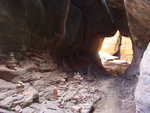 Cairns Gone Wild
After enjoying this mystical area, I parted ways with the Needles district and headed towards Moab where I gorged myself at an all-you-can-eat pizza buffet, justifying this gluttonous behavior as fueling for my WRIAD attempt the next day. I had no will to limit my caloric intake as the wide variety of delicious, exotic pizzas provided a welcome change from the bland food consumed backpacking.
I left Moab with my belt loosened a notch, destined for the Island in the Sky district of Canyonlands. My WRIAD attempt would start from the loop's northwest corner so I drove along Mineral Bottom Road through the darkness to reach my departure point. I flew through the pitch black desert on a deserted dirt road with only my headlights penetrating the darkness. Having only scouted this route on a map and with few signs indicating the correct turn from the paved road, I hoped I was heading to the right spot. Negotiations were also established with my car for it not to break, as a very long walk and expensive tow would be required to fix it out there. The Cavalier never malfunctioned or became stuck though, and reliably brought me to the parking lot at the end of Mineral Bottom Road. I settled in for the night just before the big drop, ready for my longest ever bike ride the next morning.
Deep Thoughts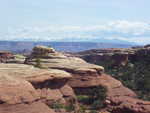 Considering my trip up to this point, I realized that I never truly escaped much. Due to scheduling and outside constraints, I sat in my car at least once a day and even encountered a fair share of people on the trails. My limited escape was relative though, as Canyonlands' massive, infrequently visited open range provided plenty of solitude. It would be hard to say I had much company running around Needles. Being forced from hermit behavior was not bad though, and I met a lot nice people and enjoyed the bonds. This way I also avoided digging cat holes or pumping water by hand.