Home » Adventures » Moab » Day 5
Tuesday April 24 — A Camping We Will Go
I arrived at the Canyonlands National Park Needles district ranger station when it opened to claim my backcountry permit and receive final instructions from the park staff. My route would start from the Squaw Flat Campground and last for two nights at my reserved campsites in Lost Canyon and Horse Creek. As I took my first steps into the desert, my pack felt much heavier than the last time I used it. My legs had still not fully recovered from my race or biking though, so the fatigue came as no surprise. My campsite was only a couple miles away so at least this struggle through the wilderness would not last long.
I crossed mostly easy terrain, hiking along smooth dirt paths. Some sections became more exotic though as the trail maneuvered over bare, exposed rock. These segments were across expansive rock faces with no vegetation or other obstructions. They also contained several large steps up rock edges, and I had to be careful to keep my balance scrambling over them. Nothing was technically difficult though, requiring only patience to ensure correct footing on the smooth surface. Experiencing the new terrain was actually pretty fun. At one point the NPS had even installed a ladder so patrons could safely climb down a large rock ledge.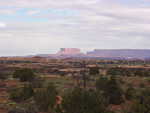 The narrow dirt path clearly marked by gaps in vegetation ended at the large bare rock areas, after which the undisturbed ground lacked any naturally worn markers that indicated the path ahead. To overcome this navigation hiccup, small piles of rocks, called cairns, were strategically constructed so hikers could find their way. The simple system worked well, as the next cairn in the chain was always visible, and travelers would know where to go.
I arrived at camp (Lost Canyon 1) before noon and prepared the site for my night's stay. The rain from the prior night had found this missing canyon, and water flowed through the normally dry river adjacent to my tent.
Seeking Wisdom From a Druid
I was situated at camp before lunch time, so I used the vacant afternoon to explore the area. Since I always need a planned goal and cannot wander wherever the wind takes me, I embarked towards the only major site within a "reasonable" distance — Druid Arch. A major hike would still be required to reach that site though. My long haul began in Lost Canyon, but its uneven trail surface required a lot of energy and care which slowed my movement. The trail snaked back and forth across the river several times as it wound through the canyon. A major climb was required at its conclusion to vacate the chasm. Although not incredibly tall, it was extremely steep, with parts even resembling a spiral staircase ascending to the heaves. A couple abrupt edges were thrown in along the bare rock to make sure everyone paid attention. Thankfully I left my backpack at camp, whose higher center of gravity would have only added extra instability through this precarious stretch.
Blooming Cacti
Arriving at the intersection with Squaw Canyon Trail, I determined that due to my lethargic pace continuing all the way to Druid Arch and back would put me dangerously close to encountering darkness. Despite being unprepared for night hiking, I continued on. The uneven bare rock was very painful on my feet and my legs burned as well. In addition to my aching muscles, my food and water supply was woefully short to complete my intended hike.
With these obstacles obstruction my mission and a weakening desire to see more rocks, I uncharacteristically relented to the reality before me and ended my hike upon reaching Big Spring Canyon Trail. It was not really over though, as I still had to turn around and hike all the way back to camp. Nothing interesting occurred during my march along the same route in reverse. The sun still hung in the sky when my weary legs returned me to my tent, but the creek that had been free flowing that morning was already almost completely dry. Water does not last very long in the desert.
Another long day left me drained, and I relaxed the rest of the evening in the desert before falling asleep in my tent.