Cycling
Although I am an endurance junky, I do not participate in a lot of cycling specific events. Bike touring is a different beast than most other sports. They generally are not races, do not have a defined start time, or an explicit finish line. Well they can be enjoyable, currently I am too driven by the clock to embrace their relaxed atmosphere. Nonetheless, I still have done a few cycling specific events, mostly of it in support of triathlon training. I might try to pick up some local time trial races as well.
RAGBRAI
RAGBRAI, a week-long ride consisting of almost 10,000 people cycling from one end of Iowa to the other. It is quite an event and for many people mostly an excuse to drink beer. I have not done the whole week, and just picked up a day here and there. Nothing too spectacular to recount from those days though.
TOMRV
TOMRV— a two-day ride from the Quad Cities to Dubuque, IA and back totaling about 200 miles. Great scenery, some major hills to fight located specifically at cruel spots during the ride, cheap, and a TON of food and support. A famous dinner the evening between rides itself makes the event worth while.
2007 and 2011 veteran
WRIAD
In Canyonlands National Park outside Moab, Utah, there is an infamous 100 mile trail known as the White Rim Road. Read about my adventure completing the entire thing in one day (WRIAD).
Trans Iowa
An underground, self-supported 300+ mile gravel road race around Iowa, featuring the occasional B-roads not fit for bicycles. Read about my attempt.
Horrible Hilly Hundreds
2009
Many times it seems that races oversell themselves. They will assert being the hardest, longest, most grueling event you could ever attempt. But when it comes to the big day, it is challenging, but not nearly as impossible as advertised. The Horrible Hilly Hundreds, self described as "include probably the toughest string of hills in the Midwest," exceeds its warnings though. Over 10,000 feet of climbing over 200km, the course is never flat, constantly either ascending or descending. Although I am not the strongest biker in the world, this was truly one tough ride. I have never used many granny gear so much, and unashamedly at that.
I do not actually remember many specific features about the course and would not bore you with those details anyway. It becomes hard to differentiate individual features and keep track among the endless climbs and turns, especially as the miles climbed into triple digits and my glycogen levels hit near bottom. One of the first warm days of the summer did not help either. The general sense of the course though was that there was always a road climbing in front of you. Most of them traversed wooded, windy roads so their summit was not visible from the bottom. A new, unexpected vertical challenge appeared behind every curve, making it seem like you would never reach the apex. Occasionally you did reach the top though, which was followed by a quick downhill. Those were just short respites though until it was the next time to fight gravity. And of course, the finish line was at the end of one of the longest and toughest climbs of the day.
With the merciless terrain, I managed to only walk my bike up hill only once. While it was challenging ascent, it was really no worse than the countless other ones the riders conquered that day. This one, however, came on the tail end of the ride when I was already worn down, and for once was on a straight road so I could see the entire test from the bottom. This wall just mentally beat me before I even started, and I pushed my bike up the last part of the hill.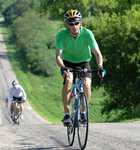 Although the course was absurdly tough, the ride organizers provided great support. Four well stocked aid stations and other water drops throughout the course provided enough fuel to keep the motor running for such a long time. A party at the finish line, which provided great food and fellowship, greeted those that were able to finish this epic event. I could not enjoy the festivities very long however, as I had a little canoe trip in Iowa to get back to for that evening.
2011
I have a short memory, so two years later in my lead up to Ironman Lake Placid I once again found myself in Mt. Horeb for a very long day on the bike. Because of my experience last time, I paced myself and used granny gear whenever even slightly appropriate. While it definitely was not easy, the ride did not seem as bad as last time. Perhaps it was the cooler day (I was not in much better shape), but I endured through the long day. I took it one hill at a time and went my own pace. I even took an extra long break at the last aid station, as the day's miles were starting to catch up to me. Throughout it though, I was able to peddle up every hill and made it to the end exhausted, but not completely dead. While not breaking any records, it was a solid training ride that gave me a slight confidence booster.