Home » Adventures » Florida Trail
Florida Trail —NOBO 2016
January – February 2016
For once during winter on my travels I stayed in the Northern Hemisphere, although in its southern reaches, hiking 1,100 miles through the Sunshine State on the Florida Trail. My time walking across Florida from the Everglades in the south up to Pensacola in the Panhandle ranged from walking though water for days on end, to walking on pavement for days on end, and occasionally even walking on dry trails. My two months on my feet had many ups and down as I traversed the state.
Pictures
Pictures from my hike on the FT
My Experiences
The Florida Trail was my fifth long thru hike (after the CDT, PCT, HRP, and the INT, plus a crap ton of other backpacking) but still had some unique highlights, challenges, and less desirable stretches. I kept a dead tree journal throughout my hike, but will not post a day by day account. Instead I offer a recap of my experiences on the FT, for whatever they may be worth.
First off, I tried to take the FT for what it was and not impose my own expectations or preferences on it. After all, any cursory look at a map will reveal a distinct lack of mountains in Florida, and the state is very developed (even outside Disney World) so a long, remote wilderness experience would not be likely. Those are two things I like, but the FT had its own unique and unchangeable personality, which I would have to accept. Attitude makes all the difference on (or off) the trail.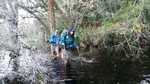 Walking through deep water
The FT is known for being a wet trail underfoot (after all, Florida is mostly a swamp barely above sea level), and it more than lived up to that reputation. I hiked in an El Niño year as well, so perception was even higher than normal. On multiple occasions I walked through shin deep water for hours on end, with no dry land to be had. When the ground was not completely submerged, mud and large, unavoidable puddles often covered the path. Sometimes boardwalks had been built to cross a normally wet section, but the water was so high each end of the planking finished in water instead of dry ground. Two chest deep river fords also were part of my Florida traverse. I additionally endured several powerful storms and damp days with unending rain.
The trail had many wet portions but only two true swamps — Big Cypress and Bradwell Bay. These were very interesting, beautiful, and unique for me. I had never hiked through such environments for so long. Wading through shin deep water for a whole day and climbing over roots was definitely a challenging and rewarding experience, although one I do not want to have too often.
Bradwell Bay Swamp
The swamps were highlights, but the rest of the FT seemed to offer little diversity. When not on roads, the trail mostly progressed through similar looking forests, with no great rewards in them. Oddly though, these forests offered a taste of fall. Their trees were bare and old leaves lay on the ground, like autumn in the Midwest. These appearances were a normal Florida winter though, as snow never covers the ground. Several other nice portions of the FT walked alongside rivers, notably the Suwannee and the disappearing Aucilla River. These stretches were very enjoyable but never seemed to last long enough.
I encountered an abundance of wildlife along the trail, including a few alligators warming themselves in the sun. Many species of birds lined the trail, although I am no ornithologist so I cannot name them. A couple snakes, turtles, and otters also occasionally kept me company. One bear said hello in Ocala National Forest, but it spotted me first and quickly ran away. The most common creature was the mosquito, which were intolerably thick after sunset in the beginning of my hike. I had to hide in my tent after dark or else become a copious blood donor. At least their numbers declined precipitously as the trail got a bit further north and less tropical.
Besides animals, I also met many of other hikers. Although relatively few people thru hike the FT, most start at the same time so I bumped into many other hikers. I even hiked with the same people for extended stretches, which is the most time I have shared on a long trail with others.
Trail Surfaces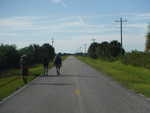 One of the many road walks
The FT is still very much a work in progress. Although the FTA has expended enormous effort into building trail and obtaining land, a thru hike still has a lot of road walks where that right of way does not exist yet. A couple pavement sections stretched on for two days, occasionally along very busy roads. Not the most fun place to walk. Other times the route went along levees or bike paths. While these were not technically roads, many were paved and the long, straight sections became monotonous. Between the wet year and abundant cement, it seemed that I was either walking through water or on pavement for most of the trail. Oftentimes even when I was on dirt a highway was not that far away, and the noisy drone of cars drifted into my tent.
I stubbornly did all the road walks so my footsteps connected, but embracing your thumb to skip some of the lengthy, boring road walks would be something to highly consider — thru hiking purists be damned! I also generally do not listen to music while hiking, but with all the pavement I was very thankful for headphones. I may have gone crazy without them. The flat terrain fortunately allows for good FM reception, since I had not downloaded the audio book for War and Peace beforehand.
Logistics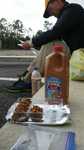 The road walks and general development of Florida at least made resupply very easy, even if much of my food was from gas stations or convenience stores. I am not a picky eater so this arrangement sufficed, although the selection was limited and not very healthy. Upon reaching a real grocery store or restaurant I was very thankful for freshly cooked food and fruits and vegetables. Better sustenance could have been found, but I avoided any hitchhiking to reach nearby towns. I also only sent two mail drops the entire hike, to River Ranch and the 88 Store.
With all the ground water, finding something to drink was almost never an issue. The most water I carried was two liters. It was, however, often very brackish. It tasted fine and was not bad for you (after treatment) but could be disgusting to look at.
For planning, logistics and practicalities, I used the FTA maps and the most excellent guidebook by Sandra and John. The latter had all required information for the trail and towns in an easy to use, digestible form. The FTA maps were too large of scale for precise route finding, and the generally flat nature of Florida made navigating by terrain difficult anyway. I never engaged in micro navigation on the FT though, as the route had been thoroughly blazed with orange markings, occurring at least every couple minutes (except on some road walks). Sometimes the trail felt over blazed, with a long line of bright orange stripes marring the view, when only one obvious trail without any turnoffs or branches lay ahead. Still, in places the maps were necessary to know where to go, as well as get an overview of my location and what lay ahead. I guess the app could suffice instead, if you trust your phone and have a strategy to keep it charged. A Data Book was included with my maps, although with the guidebook I found it superfluous and gave it up halfway through.
Conclusion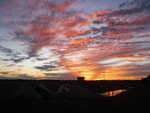 Overall, I would say that if you have a couple months free in winter and want to do a thru hike in the United States, the FT could be a good (and about only) choice. If you have freedom to choose when you have months on trail though, you would probably be better served waiting till the summer and undertaking a different trail. And if the North American winter is the only time you have available, I might still consider a trip to the Southern Hemisphere before the FT.
While it was not the best hike I have ever done, I do not regret hiking the FT either. It was a very different experience with its own challenges, joys, rewards, and lack there of. And anyway, I cannot complain too much when I can walk outside everyday in winter without wearing ten layers of coats.