Home » Adventures » Hayduke Trail
Hayduke Trail
March – May 2016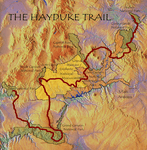 Hayduke Map
Immediately after hiking the Florida Trail, I road tripped across the U.S. to southeast Utah, where I hiked the 900ish mile Hayduke Trail traversing the high Colorado Plateau from Arches to Zion National Park. This hike was a slightly different experience than the FT.
The Hayduke trail was amazing in almost every respect. The scenery of the desert southwest is sublime with mesas, arches, canyons, cacti, and beautiful geologic features everywhere. Being immersed in that everyday and seeing so much of the area in detail was amazing. The remoteness, rawness, and lack of any trail infrastructure made you (mostly) self reliant in this wilderness. The route was difficult, but that added to its character and kept the crowds away anyway. Although hard and demanding, the Hayduke is one of my favorite trails.
Pictures
Browse all the pretty photos from my trip hiking through Utah.
One of the women I hiked with (Drop 'n Roll) kept a blog, which has nicer photos than mine and a trail journal — which she actually kept up to date, rather than maybe posting it years later as I do.
Summary
I thought the Hayduke's reputation for difficulty was a bit overstated. True, it is nothing like the Big 3 Trails (even the CDT), but for the most part you are still just walking. It is sometimes very difficult walking over rough, uneven, very steep, off trail terrain though. A decent amount of scrambling and rock hopping is spread throughout the course of the Hayduke, but only a couple times did it feel dicey or overly exposed. Not to mention slot canyons. Although some might find it scary, most of the time the natural outdoor playground was a lot of fun. Not a single directional sign lines the Hayduke either, but with detailed maps and GPS for backup, navigation was not too challenging. The striking land formations throughout the area usually stood out on the topo maps.
I put about two days of planning into my Hayduke hike, despite Andrew Skurka's admonishment not to "wing" this trail. With my extensive hiking resume, this lack of preparation mostly worked out in the end. For logistical information I had the "official" guidebook, Andrew Skurka's maps and handbook, some random notes and blogs from around the web, and a GPS track of the route. I almost exclusively used the maps to figure out where to go, only occasionally referencing the notes for a particularly tricky section. Skurka's maps are sufficient to hike the Hayduke, but if you can track down Li Brandford's, those are a lot better. I would check my GPS on average a couple times a day to verify my position or see where to go. I probably would have used my GPS more if I had a way to recharge it while on trail.
One day I might put up my trail journal and more details, but enough people are hiking the Hayduke (perhaps 15 my year) that enough information exists to piece it together without much assistance from me.
Alternates
The Hayduke is a choose your own adventure trail, with limitless alternates possible. I took many detours, all of which I liked and would recommend (without actually knowing what the official route was like). All my alternates were blazed by other people, so detailed information should be able to be found for them elsewhere. An incomplete list of my additions is:
Devil's Garden
Mountain bike trails to Jackson Hole to skip Hurrah Pass
Salt Creek through Canyonlands
Halls Creek/Stevens Canyon in Capital Reef
Yellow Rock
Bryce Extension
Buckskin Gulch/Paria River
South Rim of Grand Canyon
Colorado City
Zion Extension