Home » Adventures » Hiking Europe » Pyrenees High Route
Pyrenees High Route (Haute Randonnée Pyrénéenne)
July – August 2015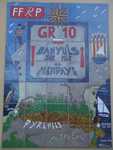 After having spent a summer being a tourist around Europe, I returned to the Continent this time to see more of its natural, rather the cultural, wonders. I started by hiking from the Atlantic Ocean to the Mediterranean Sea along the France-Spain border, conquering the Pyrenees High Route (Haute Randonnée Pyrénéenne).
Despite some very hot days in the beginning, quite a bit of thick fog — which was often accompanied by rain or lightning storms — and a minor slip and fall that dislocated my finger requiring a trip to a Spanish emergency room, I made it across the Iberian Peninsula to the beach on the other side. Probably my most demanding hike since the CDT.
Pictures
Browse photos from my time walking the frontier, since I have not posted a full trip report yet.