Home » Adventures » Moab » Day 2
Saturday April 21 — Race Day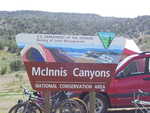 Desert R.A.T.S. location
I woke early in the morning ready to run my first long distance trail race —The Spring R.A.T.S. Desert Ultra Trail Festival. My full race report details this horrendous ordeal.
Welcome to Utah
After barely surviving my own race and watching several finishers from the fifty mile version, my trek continued towards the outdoor adult playground known as Moab. My first activity was supposed to be whitewater rafting, but when calling to confirm my reservation for the next morning I learned no one else had signed up. As a result my date with the rapids got bumped back a day. Scrambling to adjust my carefully laid plans, I would fill the void left by the rescheduled rafting with mountain biking in the Moab area. This course of action would scrub a day originally planned for packing in the backcountry, but I did not have much choice. I left my WRIAD attempt until the end of the week, since that would be punishing enough even with days of rest, much less immediately after a race.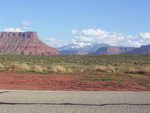 Some of the beautiful scenery on the approach to Moab
In my approach to Moab, I ducked off the interstate early and took Highway 128 into town. This road paralleled the Colorado River and was an absolute gem. I do not usually enjoy scenic drives, but the distant mountain peaks juxtaposed with canyon walls climbing straight up for a thousand feet was breathtaking. Bands of beautiful colors permeated these impressive rock formations. As it snaked through the canyon, the powerful river accented the scenery for almost the entire trip. Detracting slightly from this display was the perilous lack of guardrails in several locations. A foot too far to the right would have plunged a car into the river.
After the spectacular drive fueled my appetite for the adventures ahead, I grabbed dinner and perused Moab's gaudy strip. Amid the touristy paraphernalia, I purchased another map in order to locate a good trail for my additional day of mountain biking.