Home » Adventures » Moab » Day 9 10
Saturday April 28 — Rocky Mountain High
With only the slightest bit of rest the night after my WRIAD ride, I finally had time in the morning to recuperate and clean the minor wounds earned during that trip. These medical treatments should have been administered the prior evening when I arrived at my car (or better yet, on the trail with a portable first aid kit…oh wait, I still need to buy one of those). I was no hypochondriac though, so this delayed care would have to suffice.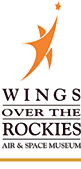 After possibly warding off infection, I continued eastwards back over the Rocky Mountains. For almost the entire drive to Denver, numerous volunteers cleaned litter from the side of the interstate. Countless people sacrificed their Saturday morning to keep their small corner of the world clean. One of the groups may have been a chain gang though, so they were not under their own free will. Despite this one possible exception, so many people taking pride in their community's appearance while simultaneously helping the environment was an inspiring sight. All the more since they were removing trash others had selfishly discarded on the side of the road.
I took a short hiatus in Denver to finally use the Olive Garden gift certificate won for best costume in a 5K dressed as Scooby-Doo…or was it for finishing third overall in that race?
With some calories and glycogen replenished, I visited the Wings Over the Rockies museum. It contained many interesting displays covering military and civilian aircraft, as well as providing abundant information on general avionics. Among the most notable items in their impressive collection were a Blackbird spy plane and the shell for a hydrogen bomb. Their communication display even included an old radio produced by my employer.
Having satisfied my masculine duty to be amazed by large things that fly fast, some of which explode, I pointed my car east once again and started clicking off the miles to Iowa. Watching the mountains fade in the rear view mirror with only cornfields in the future was a painful way to end an absolutely great week.
Sunday April 29 — Return to Iowa
I made the final push across Nebraska and most of Iowa to arrive home in the early afternoon. A long, hot shower to remove the dirt and grime fused to my skin was the first order of business after walking through the door. Unfortunately the rejuvenating water did nothing to diminish the large pile of dirty supplies from my trip. Those mounds were a small price to pay for such a great adventure. I leisurely cleaned them up and returned everything to its rightful place over the next couple of weeks.