Home » Adventures » Adirondacks » Lower Saranac Locks
July 30 — Going Through the Locks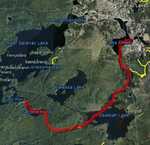 Route I paddled this day
For my last day with my boat I traveled through the Lower Saranac Locks solely because I was a kid at heart, meaning locks were cool. I entered at Saranac Lake Islands Campground's registration station into Second Pond and headed through the Saranac River for an enjoyable paddle. Powerboats shared this small passage, but they were mostly responsible and polite with their wake.
A couple boats were using the locks, so I waited my turn for the approximately six foot drop. A DEC employee was on hand to operate the locks, so I could stay in my boat the entire time. Portaging around the locks would have been faster and slowly sinking inside them was not that exciting (I had not expected it to be), but the kid in me was glad I went through them.
After arriving at the lower elevation I crossed the big waters of Oseetah Lake and Lake Flower, with many homes lining its shore. In some spots I was almost paddling through people's backyard while trying to stay out of the main channel and its fast moving power boats. My canoe trip concluded in Saranac Lake, where I carried my boat a few blocks along the highway to my outfitters. Note to self: crossing a busy road with a canoe is not fun.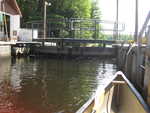 Inside the Lower Saranac Locks
But wait, my car was back at Saranac Lake Islands Campground. Fortunately I brought my running gear along. It was only six road miles back to my car (which turned into seven when a couple minutes after starting I realized I left my keys back at the outfitter). This self shuttle was an easy, but hilly run along the highway. After so many days sitting in a canoe, it was also a good workout to retain some fitness for my other upcoming Ironman.
I finished my run to my car, now without a boat, and transformed into a backpacker. But before I reached the trailhead I needed more of an upper body workout than the last week of paddling provided, so I did a loop of the cable swim in Mirror Lake. Lake Placid had a different feel now that the obsessive triathletes were replaced with more sedentary tourists, and I tried not to stick out. Until I first saw the swim venue, I had not realized the cable swim was setup all season long, and people could swim it anytime. I liked the idea of having an accessible and safe course swim in a lake.
Backpacking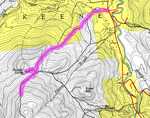 Route I hiked this evening
Afterward my dip I headed to Keene Valley to hike. I started at Roosters Comb, just south of town. I hiked up that, sweating my way into the air. Rooster Comb had a nice view, but was not nearly the tallest peak around — I would be heading to those soon though. I made camp a little further along the trail before enjoying some shuteye.
Parts of the Adirondacks require bear canisters, and this was my first time using one. It was easy enough to use, and not having the extra chore of hanging food was nice. The extra weight and space was annoying while hiking though. It claimed to fit six person-days of food inside, but that seemed like a tall claim for real life meals, especially if you stuffed toiletries inside as well. It also did not shrink as I ate meals and consumed food, remaining as big as every. Using it was part of regulations while in bear country visited by so many people though.