Home » Endurance » Triathlons » Ironman » Louisville 2011
Ironman Louisville 2011
Intro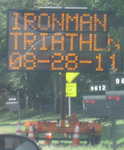 Despite having just done Ironman Lake Placid six weeks prior, I was also signed up for Ironman Louisville. I knew there would not be time between them to gain fitness, but if I fell apart at Placid (which I did), hopefully I could execute a better race in Kentucky (which I did not).
So with my experience in New York still fresh in my mind, I found myself once again preparing my bike for a race, attending another welcome dinner, and dropping off gear bags alongside 2,500 other athletes.
Pre-Race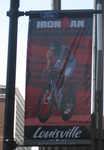 Race morning again started with a 4 a.m. alarm to provide sufficient time for nutrition and to fully wake up. After driving into Louisville, I made sure my bike survived the night, put my race food on it, and checked my special needs bags. I then made the ten minute walk from transition to the swim start. Louisville is unique with its time trial start, and athletes are seeded based on when they show up. I saw no reason to arrive stupidly early to start near the beginning. I would rather be (hopefully) passing people that started ahead of me, rather than having (even more) people pass me. I got to the swim start around six and kept walking along the long line of athletes looking for its end. I eventually found the terminus and waited there, chatting with other competitors and enjoying the time before the hard race. I estimated myself to be in the back half of the line, but not by very much. Eventually we heard the cannon sound signaling the start of the age group race. Everyone became excited, but several minutes elapsed before we finally started moving.
The Swim
The line crawled slowly forward and we found our way onto the docks for a leap into the Ohio River to begin our day. Shortly before I hit the edge though the line stopped due an athlete in the water needing assistance. Tragically and unknown to us at the time, a competitor had suffered a heart attack and later died. I was ignorant of this though, and once the line restarted I got ready to splash. When I finally reached the edge I jumped into the river to start my race. This was my first time in the Ohio River, not having a chance to test the waters during race weekend. Although the temperature measured in the low 80s, it did not feel like bath water, as some people described it. The river was by no means cold, and a wetsuit probably would have caused me to overheat, but I still wished for one's aide at the beginning.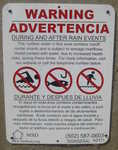 No Swimming sign at the swim exit
The course started upstream in a narrow channel, but on the backside of an island that shielded us from almost all the current. Although narrow, the time trial start spread out the athletes enough where the swim was not much of a boxing match. I was still swam over a couple times and had to go around people, but by far it was the least full contact Ironman swim I have experienced. With the relatively open water I just kept going up river, concentrating on my stoke and technique. Barge Island passed by quickly, and I soon found myself at the turnaround for my trip downstream. This buoy was less than halfway. I did not feel any beneficial current swimming downriver and just kept at it. We passed under a couple bridges, but I could not remember how far those were before the swim finish. Despite my ignorance, my swimming led me to the last turn and towards shore. I hit the stairs and the awesome volunteers pulled me up onto land. I finished in 1:10, slightly faster than my Lake Placid time, and I was once again very content with it.
T1
I jogged though transition, found my bag, and headed for the changing tents. For the first time, I elected to fully change clothes in an Ironman, rather than using the same one piece suit the whole race. I figured the extra minutes it would cost me would more than make up for the extra comfort. Besides, given how hot and sunny Louisville could be, the extra clothing could help block the sun as well.
Bike
All too soon I was on two wheels and heading from downtown to the countryside. The first ten miles along river road were dead flat, and I made sure not to push myself through this easy stretch. In fact I purposely stayed in the small chain ring the whole way, not wanting to chance burning a match this early. Besides making the swim less of a boxing match, the time trial start also spread out the bikes, making the course less crowded than a normal Ironman with fewer packs of cheating drafters.
Before we began the loops, the bikers took a diversion for an out and back along Highway 393, which featured a descent decent and climb. I saw two people crash on this stretch, with one already being attended to on the side of the road. The former was on an uphill and the later near and aid station, so at least the accidents did not occur at high speed.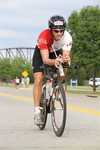 I then entered into the double loop and their rolling hills, cheering fans, and many horse farms. I had driven the loop earlier in my Ironman weekend, but this was my first time on a bike on these roads. My ride started pretty well as I made my way through rural Kentucky. It was one of those days though that no matter which direction I went there was always a headwind. The breeze was not strong, but just enough to slow you slightly and be annoying.
Although the bike started off well, as the miles piled on things worsened as my stomach became less cooperative. Of course during my big race I had my first ever GI issues on the bike. The discomfort did not start strong, but I could tell if the situation did not improve, my stomach would be very upset by the run. To try and avoid having yet another disastrous marathon I spun easier and rode in my pursuit bars. This alteration would slow my bike split, but perhaps could save time by resulting in a better run. My gargling stomach also forced me to eat less. Although I knew taking in too little nutrition could cause problems of its own, I did not feel like I could keep more calories down and that I had to process the exotic calories in my stomach before throwing more into it.
Unfortunately the bike never got better, with tired legs the rest of the way and difficulty in breathing deep. Even the flat section back into town was a bear to pedal. For some reason Ironman placed the last bike aid station only about three or four miles from transition, and I initially thought it silly to have one so near the end. When I actually passed it in my degraded state though, I stopped to rest. I took a breather to try and get my wits together and hopefully find food that agreed with my stomach. This was the first time I ever stopped in a triathlon on the bike to take a needed break. At least I only had a full marathon left…
T2
I finally wobbled back into transition after completely bonking on the bike. I walked all the way through transition and took a few minutes sitting on the chairs in the change tents. I knew I would keep going but still needed to get myself back in some semblance of order. I did not accomplish this goal, but as I finally hit transition's exit and the start line for the run, I sucked it up and tried to jog.
Run
The jogging did not last long though, and my dead legs soon reduced me to walking. This position was very bad to be in during the first mile or two of a marathon. These opening miles crossed a bridge over the Ohio River, which I knew from the course map. What I did not realize though was the turn around on the bridge was not until we almost reached land in Indiana. This far away point did not change the distance of the race but was just another mental setback to lower morale when I was already not doing well.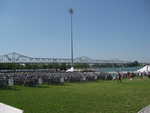 Transition
I got fed up with the slow progress of walking and knew I could not do that all day anyway so after a few miles I mustered a slow jog even if it did hurt. This speed up only lasted another few miles until I was back walking. My legs had no energy in them. I tried to take in calories at the aid stations, remembering how in prior Ironmans I recovered slightly throughout the run and was able to jog at the end. Any recovery was not forthcoming, and I continued walking. I did not even run at the end of the first loop through downtown, despite the large cheering crowds.
At least the course was nice (and I had plenty of time to see it to be sure). Much of it had shade and passed through nice residential neighborhoods. We went by Churchill Downs as well, although on its far side by low income apartments. The weather was not overly hot either, which at least did not add to my suffering.
With Louisville being a new Ironman and taking a long time to sell out, I assumed that community and crowd support would be less than the other Ironmans. Fortunately I was wrong. Spectators lined most of the course, and many locals sat in their front yards cheering for us. Volunteers were plentiful and energetic as well. The towns rolled out the red carpet by closing roads and providing great police coverage. These accommodations were on both the bike and run legs. Louisville has definitely embraced this race.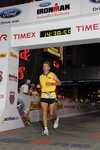 I was not embracing Louisville though as a long, miserable day continued, with my stomaching fighting me the whole way as well. I jogged a little more on the second loop, but by the time I reached the turn around, I was reduced to sitting on the curb for a break. Nothing came up, but it sure felt like something wanted to, and I probably would have felt better if it had. I only had about 10K remaining, but that seemed so incredibly long, and time wise at my pace it would be. I just wanted it to be over, but I did not throw in the towel.
I walked much of the way back, but managed to jog the last couple miles and over the finish line with a 6:10 marathon, and a total time of 14:12, my worst Ironman to date, although not my worst run split. I did accomplish one goal though, and that was for the first time not to puke on the run. Within a couple minutes of finishing though I was over a garbage can emptying my stomach's contents. I felt a little better afterwards and even convinced the medical volunteer in the chute that I did not need further assistance.
I got my massage, some food, and stayed out until midnight to watch the last person finish, which was not that long of a wait with as long as my race took.
Epilogue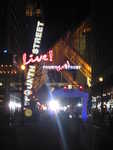 The finish line
Why did I have yet another horrible Ironman? I am beginning to think that I am just not cut out for this distance. My stomach rebelling on a bike was a big issue this time, but I have had other nutritional issues before. Do I just need to better master triathlon's fourth discipline and find something I can keep down that also provides sufficient energy to last the whole day, or is Ironman just not a sport at which my body is made to excel? Although other things may keep me from answering that for a while, I probably will be attacking this beast again someday.
Results
Ironman Louisville 2011 Splits

| Event | Distance | Time | Pace |
| --- | --- | --- | --- |
| Finish | 140.6 mi. | 14:12:00 | |
| Swim | 2.4 mi | 1:10:19 | 1:39/100 yd. |
| T1 | | 4:26 | |
| Bike | 112 mi | 6:35:25 | 17.0 mph, 150 watts |
| T2 | | 11:51 | |
| Run | 26.2 mi. | 6:10:01 | 13:47 min/mile |
Detailed Splits
Event
Split
Comment
Distance
Total
Time
Pace
Swim
2.4 mi
2.4 mi
1:10:19
1:39/100 yd.
T1
4:26
N/A
Bike
10 mi
10 mi
29:34
20.3 mph
10 mi
20 mi
32:23
18.5 mph
10 mi
30 mi
32:27
18.5 mph
10 mi
40 mi
30:43
19.5 mph
10 mi
50 mi
32:56
18.2 mph
10 mi
60 mi
30:56
19.4 mph
10 mi
70 mi
32:46
18.3 mph
10 mi
80 mi
34:29
17.4 mph
10 mi
90 mi
35:24
16.9 mph
10 mi
100 mi
38:41
15.5 mph
12 mi
112 mi
1:04:58
11.1 mph
Includes break at aid station
T2
11:51
N/A
Run
1 mi
1 mi
17:39
1 mi
2 mi
18:00
2 mi
4 mi
24:35
Missed mile marker 3
1 mi
5 mi
8:43
1 mi
6 mi
8:43
1 mi
7 mi
8:52
1 mi
8 mi
13:22
Started walking
1 mi
9 mi
19:41
1 mi
10 mi
22:21
1 mi
11 mi
19:24
1 mi
12 mi
15:00
1 mi
13 mi
19:11
1 mi
14 mi
18:15
1 mi
15 mi
17:40
1 mi
16 mi
9:52
Tried jogging again…
1 mi
17 mi
9:12
1 mi
18 mi
9:09
1 mi
19 mi
9:22
1 mi
20 mi
12:36
…but not for long
1 mi
21 mi
19:48
1 mi
22 mi
20:00
1 mi
23 mi
11:49
1 mi
24 mi
10:45
Almost done, suck it up and jog
1 mi
25 mi
10:21
1.2 mi
26.2 mi
15:29
Finish