Home » Adventures » New Zealand » Auckland » New Year's Eve
Dec. 31 — New Year's Eve
Another hour walk along the road from Waitomo led me to the remote Intercity bus stop for my return to Auckland. Back in the city I once again lodged at Nomads, despite my mediocre impression the first time. I did not have time to see MOTAT, but instead perused the Auckland Art Museum, which contained interesting pieces on Mori and European colonization, as well as random modern art that made no sense.
Fireworks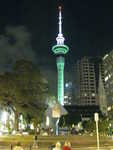 The Sky Tower
Being New Year's Eve, I needed to find a place to celebrate. Not wanting to get completely smashed pissed or dance at some club limited my options. I hung around with others at the hostel, sitting on its rooftop patio. That eventually broke up, and I wandered the city streets before midnight. My strolling uncovered a great spot to view the Sky Tower's firework show.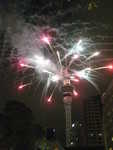 At the stroke of midnight fireworks erupted from the tower. The show was mundane, with pyrotechnics slowly shooting out in concentric circles from atop the structure. This display was not the giant production some large cities stage. Nonetheless, being one of the first people to usher in the new decade1made it special. With the show concluded I headed back to my hostel. The drinking had moved elsewhere, so I could at least grab a little shuteye.
---