Home » Adventures » New Zealand » Auckland
Dec. 13 — Travels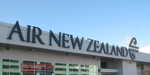 A combination of sleeping, eating, and bad movies made twenty-plus hours in airplanes and airports bearable as I traveled halfway across the world. Someone kept pressing a button every 108 minutes so I arrived in New Zealand without incident — my first time outside North America.
Dec. 14 — The Gone Away Day
Dec. 15 — The Urban Jungle
Time in country was precious, and my packed scheduled reflected this fact. Within an hour of touchdown I passed through customs and was on a bus to downtown Auckland. Between constant roundabouts, vehicles on the wrong side of the road, and narrow lanes I was glad my auto insurance did not extend to New Zealand, clipping any temptation to rent a car, and letting the natives drive. The bus left me in the pavement jungle of downtown Auckland with just the items on my back for a couple weeks of island exploration.
My flight arrived very early in the morning, and the mostly vacant streets indicated New Zealand's largest city started late. As I wondered the nearly empty roads, everything seemed oddly familiar. I did not spend a past life as a Kiwi, but instead despite a delta of nearly 10,000 miles, I never left western culture. Some names were slightly different and people talked slightly funny, but I did not feel completely like a foreigner. Auckland did have some distinctive charm but underneath the facade was basically just another city.
Most of Auckland's uniqueness lay along its harbor where the "City of Sails" garnered its named. Sailboats of all sizes and types — racing yachts, pleasure boats, dinghies, and giant behemoths — packed the docks. The harbor also housed many racing class vessels, showing Kiwis' keen interest in that sport.
Museum Time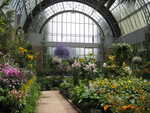 Inside the Wintergardens greenhouse
When the city awoke I visited the New Zealand Maritime Museum, which told the human history of the nation and how sea faring vessels influenced its development. Its collection contained exhibits from the Polynesians who first colonized the islands, to European immigrants, to advanced vessels that made modern life possible. Many intricately detailed ship recreations helped visualize this ancestry. Some models were quite small while others occupied entire rooms.
I next visited Auckland Domain to peruse its public gardens. Large, ornate garden displays are not common in the States, but due to its British ancestry, most New Zealand cities possess them. The park contained many beautiful outdoor displays, but the crown jewel was Wintergardens, an elaborate and immaculately maintained greenhouse. Walking inside this floral masterpiece, the flowers' great and powerful aroma overloaded my senses. After adjusting to the nasal onslaught, I could admire the beautiful arrangements of flowers as well.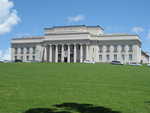 New Zealand War Memorial Museum
After strolling through the gardens, I visited the nearby New Zealand War Memorial Museum. Despite the name this institution covered all of New Zealand's past, from its violent geological formation, native Mora inhabitants, animal life — including the odd and now extinct wingless bird Moa — and other historical events. The actual war memorial resided on the top floor, containing a complete and somber list of fallen soldiers and tributes to all the conflicts in which New Zealanders fought. Elsewhere the museum detailed the events of those campaigns. They ranged from British skirmishes with native Mori, to WWI and WWII, and beyond. For the World Wars, seeing those battles portrayed from a different point of view was enlightening. Although New Zealand was an Allied force, the ultimate WWII authority the History Channel, only exposes a very US-centric view of the battles, focusing almost exclusively on those in which American soldiers participated. How easy to forget the "world" part of that conflict's name, and those great battles, braveness, and sacrifice done by many nationalities.
Sometimes It Feels Just Like I'm Fallin' in the Ocean
With my exploration of the museums and Kiwi culture temporarily complete, I caught the bus to Takapuna Beach for a little ocean swim race. Being an endurance athlete I wanted to experience a race in a foreign country. Being mostly a runner a 5K seemed natural, but unfortunately due to a little bike accident that option was off the table. I did, however, find an 1K ocean swim that would be even more challenging and a type of event not possible back in Iowa.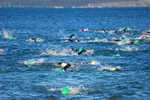 This particular race also featured a 5K run, as well as two forms of kayaking, all with a mass start and a common finish line. On the beach I was one of the few people without a wetsuit, opting not to drag mine halfway across the world and around the islands just for a short swim. At least being such a strong swimmer the lack of neoprene would not make much difference1. I should have already learned that when trying a new sport, doing things your own way is usually a bad idea.
I lined up on the outside near the back, and after the siren sounded dashed into the ocean alongside the other competitors. The chilly water ensnarled me as I swam through the harbor. A wetsuit's warmth would have been welcomed, but even more so its bouncy. Although salt water provides extra lift, it did not appreciably elevate my poor body position as I plowed through the course like a barge. The ocean water merely left a strong salty residue in my mouth, even as I did my best not to drink any.
I made it through the first two turns of the triangular course fine, although slow. The last stretch angled directly into the sun, almost completely obstructing my view. I tired to keep with the mass of people but drifted off course slightly during this leg. I finally found the last buoy and sprinted towards shore. A short run up the beach brought me to the finish line in 22:02, putting me solidly in the back of the pack. The time was still acceptable time for me, not having swum much after Ironman Canada and the bike accident. This race was mostly for experience and to meet racers on the other side of the world anyway. I of course did not earn any awards, but still stuck around for the ceremony and to talk with people. Kiwi athletes were pretty much like their American counterparts, and we had a good time.
Back in Auckland I stayed at Nomads Backpacker Hostel. The place was decent, although a little dead in the evening. I was not much into nightlife anyway, but its bar and dance area was nearly deserted. A few people lulled around the TV watching a bad hippie film, but people staring into their solitary screens jammed the internet cafe. I joined the TV group for a while before heading to bed.
---