Home » Adventures » New Zealand » Christchurch
Dec. 16 — Viva Christchurch
In order to cram as much as possible in New Zealand into two and half weeks I was back at the airport early for a cheap flight to Christchurch. From that southern city I would work my way back north to Auckland for my return flight to the States, in between enjoying the country. Security on that domestic flight was much less of a dramatic theatrical production than in the U.S., without even having to show ID, but the hassle free airport experience was a nice change.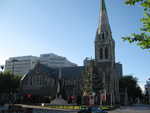 Christchurch Cathedral
Upon arriving in Christchurch I once again jumped on an airport bus to downtown. Along the way Christchurch's English heritage stood out. British tradition heavily influenced the architecture, and the city's buildings appeared to have been transplanted from London of old.
I strolled around the city center, which had many small shops and historical places. The Canterbury Museum detailed much of the area's history and contained relevant interesting exhibits and artifacts. Once again, the city's British ancestry shown forth in this museum's many Victorian Era displays. A nice stroll through the adjacent Christchurch Botanic Gardens followed, even with artificially designed plant exhibits not being my favorite pastime.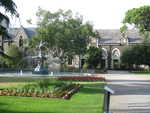 Botanic Gardens
I stocked up on groceries before returning to Kiwi Basecamp to talk with other travelers from around the world.
With all the moving about and city exploration in the past couple days, it felt like I was spinning my wheels. Hopefully my trip will begin to pick up with the upcoming whitewater rafting, followed by backpacking.