Home » Adventures » New Zealand » Nelson Lakes
Dec. 19 — Change of Plans
With the weather not cooperating at Arthur's Pass and the long range forecast not looking much better, I changed my carefully laid plans and headed to Nelson Lakes early. I ate the cost of a nonrefundable bus ticket because the phones in New Zealand hated me, preventing me from changing the date of my ticket, but such is life. I rode Atomic Shuttles from Arthur's Pass Village to Greymouth since it was cheaper and DOC ranger said more scenic than the train. I enjoyed the ride out, even if clouds covered the mountain peaks. With the extra rain the valley walls came alive with waterfalls as liquid spewed from every crack and crevice.
In retrospect, loosing out on Arthur's Pass was not that bad overall. Rereading the descriptions of Arthur's Pass's routes, they pushed my ability levels, especially on the intended schedule. If that poor weather had hit a few days later, it would have trapped me in the backcountry. Also, by transferring time from Arthur's Pass to Nelson Lakes, I could instead explore that park greater in depth, instead of rushing through it and missing the good parts hidden far from roads.
After departing the shuttle in Greymouth, I wandered around town waiting for Intercity bus's departure. Greymouth had some shops, but nothing too interesting. When my bus finally did leave, the ride was better than expected. The route wound along a very twisty road through mountains covered in tropical forests. The incessant rain made the walls dance with the water rolling down. I passed the time listening to audio books and admiring the great scenery.
I Like Pancakes
| | |
| --- | --- |
| The pancake shaped rocks | Ocean waves pounding the coast |
As an added bonus the bus took a hiatus at the Punakaiki Pancake Rocks and Blowholes, which allowed a quick trip about the small park. It contained oddly shaped limestone rock layers, which resembled their namesake stacks of pancakes. The ocean carved these rocks into coves, into which powerful ocean waves pounded and exploded into great columns of water.
Nelson Lakes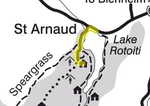 Route I Hiked this Day
Eventually I reached Kawatiri, my "access" to Nelson Lakes National Park. I originally planned to hike along Highway 6 and down Gowan Valley Road to Rotoroa and stay in a hostel. With that road being slightly longer, narrower, and curvier than my recognizance indicated, I instead decided to hitch a ride to St. Arnold. Within a few minutes a nice Kiwi gave me passage, and I arrived in town in short order. It was seven by now, but I still headed into the backcountry towards Bushline Hut.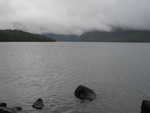 The cloudy Lake Rotoiti
I covered a few roads before hitting the trail, where trees engulfed it. The way was easy to follow as it continued up the hillside. It eventually rose above the bush line though, leaving the path exposed to wind. I kept climbing through it and reached some low clouds, with visibility dropping as the sun continued setting. I pushed onward in search of my accommodations. I finally arrived at almost ten, with barely any daylight remaining. Most people were already asleep in the busy, crowded hut, so I quietly found a spot on the floor and went to bed.