Home » Adventures » New Zealand » Arthur's Pass
Dec. 18 — Into the Mountains Once Again Dear Friend…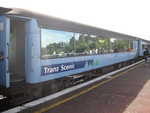 My time in cities drew to a close and an early morning stroll through Hagley Park brought me to the TranzAlpine train station with a ticket to Arthur's Pass. The train ride was very enjoyable, especially after turning from the flats into the mountains. These large undulations were my first glimpses at New Zealand's high country since arriving. Once again, mountain's majesty filled a flatlander with awe. I spent much of the trip riding in the open air car, which provided an expansive view of the countryside while wind continually whipped my face. The route wound through numerous tunnels and over many trestles as it climbed into the Alps. The views were exquisite, and I was gleeful as the train continued through the mountains. The cities were nice, whitewater rafting was fun, but this magnificent nature was why I really came halfway around the world.
Unfortunately upon arriving in Arthur's Pass Mother Nature tried to spoil my fun. I disembarked to a windy, overcast afternoon. I marched to the visitor center and learned even worse news about the weather. A storm approached that would linger for several days with heavy rains and high winds. Gusts up to 130 k.p.h. were predicted soon on the exposed peaks. Hiking in those conditions would be impossible, but even if I could, the coming deluge would soon flood the rivers and make much of the bush impassable. Especially in Arthur's Pass, as many of its track's river crossings were not bridged.
…But Not Very Far into the Mountains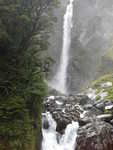 Devil's Punchbowl
With reality slapping me in the face I opted to throw out my original plan to hike to the top of Avalanche Peak and instead stay in Arthur's Pass Village, partaking in local walks that afternoon instead. I first ventured to Devil's Punchbowl which was an impressive waterfall gushing from a tall cliff. Although picturesque, it reeked of that touristy, take a ten-minute easy stroll from the bus stop for a photo-op feel (even if I myself was a tourist who walked ten minutes from the train station).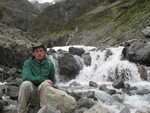 A small waterfall along Bealey Valley
From Devil's Punchbowl I continued on Bridal Trail to Bealey Valley. This trail had an initial board walked section over delicate terrain before it dropped back onto dirt and turned up the Bealey River. I scrambled over rocks and dodged pools of water while making my way up the spillway. I progressed as far as the still present winter snow pack before turning around. The snow was too dangerous to cross and rock nearby was too loose to edge around the snow.
I headed back to my hostel in Arthur's Pass Village, The Sanctuary. It had a unique setup, as its caretaker lived in Christchurch and guests called him for instructions and an access code. Payment and most other operations were on the honor system which worked for this bare bones hostel. Unfortunately, with the lousy weather it was empty, so I mostly caught up on some much needed rest.