Home » Endurance » Running » Marathons » Desert R.A.T.S. Trail Running Festival
Desert RATS Spring Ultra Trail Running Festival
Introduction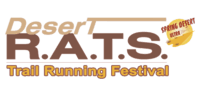 To kill two birds with one stone, whenever I take a vacation, I usually try to include an endurance competition. With Ironman Wisconsin looming large in the fall, I decided on a trip to Moab, UT in the spring. I looked for races, but the only marathon I found had been canceled. Not one to be deterred, I kept searching and located the Desert RATS Spring Ultra Trail Running Festival. It was a twenty-five mile trail race in far western Colorado with 4,000 ft of climbing through a self-described "difficult course." The trails were within the McInnis Canyons conservation area which was widely used by mountain bikers. The average elevation was about a mile. I have always enjoyed trail running and cross-country, even if I my opportunity to participate in the sport has been limited. So despite being a road runner from Iowa, I scheduled this event as my goal race for the spring. Amazingly, my event would be the short one that day, with a fifty-miler ultra being run concurrently.
During my training, I had difficulty figuring out what to expect. I could not find a complete elevation profile of the course, so I resorted to using Google Earth to provide an idea of the terrain. Even if I possessed detailed maps though, I did not know how detrimental the hills would be to my pace. I was in shape to run close to a three hour marathon on the roads, but most of the front runners for this race in others years had taken half an hour longer than that to finish. Despite my ego wanting to believe otherwise, I knew my finish time would be greater than that. My best optimistic guess was an overall time of around four hours, since that was a nice round number. (Perhaps coincidentally, that was my same estimate for my first attempt at Grandma's Marathon, and unfortunately the races turned out about the same.)
Pre-Race
I attended the pasta dinner the night before the race and mingled with other athletes. I quickly learned that I had entered a different world of running. People recounted hundred mile trail races through the mountains; some talked of races that scaled and descend seemingly vertical cliffs; others were using the upcoming race as a long run in preparation for an even longer event. At most road races, wearing a Boston Marathon shirt may earn some prestige. Here however, people donned Leadville 100 or Badwater Ultramarathon finisher shirts. None of my new experiences seemed the least bit unnatural to the experienced ultra runners. They were definitely a different breed of people. Perhaps one day I will also be able to join their ranks.
I had originally planned to sleep in my car or camp at the starting line, but when a nice gentleman from Grand Junction, Colorado (fifteen minutes from the start) heard about my plan, he offered me a spare bed at his house. Although we had just met at dinner, I was naive enough to believe ultra runners were generally good people and there would be no cause for concern. So not one to pass up a bed the night before a race, I accepted his generous offer, assuming I would not be stayed at a serial killer's house.
After a peaceful night sleeping in a comfortable bed, I awoke at 4 a.m. to eat breakfast, using my pre-marathon routine for the race. I arrived at the start area around five while the sky was still pitch black. No streetlights illuminated the area, but it was still alive with a bustle of activity. Headlamps darted through the shadows as people got ready for the day's events. The morning was unusually cool and windy too, and I elected to wear a pair of arm warmers along with a moisture-wicking shirt.
Race
At the starting line, I could not help but notice that almost everyone was carrying either a water bottle or Camelbak. Five aid stations were located throughout the course, so I had not considered bringing my own additional nutrition. While only five water stops might not have been ideal, I thought they would suffice. I carried along a couple GU packets anyway. Note to self though: When trying a new sport and 95% of the people are doing something different than the rookie, it is probably a big red flag that something is being done wrong.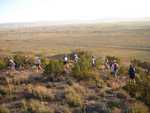 The gun went off at 6:30 and the runners plunged into the dim morning light. A $100 bonus was awarded to the first person to reach the top of the first climb at 1.3 miles. I actually toyed with the idea of trying for the prize but decided against such a hard effort at the onset. That would have absolutely killed the rest of my race, and I probably would not have won anyway. (Although if I knew then how badly my race would end — read on for that story — I probably would have gone for it.)
I hung with the second pack of runners as we traveled along a gravel frontage road before turning into the trails. Immediately after encountering the trails we began our first climb through a rocky, single track path. I handled it pretty well, but we were still very early in the race and I was breathing hard by the top. I was still going strong though. In fact, I was repeatedly chanting "Remember Chicago" to try to keep my pace under control.
Much of the trail was technical, crossing a jagged, rock-strewn surface. I had a difficult time negotiating that terrain, since the worst thing I encountered in Iowa was muddy grass. Whenever the trail became technical, especially on downhills, I was quickly dropped by the experienced trail runners. To remain upright, I had to slowly cross the uneven landscape. It disrupted my rhythm and pounded my legs. My poor form over those trails was not too surprising though, since I did not even descend well on the roads, much less uneven trails.
At Aid Station 1
I arrived at the first aid station after about six miles and was in the top ten of the twenty-five miler racers…way too far up for a flatlander. The second aid station was only a couple miles down the trail, with a little climbing and descending separating the two.
After the second depot, the trail became wider and flattened out. This level grade treated me well, although several people still passed me. We paralleled the Colorado River, running along a nice steep cliff. One wrong step would result in a long trip down. The scenery along the river was quite exquisite, but it was hard for me to enjoy while racing. Also, my eyes were preoccupied watching the trail so I would not stumble over the rocks and fall over the aforementioned cliff.
The Good Lord Gave Us Mountains So We Could Learn How to Climb
I pulled into the third aid station still feeling relatively good. From this point forward though, my race started to go downhill (even when I was climbing). More people started passing me at an ever increasing rate. They were definitely running stronger, so I tried to be courteous and allowed them to pass unobstructed on the narrow trail. This section did not contain any big climbs, but the trail continually rolled through ruff terrain. The footing was difficult for me to cross and even the descents punished my legs. My energy stores drained and running became ever more difficult. I resorted to power walking the steeper climbs as the miles progressed. I eventually felt so bad that I actually wanted to encounter a hill so I could walk, because I at least forced myself to keep running (slowly) on the flats and downhills.
After the final aid station (about mile twenty), my hope for a climb was granted…be careful what you wish for. The trail turned seemingly straight up a hill which lasted for what seemed (and may have actually been) miles. Since the tanks were already empty, this extended climb was almost an insurmountable impasse. Being stubborn though, I slowly walked up this beast continuing barely to make forward progress. After a long hike during which many people passed me, the trail eventually started to level. Even on flatter ground though, my legs were shot, and I could only barely crawl forward, being unable to muster even a jog. While strategic power walking is part of most trail runners' repertoire, mine was more constant than strategic and lacked any sort of power, just scarcely making forward progress.
I had not been handling my nutrition well either. I had only consumer a little water and HEED at the aid stations. These limited drinks were definitely not enough calories, and I was paying the price for it. Between never drinking HEED before (there is a reason why everyone recommends against trying anything new on race day) and the cool weather, I had a hard time consuming calories. Also, the aid stations were different philosophy than those found in road races. On the pavement, I try not to even break stride while grabbing nutrition. These oases, however, functioned more as resupply dumps to top off water bottles (which I did not have) and grab some food for the trail.
I carried a couple of GUs with me, but never consumed them. Despite needing to replenish my reserves, my stomach did not feel well, and I did not think they would stay down. Since my replenishment at aid stations was lacking, I was not in very good shape. I should have forced down the concentrated gel, since it may have helped slightly and even if it did end up on the trail, I doubt that could have made me feel any worse.
Throughout my lethargic advancement, I must have looked as bad as I felt because as other runners passed, without fail they asked if I was okay or needed anything. The only thing that could help was the finish line though, so I just mumbled back "I'll survive," which I mostly believed at the time.
Miles prior, when I had begun to hurt but had not yet completely bonked, I hoped to be able to beat the front runners in the fifty mile race to their turn around (my finish line). I thought this was an attainable goal and a decent accomplishment for a virgin trail runner. By now though, I knew many fifty milers were ahead of me, and I now wanted to see them approach from the other direction to provide some evidence the finish line was approaching. Eventually they did, looking depressingly fresh, but I still had at least several miles to cover.
Still Not Finished
Throughout my deteriorating race, the day had remained cool and overcast. It spitted a couple drops of rain, but otherwise stayed dry. The weather was a mixed blessing. I was very lucky it was not sunny and hot as normal, or I would not have survived the race. With as bad as things already were, having to deal with energy draining heat would have been too much. On the other hand though, on cooler days like the one at hand, I have a difficult time consuming nutrition, which was definitely hurting my performance. At least the rain stayed away, because precipitation would have induced hypothermia as I walked through the latter part of the course.
These last miles were the closest I have come to dropping out of a race. I had absolutely nothing in me and could do nothing more than walk. I absolutely hate walking since it adds time so quickly, and I actually wanted to race, not just complete the challenge. A couple of practical considerations though prevented me from recording my first DNF. First, I was horribly prideful and did not want those letters next to my name. Second, and maybe even more important, the last portion of the course wound through a narrow single-track trail in the hills inaccessible to vehicles. So even if I did quit, the only way to evacuate the area would be to walk out on the trails, which I was already doing. I did not even know any shortcuts to freedom, so the terrain definitely helped encourage me to finish the race.
Almost Done — Iowa Boy is Humbled by Undulating Terrain
Eventually though, mainly through walking, I reach the smooth gravel frontage road for which I had been longing. A mile still remained, but the path would be smooth and flat until it encountered the finish line. I sucked up anything I had left and waddled forward in a fashion that was technically running. A couple of very small hills that I did not remember overpowered me though, and I was reduced to walking even those bumps. My shuffle eventually brought me to the finish in 4:56:44, and I was so very thankful that I could finally stop.
I covered the first twenty miles in about three hours, and it took me two more to finish the rest. That large difference shows how completely I bonked out there, and how much time walking added. I actually recorded the slowest split between the last aid station and the finish line out of all the twenty-five mile participants. It would have been much more advantageous to have started slower and still had some gas in the tanks at the end. (Hmm…seems like I should have learned that lesson already.)
Post Race
With my race finally completed, I cleaned up and ate some grub, which I desperately needed. For the afternoon I relaxed on a grassy hillside at the finish line mingling with other runners. We cheered other twenty-five miler finishers and waited for the winner of the fifty mile race. He crossed with an impressive finish in under eight hours, and looked amazingly fresh after the effort.
I had originally planned to stay around for the awards and celebration that evening, but decided against remaining in Colorado that late into the night. After all, I still had more traveling and more adventures early the next morning as I had just started my Utah Vacation.
Conclusion
The race was a good learning experience, having executed it horribly and learned first hand what not to do. That was my first attempt at such a long, hilly trail race, and I was under prepared for such an expedition. I did extra hill work in my training, but practicing for that caliber of terrain in Iowa was difficult.
The last part of the race and my finish was very disappointing. Running slow was one thing, but completely bonking and walking the last fifth of an event I actually wanted to race was another. I had invested many hours and miles doing my normal marathon training for the race, and to have such a poor day was a letdown. My major mistakes contributing to this dismal performance were:
Inadequate nutrition
Starting too fast
Hills in Iowa did not prepare me for the terrain
Being run on a trail, I had also assumed the race would provide a nice soft running surface. That could not have been farther from the case. The trails had many rocks to negotiate and crossed bare boulders and ankle-twisting obstacles. The constant scramble up and down the rocks was exceedingly brutal on my shins and quads. Concrete felt like a soft cushion in comparison.
Although my finish was disappointing, the experience overall was still positive. I met great people and got introduced into a grueling new sport. Nonetheless, I doubt I will attempt another trail race outside the Midwest anytime soon because the courses are so different from anything on which I could train. In reality though, I will probably gradually forget just how bad things went, and try another race through the mountains for which I will be woefully unprepared.
Results
To see everyone else in the race, look at the full results.
Splits

| Landmark | Mile | Split |
| --- | --- | --- |
| Finish | 25 | 4:56:44 |
| Aid 1 | 5.9 | 48:11 |
| Aid 2 | ?? | 48:11 |
| Aid 3 | 16.7 | 1:46:39 |
| Aid 4 | 19.2 | 3:00:24 |