Home » Adventures » New Zealand » Auckland » Rangitoto Island
Jan. 1 — This is the Day That Would Never End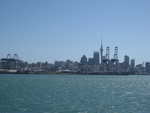 Auckland Skyline
An early New Years day maximized my remaining time in New Zealand with the early bird ferry to Rangitoto Island. On my way to the dock I passed several people still straggling in from overnight partying, and clubs still blaring their New Years Eve music.
I boarded Rangitoto Ferry with only a few other souls making the morning passage across the bay. I watched Auckland's skyline and ports during this short ride and sheepishly realized a real harbor lay before me. Most city waterfronts I encounter are run down warehouses or redeveloped bohemian housing. Here though, working docks transported goods in and out of New Zealand.
Rangitoto Island
Upon arriving at Rangitoto Island I followed a winding way to its summit. The trail crawled through lava fields and low growth brush. Several kiosks alongside described the violent creation of the island just some 600 years ago and subsequent vegetation. The island had several abandoned WWII installations, used to defend Auckland during the great conflict. These fortunately never saw action and were now reduced to dilapidated concrete shells. They were not much to look at, but knowing their history and widespread consequences of WWII added historical intrigue.

View of Rangitoto from Motutapu Island
The summit provided a panoramic view of Auckland and the harbor. A large depression dominated the top, where the cooling volcano collapsed on itself. From the summit I descended to the lava caves. These caverns were close to 100m long and large enough to walk through with only a little crouching. I forgot my flashlight torch, but several collapsed openings provided barely enough light to pass through unaided.
After crawling and dirtying my hands, I ventured to Motutapu Island. The two islands were starkly different. Rangitoto Island had been left mostly to fend for itself, with naturally spreading bush overtaking it. People tamed Motutapu Island though, clearing grass fields for farming and building several homesteads throughout.
The trails on Motutapu Island mostly bordered grazing pastures. The paths were not that memorable but did lead to nice outlooks. Unfortunately the walk went through active grazing lands, and my longtime bovine archenemies planned an attack (abetted by their sheep cohorts).
Despite a couple small wrong turns, the walk eventually led to Home Bay. The bay was very busy, with a proverbial tent city occupying the camping area. Many Kiwis came here to usher in the New Year. After a short break I trekked along the main road to return to Rangitoto Island. Although the road was less interesting than even cow pastures, I had seen enough of those and needed to ensure I was back in time for the 3:45 boat to Auckland.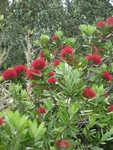 Flowers blooming on the island
I passed through Islington Bay Wharf on the way back, where New Zealanders erected their own unauthorized breach houses in the 20s and 30s. The government eventually got wind of the violations and commenced a protracted closure of them, but left a few behind for historical purposes. From here the Coastal Track, which despite its name had relatively few views of the ocean, continued towards the ferry stop. The trail was not physically demanding, but covered many rugged lava flows which made each step cumbersome, awkward, and slow. This arduous journey brought me to the main wharf.
Leaving New Zealand
My 3:45 departure from the island would be cutting it close to catch my 7 p.m. flight. But after a smooth boat ride, I hustled to my hostel to retrieve my gear, grabbed a very quick meal, and rode the airport bus. I then navigated immigration, security, and extra security due to an idiot from Nigeria before finally reaching my seat with little time before departure.
Now time stood still as I left New Zealand (hopefully to return), crossing the dateline in the other direction. I had the best coach seat on my return flight — not the one next to the mythical hot woman, but even better — next to an empty seat. I stretched my legs into the extra room for another long flight of eating, sleeping, and slightly less bad movies, before arriving at LAX for another mad dash through immigration and security to catch my last connection. That flight landed at home, concluding nearly one of the longest New Years Days possible, over forty hours — quite the celebration. Being back though, I could finally enjoy family, friends, food, and a shave.