Home » Adventures » Black Hills » Centennial Trail » To Sheridan Lake
September 2 — The Never Ending Hike
Mt. Rushmore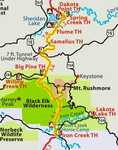 Route I hiked this day
A very brisk morning made me want to remain in my warm sleeping bag, but I eventually emerged and hit the trail. Despite the hard climbing while running through the Black Elk Wilderness, my trail gradually descended this time. I had not planned on taking the spur trail to Mt. Rushmore, but the CT only provided a distant view of the side of Washington's head. I had a long day on the trail already but brushed off the extra few miles — if only I knew. I only planned to hike until I got a good view of the monument, but that did not occur until the end. As long as I was at Mt. Rushmore, I browsed the interesting and informative exhibits. I also bought a very warm, tasty cinnamon roll to tide me over for a morning snack. The tourists that rode their luxury buses to Mt. Rushmore that morning gave this scruffy, mountain man with a backpack odd looks.
I went quickly back down the spur trail and continued on the CT. It took a long time to get through the Black Elk Wilderness, but I eventually emerged at Big Pine trailhead. I ate lunch there and realized I was done with the SE Trails Illustrated map.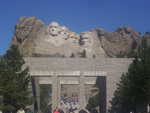 I passed over the 1880's train tracks, but the midday train would not be through for a while, although I heard the whistle. The trail skirted under the road through a viaduct and circled back to Samelius trailhead. There was an obvious forest road from this spot, but I did not see any "89" markers on it or back towards the highway. I started up it anyway, but still did not see any signs for a while. I was getting nervous as I did not want to make a time consuming mistake with hours of hiking still left. About 50 feet after I confirmed with my guidebook this forest road was the correct route, I finally spotted a trail number. I had missed the trail earlier and had followed the road instead, but they no rejoined.
Trail markers were vital for navigating the CT. The labyrinth of unmarked forest roads and other trails would make it nearly impossible to find your way. The Trails Illustrated maps were good, but not accurate or detailed enough to hike without help from the trail markers. USGS quad maps might have worked though.
Sheridan Lake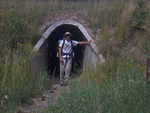 The trail goes through this viaduct under the road
The trail continued with a slight, elongated climb. A cusp in the hills seemed like the top, but the trail actually made a hard left where it began to really climb. The ascent was grueling on my trail weary legs and never seemed to end, with several false peaks. I was tired but still somehow reached the top and started down. I could not use the downhill to my advantage though, as it was steep and rocky. I had to plant every step carefully and put on the breaks to descend safely. The descent to Sheridan Lake was very long, with a couple relatively major climbs thrown in, which I cursed out loud whenever I encounter one.
I finally spotted the lake, which was exciting, but I still had a long way to go. I was really tired, both physically and mentally. I was not staying well nourished, hiking the whole day on around 3L of water and limited food. This strategy was not the smartest or safes, but often I did not feel like stopping to eat or pump water. In this condition though, I started making little mistakes — missing a turn, tripping on rock, etc. Things could have turned bad really quickly, and I had to keep focus.
I eventually made Sheridan Lake shelter and trail was level as it followed an old logging road. I could tell this area was more popular because sadly a noticeable amount of liter was on the side of the trail. I finally refilled my water at the end of lake and was very tempted to take off my boots and soak my feet in the cool water. With the setting sun and unknown weather, relaxation was not on my schedule and my very weary feet plodded forward. Earlier in the day my pack felt light, but by the end it was very heavy. This day was my longest and hopefully worst, although my remaining days were still mostly 15-20 miles.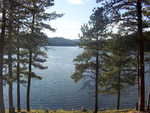 Sheridan Lake
A final push up a forest road to Dakota Peak and some undulating terrain brought me to just past Highway 328, my home for the night. My campsite was within earshot of the road, but the annoyance of the occasional car passing was better than having to hike further to silence them. I arrived around seven, had a quick dinner, and relaxed my aching feet. Twenty-five miles was too much for me through that terrain in my shape. I could not enjoy the beauty of the area, with my only desire to reach camp and sit down. Since I was making my own campsites, I did not even have to cover that much distance. Beforehand though, I planned arbitrary points on the map, and I was not going to let some difficult hiking and mild delirium prevent me from reaching those.