Home » Adventures » Ten Thousand Islands » Halfway Creek
Ten Thousand Islands: December 31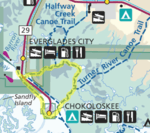 Route I paddled this day
Refreshed from a night's sleep I grabbed breakfast and headed to the Everglades ranger station to obtain my backcountry permit. Unfortunately other people had the same idea to spend New Year's Eve camping in the Everglades. All the sites within one day paddle (at least by their definition) were full. I originally planned to stay a Watson's Place my first day (about 16 miles away), but the ranger strongly recommended against going that far for someone who had not paddled in the Everglades before. I only half heartedly agreed, trying to convince them I could make it. If I pushed the issue perhaps they would have issued the permit, but I relented and went with the park service's suggestion of doing a day paddle and entering the backcountry the next day when closer sites were open. This alternate itinerary would significantly cut my paddling miles, with my loop now turning at Chatham River instead of Lostmans River, but I would still enjoy plenty of time on the water in winter.
Halfway Creek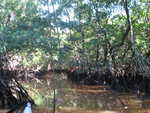 Halfway Creek's "Cave"
For that afternoon though I paddled the Halfway Creek loop

. After situating everything in my boat I took off on the water. I made my way up the coast before turning under the causeway and up Halfway Creek. It passed homes abutting the waterfront before the narrow creek entered Everglades National Park. It felt like a cave at less than ten feet wide and mangrove trees enclosing much of it. Spots were even difficult to pass through, with my paddle hitting the overhead branches occasionally.
The narrow creek emptied into a larger body of water that I deduced (hoped?) was Turner River. If it was not, I figured I would eventually find this out and in the worse case turn around to return the way I came. I followed the presumed Turner River which sent me into Chokoloskee Bay, confirming my suspicions of the river's identity.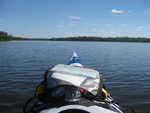 View from my cockpit
I paddled around Chokoloskee which was essentially a combination high end RV park and snowbird refuge. Since the afternoon was still young, I took a siesta in my boat by grounding myself in a shallow area a little ways from the island. I remained sitting upright in my boat, but took a few cat naps. After this respite I paddled back to the visitor center to return my boat for the night.
On Land
With daylight still about I took a stroll on the boardwalk at Kirby Sorter Roadside Park, just outside the national park. The walkway wandered through a swampy area, but I did not see any wildlife. I spent the night car camping at Monument Lake, since my first choice at Burns Lake was already full. Thankfully a quiet New Year's Eve transpired, and I got some rest.