Home » Adventures » Ten Thousand Islands » Legoland Florida
Ten Thousand Islands: December 30
Legoland Florida
An uneventful flight to Florida the night before left time for a morning eight mile run along the General James A. Van Fleet State Trail before heading to Legoland Florida. Although the park catered exclusively to kids and families, since I was in Florida already I indulged my childhood fascination with the building blocks, which never left even after becoming an adult.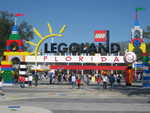 I broke the cardinal rule of amusement parks by not arriving until after it opened, but since I was too big for most of the rides I would not be waiting in lines anyway. In fact the only ride I went on was Island in the Sky, which provided a panoramic view of the park and surrounding areas. This attraction was itself a holdover from a prior amusement operation that occupied this real estate. Nonetheless I walked around the park and enjoyed the rest it had to offer. The initial section was basically a series of giant Lego stores, selling almost any set. Their selection could mostly be found online though and did not have much unique to Legoland Florida, so I was not tempted to spend money.
Many large and detailed sculptures made from Lego blocks were situated throughout the park and amongst its rides. Dinosaurs, animals, people, cars, and every other type of creation were represented. Even if you forgot the medium of Lego bricks, the statues were impressive in their own right, with creativity, humor, and detail permeating throughout them. My highlight of the park was Miniland, which contained recreations of various locations such as Las Vegas, New York, San Francisco, Tallahassee, Cape Canaveral, the Daytona 500, Washington D.C. and a colonial scene. These models were gigantic outdoor layouts of large swaths of the cities made in miniature. All were intricately detailed and had many small hidden gems peppered throughout.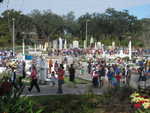 Miniland
Perhaps from my FLL mentoring background the self driving cars amazed me as much as the large scale models. The vehicles followed a hidden track (probably a magnet) beneath the road surface and ran all day without issues. Knowing the difficulties in making an NXT robot that "follows the black line" reliably, those vehicles impressed (although they seemed to have used non-Lego bricks for their steering mechanics and smarts).
I spent the afternoon wandering throughout the park, enjoying the Lego creations and vicariously the rides. Cypress Gardens previously occupied this site, and a large garden filled with ornate plants and trees remained from that time. The vegetation was out of place and little relating to Lego was amongst the foliage, but the area was still a quiet respite from the thousands of screaming children in the rest of the park.
Heading Further South
After enjoying the park I stopped for backcountry groceries before continuing my journey south to Everglades City for sea kayaking. Either a slight sickness or a northerner spending a day in the sun left me with an annoying headache for the drive. When I finally reached my hotel in Everglades City all I wanted to do was lie down and sleep. The bed felt absolutely wonderful, and I was quickly asleep after setting my head on the pillow. I was so thankful to have elected not to camp or stay at the Joe's Diner Motor Inn that night.