Home » Adventures » Apostle Islands » Sand Island
First Day on the Water
I dined at a pancake breakfast fundraiser with the Catholics, then attended Divine Service with the Lutherans at Zion, before heading to the Apostle Islands Visitor Center in Bayfield. A reason I drove the extra bit to the Whistle Stop Marathon, with so many other closer ones, was its proximity to the Apostle Islands. Of course while registering for the race I did not fully appreciate what weather in northern Wisconsin in October could be. Fortune was on my side though as mild conditions provided a window to paddle on the lake.
With almost no preplanning, at the ranger station I invested around five minutes to the vital decision of my route. I elected to put in from Little Sand Bay and camp consecutively at Sand, York, and Otter Islands. With my itinerary set in semi-permeable mud I drove to the launch site and packed my kayak for the backcountry ordeal. In my ever present preparedness, this exercise was the first time I tested if everything could fit securely in my 14.5′ boat. My gear barely did cram inside, and I quickly fled onto the water.
Sea Caves
It felt great to be paddling: smooth water, good skies, big lake, and it was October! Hearing my paddle splash through the calm water was music to my ears. I quickly completed the short crossing to Sand Island, but before heading into camp I took a detour around the far side to explore Sand Island's sea caves. Cave is a bit of a misnomer though, as the formations are more like overhanging ledges, with small caverns that can be maneuvered about. They are just big enough for a kayak, and slaloming through these obstacles was a lot of fun.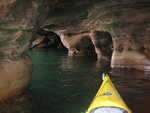 My kayak inside the sea caves
Floating inside these caverns was amazing as well. Even with the small surf that day, the waves banging against the rocks and depressions created a percussion orchestra. This ensemble had all manner of drums at a variety of pitches. The sound reverberated from the rock walls and water, adding to the performance. It did not quite match a performance by the Montana Rainbow Zouave Rhythm March Corps and Scottish Dance Company, but it still was something to behold.
After zigzagging through the caves I continued around Sand Island to its lighthouse. I found a parking spot just past the mooring holds and crawled out to visit the structure. As expected everything was locked tight, so my exploration was limited.
Camp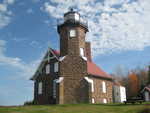 Sand Island Lighthouse
After returning to my boat I made for camp. Sites 1 and 2 on Sand Island do not provide much privacy from each other, and I could see my powerboat-traveling neighbors definitely did not pack light. They were not around though as I setup my much more limited, but sufficient gear.
Before dusk my campmates returned, revealing themselves as deer hunters. I did not even realize deer were in season or hunting was permitted on the islands. Glad I was not shot in my ignorance. I spent the evening with them around their very large camp fire and had a good time. They even shared some beers and a delicious dinner of sausage and sauerkraut — their spices were amazing. Although I still prefer my semi-minimalist approach, I think they might have been on to something by dragging the kitchen sink into the wilderness in order to prepare some excellent meals.