Home » Programs » Maze Generator
Maze Generator

This program generates a rectangular maze of arbitrary size and calculates a solution to it. The solution can be toggled on or off, incase you don't want to spoil the fun of solving the maze yourself.
Sample Mazes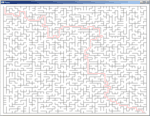 50x50 maze with solution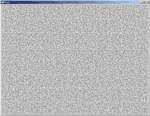 For those who are truly insane, a 200x200 maze
If anyone actually finds a solution through the gigantic latter maze I will send you a dollar. Sorry, someone actually spent the time to solve it by hand and claimed the dollar. Better luck next time.
Downloads
Semi cross platform source code is available, as well as a compiled binary for Windows.
Binary:
Source Code: