Home » Endurance » Triathlons » Ironman » Wisconsin 2007 » Post Race
Ironman Wisconsin 2007 — The Day After
Despite, or maybe because of, doing an Ironman and going to bed past midnight, I slept soundly in my tent but still awoke the next morning without much trouble. The weather had changed dramatically overnight, with a cool and rainy morning greeting me. What a difference a day made as the weather was now similar to the wretched conditions the prior year. That must have been horrible to race through, and I was thankful for the ideal weather I encountered.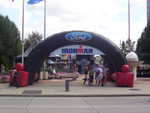 I drove through the steady rain for the post-race festivities in Monona Terrace. I retrieved my finisher's certificate, race pictures (which were magically identified and printed overnight), and browsed the Ironman shop outfitted with all manner of finisher's gear. I spent a grand total of five bucks for an inconspicuous M-dot bumper sticker. Nothing against those who do, but I did not do an Ironman to proudly wear expensive finisher's clothes afterwards for all to see. My medal ended up in shoebox, and the t-shirt will hardly be worn. I race for my own fulfillment (and I am a glutton for pain), and not for others' admiration or amazement. People who are not endurance athletes do not truly understand what or why I do these things anyway. For me, the race accomplishments are even more worthwhile and satisfying when I can co-exist with non-athletes the next day, and only I know what I endured. Not everyone is this way though, so go ahead and wear your finisher's t-shirt for a week straight and mention it to every stranger on the street, if you like.
"There's magic in fighting battles beyond endurance. There's magic in fighting for a dream that nobody sees but you."
A long line packed with people wanting to register for next year wound around the convention center hallways. Perhaps out of fear or ignorance, would-be racers stake a spot hours before the line opened to ensure their entry. I can understand the paranoia (I was one of them the prior year), but I have never heard of someone being turned away while registering on site. If they had instead waited until fifteen minutes before it ended, they could have walked right up to the table and signed up in less than five minutes. I was not struggling through this line however. I am sure I will do another Ironman (need to improve that PR), but I needed a summer away from all the training. I will still do triathlons, but a year where every thought and spare moment does not revolve around training would be nice. I need to catch up on some backpacking and other adventures as well. Exploring another Ironman course outside the Midwest also has a certain appeal to it.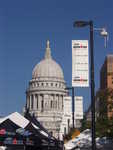 I attended the post-race banquet where more food was served to the athletes still desperately in need of calories. They also showed videos from race day and distributed awards to the fast people. The male overall winner from Germany gave the best acceptance speech ever (sorry, I am not skilled enough to describe its awesomeness — you had to be there to absorb its full effect). The whole event was a decent presentation, but not worth going to if you needed to purchase seats for non-racers.
With Ironman concluding its activities, I departed Madison and dragged myself home. I dumped a huge pile of dirty triathlon gear in my kitchen, as I had no energy or desire to put anything away. I guess being a bachelor has some advantages, as having to clean up after arriving home would have been worse than the race itself.
---