Home » Adventures » New York City
New York City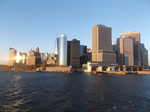 My first steps on American soil in almost a year were a couple day stopover visiting New York City, before I headed up north to visit an aunt and uncle in Maine. At least unlike all the cities in Europe, I would be on my home turf and mostly understand the language.
View the pictures from my visit
9/11 Memorial
Since the subway from my hostel ended at the World Trade Center, I decided to visit the 9/11 Memorial as my first stop in New York. I was lucky, happening to show up right before it opened, and even without a reservation only had a short wait before entering. Construction of the museum and new office towers was still ongoing, but the fountains in the buildings' footprints were completed. To get inside visitors had to go through security, which struck me as odd, since the memorial will eventually be an open design, with free access from all sides.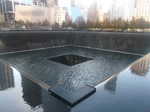 I had no personal connection to 9/11 other than being an American, but was still moved. The most striking part for me was in the middle of the pools where the water falls for the second time. Where it ends up is not visible from street level, giving the impression of the water falling into eternity.
After visiting the memorial I headed to nearby
Wall Street
. There is not much to do there, other than look at the outside of the famous buildings always shown on television. I did discover
Federal Hall
across the street though, where George Washington took the oath of office and the site of the first Congress, Supreme Court, and Executive Branch offices. I did not even know about it beforehand and really enjoyed the surprise historical spite.
Brooklyn Bridge
I walked across the Brooklyn Bridge, since that is what you do when you are in New York. Lots of clueless picture-taking tourists meshed with bike riders just trying to get someplace made for an interesting mix. I had a nice stroll across, although nothing spectacular. The bridge was impressive enough in itself though, especially when you consider the technology available when it was built. At that time there were no skyscrapers either, meaning the bridge would have towered over the city.
Central Park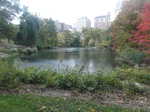 The highlight of my time in New York was wandering around Central Park. Its scale is monstrous for such a packed city. I walked almost its entire length, enjoying the trees, paths, lakes, and open spaces on a nice day. I find it ironic that one of the best parts of NYC involves escaping the city into a park.
Although I have not
run a marathon
in a while due to my
world travels
, the preparations for the NYC Marathon finish line inside Central Park still intrigued me. The large grandstands and media tents were already up a week in advance. Pallets of bottled water were being moved into position. Unfortunately I would skip town before marathon day.
Connie Island
I took the train over to visit Connie Island. I hit it the last weekend they were open for the season. I strolled along the boardwalks and beaches, enjoying the shoreline. The entertainment area with rides and games did not seem to be a unified operation, but several independent operators all competing for business. Most were decent, but a couple looked a little shady. I did not go on any rides or play any games, but just walked around the midways enjoying watching others.
High Line
I visited the High Line, abandoned elevated railway tracks that have been turned into an elongated park. It was an interesting use of space, but felt overly designed and manufactured. It was not a botanic garden, but was more a place to walk through and look at things, rather than a park to actually play in, have fun, or touch anything. Its unique layout limits what can be done, but it still felt more like a museum than a park. I found it ironic yet again though that a new highlight of New York is another way to try to escape actually being in a city.
Staten Island Ferry
I rode the free ferry across New York Harbor along with a bunch of tourists, some New Yorkers enjoying the view, and one or two people actually using it for commuting. I took the trip at sunset and enjoyed the glowing sky behind the State of Liberty and the Manhattan skyline. I did not stay on Staten Island for long, catching the next ferry back to Manhattan.
Times Square
Times Square had even more lights, neon signs, flashing banners and advertisement crap than I expected. For blocks it was nothing but multistory tall electronic signs, accompanied by large tourist crowds. A few random hyped-up marketing attempts — disguised as contents — were occurring, but I basically just walked around gawking at the monstrosity.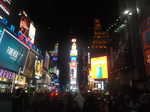 I have not watched the David Letterman show in while since I do no stay up that late anymore, but I still wandered over to the Ed Sullivan Theater where it is taped since I enjoyed watching it so much as a lad. The show was not filming the week I was in town, plus trying to get tickets while I was
backpacking across Europe
would have been difficult. The Hello Deli was also around the corner, but Rubert Jee was not around.
Near Times Square was the
Art of Brick
exhibition by Nathan Sawaya, which used Lego bricks to create art. Several of the pieces were basically large scale Lego models, including a dinosaur skeleton and an Easter Island statue. Recreations of famous works of art were also in the display, but he also made original pieces that had a message, meaning, and provoked emotions. I enjoyed the ones that were not too abstract, especially give my own
Lego habits
.
Track & Field Hall of Fame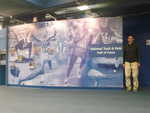 With
my running background
, I was pleased to discover the US Track amp; Field Hall of Fame was in New York. It contained highlights from amazing American athletics performances, some of its great athletes, and records. The life sized demonstrations showing the true extend of field records was humbling, including an eight foot high bar to jump over or a nearly thirty foot long jump. A lot of work had been put in to make the displays nice — fifteen years ago. It seemed none of them had been updated since the last major renovation. The exhibits were starting to fade slightly and no current athletes or recent Olympics were featured. Only the American records and a few notes indicating the featured athlete was later found guilty of doping were kept up to date. I still enjoyed my time there though.
I also visited Grant's Tomb, which was nearby, to see who was buried there. Grant's Tomb is the largest mausoleum North America, built by donations from individuals that loved its former president and general who won the Civil War. The inside was fairly plain, with little decoration and only a couple tributes to his legacy. I never realized how popular Grant was in his day. Today he is remembered mostly as the victorious Union general, and his accomplishments and popularity as president after the war barely a afterthought.