Home » Adventures » Glacier » Day 8
Friday, August 26 — Hiking Out
Route I Hiked This Day
I broke camp for the last time in Glacier's wilderness and was hiking by 8:30. I had a long journey back to civilization, but that should allow me plenty of time to enjoy my last encounter with nature before I left.
Lake Ellen Wilson
The first obstacle standing in my way was Gunsight Pass, which towered over the far end of the campground's lake. The assent went smoothly as the trail did not contain any technically difficult sections. Several spots were windy or slippery from glacial melt, but the only other obstacle was the elevation gain. As I neared the top a much easier way to see Glacier's beauty passed overhead — a sightseeing tourist helicopter flying low between the mountain peaks. Although much quicker and an easier alternative to my method of travel, and perhaps the only option for the elderly or obnoxiously rich, those passengers missed so much speeding high above, rather than being immersed in the experience. They may have their millions of dollars (or maxed out credit cards), but I had dirt on my boots and sweat on my forehead.
I reached the summit in an hour or two and stumbled upon an old rock cabin. It had seen better days, and the original roof had long since succumbed to the elements, but new supplies had been ferried up for repair. Its exact origin eluded me, but I knew many refuges like these were spread across European mountain ranges. They provide a little more comfort and protection, especially in winter, and reduce what a traveler must carry. The shelters would also be indispensable if a hiker was unfortunate enough to be trapped near the summit by a quick forming storm.
Besides the cabin, the top of the pass also presented a great view of Gunsight Lake, which I had earlier left. Turning my head 180°, I could watch Lake Ellen Wilson lying beautifully ahead. As I started down, I said goodbye to the couple from Seattle with which I had spent the last several days hiking and camping. It was enjoyable and informative to spend an extended time with them and hear their tales of even more arduous and thrilling adventures. With my descent started, I believed that all my hard climbing was behind me and now only had a long downhill back to civilization. (Perhaps I should have actually studied my topo map before telling myself this.)
The Lake Ellen Wilson side of the pass seemed much steeper, but perhaps that was because I could see all the switchbacks from above as I made my way down. Arriving at the bottom, I spotted more mountain goats (or possibly sheep) grazing near a waterfall. The trail continued along the lake and began to climb gently. The ascent continued, gradually becoming steeper. I soon realized this was not just normal undulation but the deceptive trail had another significant climb. I diligently kept plodding up the incline, which eventually peaked even higher than Gunsight Pass. I was not mentally prepared for this sneaky ascent (plus my legs were tired) so it made the passage very challenging.
Unexpected Encounter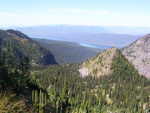 The Top of the Surprise Hill
After eventually cresting this unexpected hill I could spot Lake McDonald in the distance. The hiking portion of my journey ended there (or perhaps down the road at Apgar Campground), and I could visually observe that the remainder went entirely downhill. A woman (and another mountain goat) enjoyed this vista, and she stated she worked at Sperry Chalet a little ways down the trail. In my thorough, details oriented planning, I did not even notice that I would pass a chalet. Having lunch somewhere with real amenities and food sounded like a nice diversion before fully returning to reality.
A mile or two down the trail, I paused at Sperry Chalet for lunch inside an actual building with walls and a roof. A slice of Apple-Danish pie enticed me, which excited my dulled taste buds but did not agree well with my stomach after I resumed hiking. As I ate my pie, I chatted with a woman that worked escorting horseback excursions to this chalet and back. Hearing an employee describe her job at Glacier, I was struck by the amount she actually had to work, and how little time she was afforded to explore the great wilderness that employed her. A group of guys I saw on the train wandered around the chalet, making Glacier's backcountry that much smaller. Other patrons were a couple of local women who had spent a night at the nearby campground, and they agreed to hike to the trailhead with me. Before leaving I used the chalet's luxurious clean tap water, filling up my reservoirs without having to pump and filter my own water.
We hiked down pretty quickly, constantly dodging horse manure littering the path. The trail was much busier than I had become accustomed to, with the popular chalet nearby and within day hiking distance of a trailhead. We finally spilled from the trail though into a paved parking lot. The women were nice enough to let me hitch a ride to Apgar Campground, instead of me venturing another six miles or so along a fire road which I was not totally sure existed.
Reintegrating into Society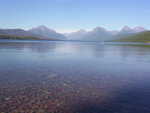 Lake McDonald
They dropped me off at Apgar Campground, and I setup camp at a semi-modern site. I visited nearby Apgar Village, a small touristy commercial area encompassing the normal tourist gift shops, hotels, restaurants, and a ranger station. More importantly however, I had a chance to soak my sore and blistery feet in refreshingly cool Lake McDonald. After a week and over seventy miles in boots hauling a loaded backpack, a chilly bath was the therapy my feet required. I also used the high technology known as payphones to inform my parents that their son made it safely through Glacier, and they could stop worrying for now. Later in the evening I attended a ranger presentation on bugs and their role in Glacier's ecosystems. The entomology lesson was educational and well organized, as most ranger programs are.
My time in Glacier had been great, but I was about ready for a shower, hot meal, and warm bed. I went to sleep early, trying to ensure I would not miss my train home where I could experience the aforementioned items.