Home » Adventures » Adirondacks » Traveling East
July 20-22 — Driving West
With a stopover at my mom's house near Chicago and breaks to stretch every couple hours, I made the eighteen hour trek from Iowa to the origin of Ironman in America — Lake Placid, NY.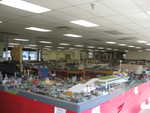 Western Reserve Model Railroad Museum
The only activity of interest I could find along the route was the Western Reserve Model Railroad Museum. Their setup was situated in a large office area of an old industrial park. I wondered how they were able to obtain such a large space, as I cannot imagine that club being able to afford that area. Whatever means they used though, their setup was one of the largest I have seen. They had multiple layouts of different gauges, all with hundreds of feet of track. A lot of work went into this great creation. Most of the effort was still in progress too, with track being laid and much bare lumber waiting for scenery.
For the most part the drive was uneventful. For all the talk of governments going bankrupt and the blight of high unemployment though, a very large, delay-inducing percent of I-90 was under construction.