Home » Endurance » Triathlons » Triple T 2011
Triple T 2011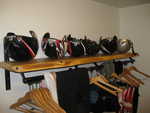 Aero helmets occupying the hotel room
Once again for encouragement to train hard over winter before Ironman, I made the trek to Portsmouth, Ohio for Triple T (4 triathlons in 3 days — a super sprint Friday evening, two Olympics on Saturday, and a Half Ironman Sunday). This time I went with a person from my area I met at Ironman Wisconsin in 2010 and some of her friends. Although a lot of expensive bikes, gear, and people crammed inside one car, the trip down was still fun and nice not to have to drive it all by myself.
We stayed at the lodge at Shawnee State Park, cramming six triathletes into one room. We were not in there very much though (too busy racing) so it worked out, although the room got a little raunchy by the end of the weekend. Having a solid roof over my head for once was very nice though.
The Races
Super Sprint
We started off Friday evening with a super sprint (250m swim, 5 mile bike, 1 mile run). The water was warm enough that I did not have to worry about a wetsuit for the short splash, and I made it through the murky water fine. The bike was a whirlwind up and down the big hill in the park, and the run went smoothly. I maybe hit this race a little too hard, but not by much. In any case, that evening I was more sore than I remembered being last time and definitely more than I should have been with three more triathlons in the next thirty-six hours.
Splits

| | | |
| --- | --- | --- |
| Swim | 5:21 | Includes 100 yard run up beach |
| T1 | 0:39 | |
| Bike | 11:29 | 16.7 mph, 248 watts |
| T2 | 0:36 | |
| Run | 5:55 | 5:55 min/mile |
| Total | 24:02 | |
Olympic A.M.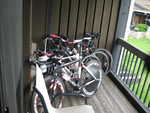 The bikes overtaking our patio
The first Olympic triathlon is hard to pace. You are (or at least should be) feeling strong, but you must hold back because the weekend is still so young. You can hammer the super sprint without too much penalty, but not so much in the Olympics.
My morning Olympic triathlon started well, and I made it through the swim smoothly, despite being my first time wearing a wetsuit that year. The bike course was very challenging, and I remembered much of the course and hills from the last time I raced here. I stayed as smooth as possible, trying to relax on the hills. I circled through the country roads' ups and downs before making it back to transition to start the run. The run began okay, but quickly became hard as I progressed along the fire road. Although the trail was rough and hilly, my legs were more tired than just the terrain should have caused. I was holding my desired pace of around seven minute miles, but that speed was taking a toll. My sparse run training due to an injury before the St. Louis Marathon was catching up to me. Although in hindsight a bad idea, I keep pretty close to that pace for the rest of the run, finishing with tired legs, which was a bad idea being only a quarter way through. After the race I went into recovery mode, and hoped that would help for the afternoon's race.
Splits

| | | |
| --- | --- | --- |
| Swim | 21:51 | Includes 100 yard run up beach |
| T1 | 1:32 | |
| Bike | 1:23:30 | 17.8 mph, 191 watts |
| T2 | 0:35 | |
| Run | 46:07 | 7:05 min/mile |
| Total | 2:33:36 | |
Olympic P.M.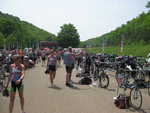 Transition
I rested for a while in our hotel room but all too soon the clock told me to race again. The afternoon Olympic triathlon has the nontraditional bike-swim-run order. This bike course was slightly faster, with less turns and a few extended climbs. The long climb did not bother me much, and I got back ready to cool off in the lake. I did not wear my wetsuit as the water was warm barely enough, and I cannot put one on in a hurry. I never experienced the extreme cramping some people develop after jumping off their bikes into the cool water. The lack of a wetsuit slowed me, but saved time overall by not having to mess with it. Becoming vertical I headed back onto the same run course as the morning, hoping for a better result. Unfortunately that was not forthcoming. The run was hard from the beginning and I struggled through it. I went about a minute per mile slower than desired and had to put forth a gargantuan effort to do so, with the hills being especially difficult. I made it through though, but was already not looking forward to the Half Ironman that started in about twelve hours.
Splits

| | | |
| --- | --- | --- |
| Bike | 1:20:59 | 18.4 mph, 192 watts |
| T1 | 0:39 | |
| Swim | 24:45 | Includes 100 yard run up beach |
| T2 | 1:05 | |
| Run | 49:43 | 7:39 min/mile |
| Total | 2:37:13 | |
Half Ironman
With how the two Olympic distance triathlons transpired on Saturday, I knew the Half Ironman would be a long day. Although everyone else was not very eager either, the crowd of athletes was finally kicked out of transition and made their way to the beach. I got my spot in line and eventually headed into the water. The swim went fine until in a shallow spot I set my foot down and stepped on an underwater branch, putting a hole next to my toe. It stung, but with the adrenalin from the race I kept going. It hurt throughout the rest of the swim, and probably bled pretty well. Fortunately the lake is not stocked with sharks until Memorial Day. I was sure the ultra clean lake water washing the wound was good for it too. I could swim fine however, since my feet did not do much during that event, but I was a little worried for the upcoming bike and run which utilized them much more. After the two loop swim I hobbled up the beach to my bike. I obtained a band-aid in transition to try to keep the cut under control, and thankfully it did not bother me after I being pedaling.
The bike course was two beautiful, but very challenging loops through the nearby state forest. I felt okay, but not great, surviving these long circuits, pacing myself up and down the hills and through all the curves. The prescription insert for my sunglasses kept fogging up, and I end up removing them, because even if the view is blurry, that was better than obstructed.
After covering 56 miles it was back on my feet for the last 13.1. I started jogging slowly on the course, my legs spent from the prior three races. I started next to a guy already on his second loop and tried to hang with him for a while. I stay for a mile or two, but eventually fall off. I endured the first loop of the run and did not look forward to the second. DNFing was not an option though, so I headed back into the woods. Each step got harder, and I walked many of the uphills. I was in survival mode and continued plodding forward. I had no competitiveness left and just focused on getting to the finish line so this could be over. I had a long stretch of walking near the run turnaround up its big hill. Thankfully from the top of that hill the course was generally downhill to the finish. I waddled back, still having to occasionally walk, but finally crossing the finish line. I was very grateful to finally be done, allowing me to fully rest and eat whatever I wanted.
Splits

| | | |
| --- | --- | --- |
| Swim | 33:10 | Includes 100 yard run up beach |
| T1 | 2:26 | Waited for band-aid for foot |
| Bike | 3:22:30 | 16.9 mph, 169 watts |
| T2 | 1:28 | |
| Run | 2:06:38 | 9:40 min/mile |
| Total | 6:06:14 | |
Post Race
That evening we attended the awards banquet. I of course did not win anything, but a few from the Iowa delegation earned team awards, and everyone ate delicious pizza. Afterwards we sat around the lodge with other racers joking and having a good time, now that we did not have to worry about racing for a while. Thunderstorms that had been drenching the area all spring and had somehow parted for all four races now returned, and we enjoyed the raw natural power from underneath the shelter of the lodge's back porch. At some point we got a night's rest before starting the long drive home the next day.
Results
I was the 40th individual overall with a total time of 11:41:07, which was over 40 minutes slower than my last time as Triple T. I lost most of my time by having to walk on the run during the Half. This race was not exactly the confidence booster I wanted going into a couple summer Ironmans. I think I was just undertrained though. I did not do the necessary bricks or hard bike rides that I needed. Two years prior I had a great Triple T and horrible Ironman, so hopefully that would be reversed.