Home » Endurance » Triathlons » Ironman » Canada 2009 » Swim & Bike
Sunday — Race Day, Dead Man Walking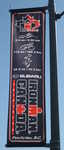 My long day at Ironman Canada began punctually at four in the morning, long before the crack of dawn. I consumed my morning calories, retrieved everything meticulously laid out the previous night, and drove into Penticton. In town I filled my bike tires and secured the day's nutrition in my gear bags and on my bike. Everything was now complete, and all I could do was wait, while blocking any negative thoughts from my head. I passed the time quietly in the change tents, but in fervent expectation of the cannon. About half an hour before the start I strolled to the beach to don my wetsuit and become acclimated to the water.
I felt really good watching the pros begin their day and was eager to see the results of my long, hard training. Despite only being my second Ironman, I was not nervous standing in the water. It did not even seem like the Ironman in which I had invested so much time, money, and effort was about to start. My mood differed little than at the start of any other triathlon. A glance back at shore though, lined with thousands of people and signs, was an awesome sight that reminded me exactly what was about to get started.
The Swim
The clock kept ticking and eventually the siren (unfortunately no cannon) ushered the 2500+ athletes into Okanagan Lake. The swim was of course a mad house, with so many friends sharing such a confined space. The water was less crowded than Wisconsin, but I still received a mild beating. My goggles were knocked loose a couple times, and several other hard bumps assaulted me, but I kept my cool and just concentrated on swimming. As opposed to most of my triathlons, I found some feet to drag me around the course. Staying on a specific pair for an extended length was difficult, but I was polygamous, with many partners helping me throughout the swim. All told, I drafted around a third to a half of my stay in the water.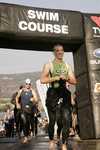 The first two turns in the lake passed rapidly and before long I pointed back towards shore. I kept concentrating on my technique and closely following a pair of feet along the course. I felt fine throughout the swim, but after the seemingly quick first two legs, the last stretch dragged on. Mentally I was ready to vacate the water, even if my body could have handled more. I had not prepared for the second turn only being the halfway point of the swim, instead visualizing myself further along in the event.
My mental prowess does not readily adapt to added, unexpected difficulties during a race, so the long final stretch was challenging. If an event is supposed to be unpredictable, that is manageable, but a "known" suddenly changing for the worse in the middle of a race is quite another matter. I just kept stroking though while watching each small orange buoy slowly grow ever larger and eventually pass behind me.
My persistence caused the flags at the swim exit to grow ever taller, and finally my hand hit the sand, after which I became vertical to begin my transformation into a biker. My swim split was 1:06, which pleased me greatly. Although no doubt aided by drafting, the elapsed time landed on the low end of an already aggressive swim goal. Even with a fast split (for me), I felt great the entire time in the water.
On dry land the change tents were busier than anticipated, but I moved methodically through transition, found my ride, and headed out onto Main St., pushed forward by gigantic cheering crowds.
The Bike
The opening miles kilometers of cycling began smoothly, as I exchanged my sea legs for bike motors. A slight tailwind propelled the riders as we pedaled towards Osoyoos. Most of my effort actually was directed at keeping my power under control. The strong swim and tapered bike legs left me feeling invincible, but going hard so early in the race would be stupid and disastrous.
Besides keeping my wattage in check, I also tried to mediate my temper. Only one big, horribly obvious peloton overtook me, but riders still always seemed to pass in groups. Some bunching was admittedly unavoidable with over 2500 bikes on the road, but rarely did just a single person go by. I am not accusing everyone, or even most people, of drafting though. Deciphering an individual's riders' intention is nearly impossible without several miles kilometers of observation, so my short reconnaissance did not prove anything.1 I was probably more annoyed with myself that so many people legitimately passed me. In any case, I could control only my own race and defer to one of the sparse motorcycle patrols to penalize any infractions. Anyway, although everyone has Kona dreams in the back of their mind, ultimately each person races against and for themselves. If someone needs to cheat their way through an Ironman, that is their prerogative.
Richter Pass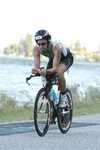 After having nearly reached the US border, I turned by the gas station in Osoyoos, which mentally seemed like halfway. Unlike the swim, this time I knew my intuition was completely wrong. Although at the furthest point from Penticton, I had only completed a warm up. Both climbs loomed large and the little out and back in Keremeos added many miles kilometers to the "back half" of the loop.
The turn in Osoyoos though, did indicate the start of the climb up Richter Pass. Naturally my wattage peaked in the long string of cyclists slowly crawling up the hill, but I kept myself in the small chain ring spinning merrily. Still, I passed quite a few bikers on the ascent (cynic in me remembered that drafting offers little assistance on climbs). The crowds were great as well, as hundreds of people lined the incline to encourage the riders. An even larger group of screaming fans occupied the summit.
Overall, the climb over Richter was not as horrible as everyone warned. It was definitely challenging and something for which to prepare, but not to fear. The great crowds offering support helped extensively as well (Of course, seeing how severely I blew up later in the race, I may have burned a few too many matches getting over the hump so well.)
The Rollers
On the backside of Richter I enjoyed a 40 mph 65 kph descent and started into the rollers. I covered these without a problem, although a slight headwind was noticeable. The miles kilometers did not tick off quite as quickly as on the flats to Osoyoos, but I was still very much in control.
Although the Ironman Canada Bike course was beautiful with lakes, mountains, vineyards and valleys adorning almost the entire length, I could not absorb the beauty. Several times early in the bike I quickly gazed upon my magnificent surroundings and tried to appreciate them, but most of my focus concentrated on the race and the plethora of bikes on the road. The strip of asphalt directly ahead of me preoccupied my eyes, ensuring the rubber side of my bike stayed down.
The approach to Keremeos stretched on for a very long while. The valley's contour provided an extended view of the long road ahead, so riders could continually watch the town creep closer at an agonizingly slow rate. At least when I finally reached the turn in town to start the out and back a tailwind offered a little assistance. Although tempting to nearly skip over the loop in Keremeos while tracing the course, it needs to be respected. The terrain was not challenging, but it consists of a sizable portion of the entire bike ride. Cyclists must cover almost the entire length of the valley again, before making a 180° turn for another ten miles fifteen kilometers just to arrive back where the whole ordeal started. Nothing against the residents of Keremeos (who generously endure the throngs of bikers and spectators), but I spent way too long in that small town.
I was relieved upon reaching the conclusion of this section, except that the reward for enduring the out and back was the second big climb, up to Yellow Lake.
Yellow Lake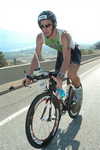 By this time, almost eighty miles 125 kilometers into the ride, I started to feel the day's effect. My butt did not appreciate my bike saddle and my legs began to tire slightly. I still felt comfortable with how my race was progressing though. Bodies will naturally fatigue during an Ironman, but mine was not yet drained. These rumbling, however, might have been early warning signs of much worse things yet to come.
I prepared myself for the effort to reach Yellow Lake. The climb was longer than Richter, and I had an additional forty miles 60 kilometers under my legs. I was not as strong up this hill as my assault on that first climb. Nevertheless, I spun relatively comfortably in my granny gear, although an even bigger rear cog would not have been opposed. A couple of aid stations in close proximity and the greatest support on the entire bike course propelled me up the hill to Yellow Lake. I had conquered the two mountains at Ironman Canada, and all that remained was a coast into Penticton. Or was it…
Rolling into Penticton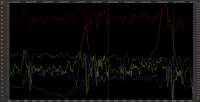 Bike power profile (159W average)
In my pre-race plans, I had expected a mostly ten mile fifteen kilometer descent from Yellow Lake into T2, with very little pedaling providing a significant rest before the run. These last miles kilometers did not transpire as anticipated though. First, an extra hill that I did not remember from my course preview was a mental drain. I could have physically handled another small hill without much problem, but after telling myself that Yellow Lake would basically be the conclusion of my hard work on the bike, the unexpected bump killed my esteem.
The surprise incline was not the worst of it though, as a persistent headwind hindered my efforts. Despite a generous descent, for much of those last miles kilometers I had to keep peddling to maintain speed. The downhill provided little rest, instead with me working the whole way down battling the breeze. The exposed highway along Skaha Lake allowed the wind to mount a full assault. These final miles kilometers were not the breather I needed after the hard climb to Yellow Lake.
The windy descent brought me to the outskirts of Penticton, but several excruciating miles kilometers still separated me from T2. The headwind was still very noticeable along the surface streets, but a downward slope no longer provided assistance. I struggled through these waning miles kilometers, wanting so desperately to get off my bike. Every bump in the road reverberated through my cycle weary body, adding extra insult.
Eventually through spinning squares I hit T2. I handed my bike to a volunteer and put on my running shoes, needed for that little marathon still remaining.
My bike split was 5:44, averaging 19.5 mph. Personally a very solid split, although I had still hoped to be about ten minutes faster.
---