Home » Endurance » Triathlons » Ironman » Canada 2009 » Afterwards
Monday — Hangover
After that little Ironman race the prior day, I took the first lazy morning of my vacation. With this much deserved late start though, I still needed to organize my gear for my post race adventures— what shipped with Tri Bike Transport, what remained in the car, and what lived in my backpack.
With everything in its proper place, I departed Okanagan Lake Provincial Park and drove into Penticton for the post race hangover. Watching workers tear everything down so quickly afterwards, when so much time and effort had gone into race day, was a little depressing, but life must go on.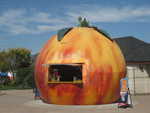 The landmark peach in Penticton
I gave my bike and gear bag to Tri Bike Transport, since my late finish precluded me from doing that the prior night, as originally planned. Had I thought ahead though, my bike could gone to Madison instead of back to Minneapolis. Not only was the Badger home a slightly shorter drive, but the weekend I would retrieve my bike coincided with Ironman Wisconsin. I could have once again volunteered and cheered on those amazing athletes, instead of seeing a bunch of people talk and dress funny.
Back in Penticton's Okanagan Lake Park, the finishers gear tent had already been thoroughly picked over, but I planned to abstain from that orgy of spending anyway. Although surprisingly, the store carried some very nice items, and not just overpriced gimmicks.
With the Ironman awards dinner not scheduled until that evening, I strolled along the huge beach on Okanagan Lake towards the S.S. Sicamous and the other ships condemned to the graveyard by the advent of highways. I talked with some locals enjoying the sand and the sun. Like a good portion of the town, they had helped on race day, and we shared our experiences.
River Float
In the early afternoon I took the obligatory tube float down the canal connecting the lakes bordering Penticton. The trip was unfortunately cut short at halfway due to low water levels, but the cool river and relaxing float proved a great way to lounge away the afternoon following an Ironman. Many other athletes leisured on the river as well, taking a rare rest day. After the float I spent the remainder of the daylight hours along the lakeshore, just being lazy and enjoying the nice town of Penticton.
Awards Dinner
The awards dinner was much better than opening ceremonies, with athletes relaxed and plenty of war stories to share. The speakers were more powerful and entertaining as well. A point the announcer stated at the celebration (besides "Ironman virgin" about a hundred times) directed at those who failed to achieve their goals (me), was a reminder of why we do these difficult events. No one endeavors to complete an Ironman because it is easy, with guaranteed success. Rather we thrive on the challenge and difficulty, so on race day we can discover of what we are made The physical challenge tears away any artificial layers, leaving us completely exposed, showing our true nature of dealing with the challenge, surprises, disappointments, and accomplishments of such a difficult undertaking. There is no hiding or faking during a 140.6 mile race. This observation struck a cord and at least provided a little consolation to pick myself up, analyze what to do better next time, and once again seek the white whale.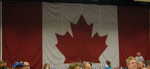 Giant Canadian flag inside the Convention Centre
Although Mike Riley is the voice of Ironman, Steve King is the voice of Ironman Canada. Both are great announcers for their respective events, but their mannerisms are starkly opposite. Mike builds excitement and energy, feeding off the crowd and working them into a frenzy. Steve, on the other hand, is distinctly British. He comes across more proper and formal (at least to this American), never indulging in the wild shouting and noise of the masses. He keeps the role of a proper Brit (although that is not actually his nationality), staying classy while objectively describing the raw emotion of the scene unfolding before him. Nevertheless, his personality still keeps the crowd and athletes going, and the entire Canadian triathlon community has a great fondness for him. He gives Ironman Canada a special and unique feel.
With most of the speakers and videos complete at the awards dinner, I ducked out early from the banquet when the trophies began to be disturbed. I would have liked to celebrate with those who performed so excellently, but my accommodations for that night were a backcountry campsite, which was still very far away. So rather than add an extra pair of clapping hands to the audience, I figured finding my spot before it got too late would be a better use of my time.