Home » Endurance » Triathlons » Ironman » Canada 2009
Ironman Canada 2009
After willingly getting ripped off by an Ironman Community Fund slot, the airlines, rental cars, and lodging, I will get the privilege of a long day of suffering doing an Ironman triathlon in my northern neighbor, which will accomplish something, I am not sure what. So all is not in vain though, I will afterwards explore Okanagan Mountain Provincial Park and Cathedral Provincial Park, assuming I can walk.
Leading up to this race, for the first time in my athletics career, I actually temporarily gave up being a runner to become a triathlete. Instead of just fitting in an occasional swim or bike around a regiment of mostly running, my training schedule would properly prepare for all three events. I focused too much of my time and energy building up to this race, wanting to put in a strong showing in Canada. Recovery drinks, ice baths, and countless hours of training occupied most of the year beforehand. With many, many months of preparation I went north hoping for a good race. (How disappointed I would be.)
Friday — Check-in
After a quick morning swim at my campground's beach in a cool, calm Okanagan Lake, I attended a very expensive breakfast for those who registered through an Ironman Community Fund slot. Eating a hearty meal with fellow athletes was enjoyable, and Lisa Bentley presented an informative, yet humorous pre-race talk that helped fine tune our mental state and calm the nerves. Every triathlete had heard what she said a hundred times before, but hammering in those points again never hurts, especially with the excitement so close to race day.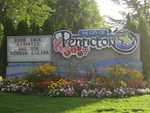 After food I planned to traverse the maze of race registration, but the obnoxiously long queue forty-five minutes before the tent even opened persuaded me to do otherwise. Nearby was Tri Bike Transport's field office so I instead retrieved my bike from them. Their service to ship a fully assembled bike cost about the same as hauling a bike box on an airplane and was much more convenient. Especially since the awesome crew at Gear West Bike hauled my rig after volunteering at a triathlon near my house, saving me a trip to the Twin Cities.
I perused The Bike Barn for necessary cycling gear which the TSA would not have appreciated on an airplane. With all my equipment collected, I finished my bike preparation with a quick spin, ensuring my carbon fiber contraption was mechanically sound. My ride also provided a peak at the opening miles kilometers of the bike course and the entire marathon route. I discovered a rough road turning away from Skaha Lake on McClean Creek Road and a few challenging hills in the middle of the marathon (what an understatement).
Big Telescopes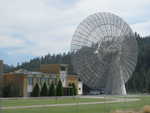 With my pedaling completed, I headed away from town to the Dominion Radio Astrophysical Observatory. Despite being a lackluster space enthusiast at best, the large telescopes gazing into the heavens impressed me. I could walk very close to the massive arrays to discover their inner workings. The visitor center provided details on the dishes' focus and various conclusions derived from their data. The variety of exhibits was an extreme juxtaposition of original 1960s kiosks versus modern descriptions of the site's intricate technology. The former displays were not historical either; they just had not been updated since the building's inception. Still, all the exhibits were informative and interesting, even if a bit dated with their styling.
Athletes' Village
With my astrologyonomy lesson complete, I traveled back to Ironman Village to actually register for my big race. My procrastination once again paid off, as the line was near nil so near to closing, and I breezed through the whole processes in approximately seven minutes. My only gripe came with the chip straps. For a mere $5 CAD, athletes could upgrade from an ankle slicing, hospital ID style band to an actual real, fabric one. For such a large, prestigious event to charge athletes, who had already shelled out extremely large sums of money, for a standard comfortable chip that even backwoods, first year sprint triathlons provide was aggravating. The proceeds did benefit charity, but to nickel and dime competitors by coercing them to donate to this cause was tacky — lousy Ironman money whores (and us athletes that continue to pay, so they have no incentive to change).
Athlete's Village was a disappointment, even with my low expectations. Few, if any, interesting exhibitors lived inside the compound and none distributed swag or free samples. To make matters worse, I felt drained that afternoon, possibly from the sun on my earlier bike ride or perhaps from just a long day. (Note to self: wear sunscreen during the race). I definitely need to feel better on race day.
Athlete's Dinner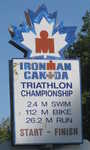 The pre-race dinner was at the Penticton Trade & Convention Centre, which only sees such large crowds once a year during Ironman. The food was good, but the presentations were less than impressive. None of the orators said anything overly useful, with only people that just wanted their face on stage or else felt obligated to speak giving short narrations. Most of the VIPs could have skipped their spot without any detriment to the evening.
The whole event actually had a good old boys' club vibe. This group unquestionably held that Ironman Canada was the greatest, and needed not explain why. Although this sentiment resonated well with the veterans nodding along with the speakers, the demeanor was alienating for a first timer.
The athletes' meeting following the meal failed to reveal anything revolutionary either. Confirmation on many of the conflicting or missing "facts" from the various literature (official and not) though, was reassuring.
I skipped the Main Street dance that evening since it was already late, I have no rhythm, and more time on my feet sounded like a bad idea. So after leaving the convention center I retreated to camp for a refreshing hot shower before hitting the sack.
Saturday — Calm Before the Storm
I took a quick morning jog around the campgrounds before depositing my bike and transition bags in town. In Penticton I also attended the Iron Prayer service at Concordia Lutheran. Despite the presence of a praise band and a nondenominational gathering, the church, to my surprise, held a non-ecumenical service. Although geared towards the fit visitors in town, the assembly was the congregation's normal worship, just moved to Saturday to accommodate the race. They unequivocally preached the Gospel — Christ crucified for the world's sin. The sermon did naturally mention Ironman, but its lessons correctly taught the triathlete's training and discipline are examples of how one should approach the Christian life, as the Bible clearly teaches. Unfortunately, these verses seem often misconstrued to encourage athletes in their physical pursuits.
Chugga Chugga Trains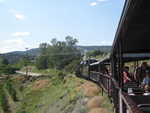 Kettle Valley Railway at its terminus
After church I fled town to relax until the race's start. In Summerland I rode the Kettle Valley Railroad, whose restored steam engine ran along an old stretch of the namesake railway. The clickity clack of a train is always magical and rejuvenating, with this experience being no exception. The run was short but still provided great views of the valley during its abbreviated excursion. The cuts through the mountain carved by only human and animal power were amazing. How hard and long men toiled to clear the way for a train. Back on board though, a banjo player strolled among the cars, adding extra entertainment to an already enjoyable trip.
After returning to the station, I grabbed a hot meal in town before retreating to camp to await my destiny. I packed my gear bags and arranged everything for the very early morning and big day. With all possible preparation complete, I spent the remainder of the evening on a rocky beach, reading and allowing the waves to lap against my feet, keeping any thoughts of the race from my head. There are few better ways to pass a gentle evening. Despite the lazy activities, these final hours did not drag out like a child's Christmas Eve, and soon I retired to bed barely after darkness settled over the valley.