Home » Endurance » Running » Marathons » Ragnar Great River Relay
Ragnar Great River Relay
205 mile, 12 person relay. Run, Drive, Sleep? Repeat.
Pre-Race
The Ragnar Great River Relay is a 205 mile, 12 person relay from La Crosse, WI to Minneapolis, MN. In August of 2008 I completed this event with eleven other fellow CVRA runners. What follows is my recounting of that fun and hectic weekend.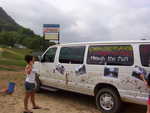 Mudding the vans
My team, CVRA Endurance — Through the Flood Through the Run, was named in honor of the dedication and hard work that brought the Cedar Rapids, IA area through the devastating floods that year. Although the deluge avoided claiming any of my teammates, its rampage and the community's heartwarming response permeated our consciousness. Our struggles throughout the relay would not compare to the flood victims' difficulties, but remembering their strength and positive outlook would help us push through the pain. Hopefully we could also spread awareness of flood's wide reaching impact and the plight thousands still endured, even after the media moved to its next sound bite.
My team was coed, consisting of an equal number of males and females. Race logistics dictated that the runners split into two vehicles. To make the most of this situation my team divided along gender lines, leaving us with a "Mans' Van" and "Ladies' Limo." This arrangement actually worked out very well, as opposite sexes can be more inclined to differences of opinions and disagreements when stuck together in confined spaces for extended periods. The two genders also generally have differing minimum hygienic and cleanliness requirements, so as the miles and body odor piled our segregation avoided much potential friction. The lack of a feminine influence also made it much easier for the men to admire some of the other teams' beautiful scenery along course without a slap to the face.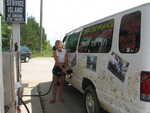 Gassing up the mudded vans
Race organizers encouraged teams to decorate their vans. With the flood theme, our creative members decided to adorn our rides with relics of the event. These decorations were mainly posters depicting the stunning devastation. For a 3D (and fragrant) effect though, we also covered the vehicles with mud. The ever present muck left by the floodwaters also accented the vans. Actually mudding the vans was an odd, yet fun experience. We pulled over near a runoff pond and coated our clean rental vans with the sloppy substance. Decorating the vans by playing in a roadside ditch while receiving strange glares from everyone who passed was quite memorable. Thankfully, a trip through the carwash at the end of the weekend quickly undid all our mischief.
Actual Running
I was runner number two, meaning legs 2, 14, and 26 were my responsibility. My part would total almost twenty and a half miles with terrain ranging from easy to hard. Although everyone had great experiences with more interesting stories than I did, this memoir will be egotistical, recounting my own runs since I know those best. Stories from my teammates can be found in the TBD month CVRA newsletter.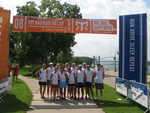 The entire CVRA Endurance — Through the Flood Through the Run Team
First Leg — 7.6 Hot Miles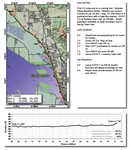 Leg 2 Map
With my team's first quick runner, we led the noon starters into the initial exchange zone. He handed me the snap bracelet (used as the baton), and I started swiftly down a nice crushed gravel trail. With the excitement of the crowds at the handoff and my own aggressive time goals, I began too fast. A lack of nutrition throughout my run also compounded my disastrous early pace. The Ragnar Relay did not provide aid stations, so team members needed to provide sustenance along the course for their runners. Having just started our relay adventure though, we had not thought that through. Besides, a seven and a half mile run without water should not have been a large travesty.
The course, however, eventually turned from the cushy trail and followed an unshaded road along a corn field. Climbing temperatures combined with my quick start quickly eroded my energy stores. Since my poor planning left me no way to access additional supplements, I struggled painfully though the last couple of miles, just wanting the leg to end. After a long stretch of hot, lonely road I eventually found my team and handed off to our next runner, thankful to be done. Although not great, my first leg was not a horrible run either. It was definitely not the way I wanted to begin, especially with two of my legs still remaining.
Second Leg — 8.3 Miles with a Big Hill
Leg 14 Map
My next running appointment did not commence until well after the sunset. One of Ragnar's interesting aspects was that each person executed at least one run at night. Competitors donned lights and reflective gear for safety, but the empty darkness still entombed the athletes. Minimal traffic was on the road that early in the morning, except for the numerous other Ragnar support vehicles. With ample other runners and slow moving vans, I felt safe at night on the wide shoulder of the relatively major thoroughfare.
Slicing through the darkness was an ethereal experience. The headlamp provided just enough illumination to prevent tripping, but the surrounding terrain was still a mystery. Often times, it felt like I was floating through the night. A chain of slow moving, blinking red lights stretched along the road as far as I could see, carried forth by other Ragnar teams.
The terrain, hid by the cool night air, was a personal boon, since the course profile indicated a very long climb. In the darkness at least I could not observe the magnitude of the hill firsthand or see the dishearteningly long distance remaining until the summit. In fact, it was hard to tell even when I left the flats and started upward. But the incline eventually became obvious as my legs pumped harder and harder to make forward progress. I powered up the hill, not trying to kill myself but still keeping a decent pace. As much as I dreaded this prolonged undulation, I scaled it relatively well. Its bark was worse than its bite, and it never came close to getting the better of me.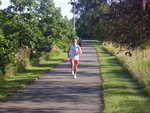 After reaching the top, my teammates provided my own personal aid station before I started the equally long, knee pounding descent. The map indicated a short, but incredibly steep stretch on the way down, which had concerned me. That ladder never materialized though, being just an ominous glitch on the map. The uninterrupted, steady descent proved to be a nice rest, despite moving quickly forward. I did not have to put forth much effort with the pavement dropping out from beneath me. I let me legs go and barely did any work. Although relatively refreshed on the decline, I did not have the leg turnover to go any faster. It was a nice feeling though to be able to travel so fast with minimal effort.
The course eventually flattened out, and the last mile of the leg was level. With my "rest" on the descent, I hammered in to the exchange zone. I covered the last mile in six minutes flat, which was good for me, especially at the end of an eight miler, my second run in twelve hours, and the whole thing occurring at midnight. A train passed as I approached the end, so our next runner barely realized it was his turn before I handed him the wristband.
This leg felt much better than my first one. Although a big hill impeded the path, I felt strong throughout and maintained a good pace. The cool night air was a major benefactor, providing relief from the hot sun. My performance was a good recovery from a poor initial run and a confidence booster with one stretch still remaining.
Third Leg — A Quick 4.4 Miles to Finish My Part
Leg 26 Map
With exhaustion overtaking me in the early morning hours after the Man Van's second jaunt, I sprawled across one of the van's benches and fell into a deep sleep. I awoke later that morning to the rising sun, but without an inkling as to my location. As I slept a teammate had apparently generously drove to the next exchange zone. So I actually was where I needed to be, but only had about an hour to shake my grogginess before running again. At least my final leg would be a fast and short. Some quick calisthenics mostly rid the sleep from my system, and shortly thereafter I took off down the road.
With the sun rising, the possibility of a warm run and a repeat of my disappointing first leg hung over me. Thankfully though, the day was still young enough so the heat had not yet taken over. I moved swiftly and easily through the warming morning air. Later runners would not be so fortunate though.
Nothing extraordinary spectacular occurred during my last leg, and I stayed strong throughout with a solid, enjoyable effort. That run was defiantly a great way to finish my part of the Ragnar Relay. My total contribution totaled a little over twenty miles over the course of twenty hours.
Finish Line
My contribution to the relay may have been completed, but my teammates were still going strong. I supported the rest of our male runners until we finally handed the baton to the ladies for them to bring it home. With our work fulfilled, the men traveled to the finish in Boom Island Park near downtown Minneapolis. There we enjoyed live music, massages, and relaxing in the park after our long ordeal. The race organizers were a little skimpy on the food for such a large event, but nevertheless a good time was had by all milling over drinks while watching other teams finish. I maybe felt a little guilty sitting comfortably in the shade while our women were still racing hard, but not too much. I had already made my payment and now was their time for fun, even if the day was warming.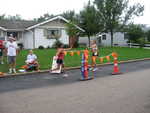 The ladies doing an exchange
After a pleasurable morning of running and relaxing, my team's last runner approached the finish line. Most teams participating in Ragnar crossed the finish line as semi-organized groups, and CVRA Endurance had planned a similar conclusion. All was not to be though, because even after a 200+ mile relay, our last runner was racing another team to the finish line. Although we probably started at different times, she was not going to allow someone pass her at the end. So instead of a nice celebratory finish, a herd of around thirty people from several teams scrambled over the line. But her die hard attitude prevailed, as she beat the competition. With a total time of 27:07:45, our team finished seventeenth overall and fifth in the coed category. Full results.
Although our finish might not have been ideal, my team did celebrate our accomplishments afterwards — talking, taking pictures, and enjoying each other's company. For some reason we rushed ourselves after the race though, and unfortunately the occupants of the Ladies' Limo did not get to savor the finish line amenities long. Instead, we cleaned up slightly and headed for a nice large lunch, which everyone eagerly anticipated.
Not Running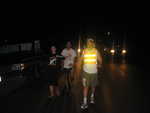 Just after finishing running in the dark
Although participating in Ragnar requires a great deal of running, each person has also has significant downtime while teammates are competing. In fact, the time off your feet makes up the majority of the Ragnar experience. From cheering on other runners, to eating, to catching the slightest bit of sleep, the non-running portion defines the weekend.
For a typical team, the twelve relay members split into two vans, which really do not interact much after the race starts. The vehicles were independent entities, only coming into contact for several fleeting minutes a couple times throughout the whole event. So those assigned to a particular van spend ample quality time together through this endurance test.
Due to massive logistical issues, no aid stations were along the course. Any help runners needed had to come from their teammates. To be the best crew possible, we would usually leapfrog the runner, offering nutrition and encouragement every couple of miles along his leg. The traveling peanut gallery genuinely helped everyone survive the hot, sunny days or dark, desolate nights. Nighttime was slightly more challenging for the pit crews though, as identifying which bobbing headlamp belonged to a teammate proved to be a difficult exercise. But that just adds to all the fun.
Eat and Sleep
With a twenty-four hour plus relay, hunger and food management were of paramount importance. Although plenty of food packed the van (the women kept the men fed), dry sustenance in a cramped van was only appetizing for so long. Restaurants probably lined the course (although less were open at 2 a.m.), but my team never had the time or will to eat at one. Ragnar did organize a spaghetti dinner around the halfway point though. The pasta quality was on par with a typical school fundraiser, but everyone appreciated the large, hot meal which tasted surprisingly good.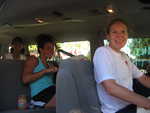 Inside the ladies limo
Besides needing to eat, most people prefer to catch at least a little sleep during the extended event. Whenever anyone in my van was running though, little opportunity existed to relax since we were busy supporting our teammates or preparing for our own endeavors. But when the Ladies' Limo was in charge of the baton there was ample free time for the men to relax. During these five to six hour lulls, Ragnar provided large exchange zones at which to stay. These included live entertainment, food, and many other teams with which to mingle.
Still, I mostly tried to grab some sleep in the cramped van. This strategy worked pretty well, except during our first break. Throughout that hiatus, a light rain forced us to retreat inside the van. That would not have been too bad, except the confined space grew awfully warm with six guys inside. We could not really crack a window for a breeze either, since an army of oversized Wisconsin insects would attack through any opening. That initial break was a little long and tedious, but all other time off my feet was enjoyable.
Overall, Ragnar was a great experience and I had a lot of fun. Although everyone on my team was from the same area, I met some brand new people who turned out to be great. And for those I already knew, we became much closer after sharing almost two days in the same smelly van!
Splits
Although CVRA Endurance's goal was to have fun and not worry about its finishing spot, we still recorded our splits and pushed ourselves hard. The ragtag gang somehow finished seventeenth overall and fifth in the coed category. Maybe we should try taking it seriously.
Ragnar Splits
Leg
Difficulty
Runner
Distance
(mi)
Total
Distance
Start Time
Leg Time
Pace
(min/mi)
Total:
206.1
3:07 p.m.
27:07:45
7:54
V
A
N

1
1
Moderate
Mike N
7.3
7.3
12:00 p.m.
46:50
6:25
2
Moderate
Joey
7.6
14.9
12:46 p.m.
49:51
6:34
3
Very Hard
Sam
9.5
24.4
1:36 p.m.
1:06:25
6:59
4
Moderate
Shaun
8.0
32.4
2:43 p.m.
1:19:36
9:57
5
Moderate
Mike S
5.4
37.8
4:02 p.m.
36:39
6:47
6
Hard
John
6.8
44.6
4:39 p.m.
1:03:45
8:30
V
A
N

2
7
Easy
Kelly
3.0
47.6
5:43 p.m.
14:00
7:47
8
Easy
Teresa
5.3
52.9
5:57 p.m.
51:00
9:37
9
Hard
Julie
7.9
60.8
6:48 p.m.
56:00
7:05
10
Hard
Heidi
7.9
68.7
7:44 p.m.
1:07:36
8:33
11
Moderate
Mandy
6.8
75.5
8:51 p.m.
1:00:54
8:57
12
Hard
Mary
7.9
83.4
9:52 p.m.
1:08:00
8:36
V
A
N

1
13
Hard
Mike N
6.2
89.6
11:05 p.m.
41:18
6:40
14
Very Hard
Joey
8.2
97.8
11:47 p.m.
54:38
6:40
15
Easy
Sam
5.3
103.1
12:41 a.m.
36:20
6:51
16
Easy
Shaun
5.0
108.1
1:17 a.m.
41:32
8:18
17
Very Hard
Mike S
7.6
115.7
1:59 a.m.
52:34
6:55
18
Hard
John
7.5
123.2
2:52 a.m.
1:00:55
8:07
V
A
N

2
19
Easy
Kelly
3.4
126.6
3:53 a.m.
28:14
8:18
20
Moderate
Teresa
4.9
131.5
4:21 a.m.
46:04
9:24
21
Moderate
Julie
5.0
136.5
5:07 a.m.
34:54
6:59
22
Easy
Heidi
4.0
140.5
5:42 a.m.
31:09
7:47
23
Moderate
Mandy
5.0
145.5
6:13 a.m.
45:13
9:03
24
Easy
Mary
3.0
148.5
6:58 a.m.
22:55
7:38
V
A
N

1
25
Easy
Mike N
3.1
151.6
7:21 a.m.
18:07
5:51
26
Easy
Joey
4.4
156.0
7:39 a.m.
27:00
6:08
27
Easy
Sam
2.9
158.9
8:06 a.m.
19:41
6:47
28
Moderate
Shaun
4.3
163.2
8:26 a.m.
38:00
8:50
29
Hard
Mike S
7.2
170.4
9:04 a.m.
49:10
6:50
30
Easy
John
5.0
175.4
9:53 a.m.
42:28
8:30
V
A
N

2
31
Moderate
Kelly
6.5
181.9
10:36 a.m.
58:40
9:02
32
Moderate
Teresa
5.2
187.1
11:34 a.m.
49:42
9:33
33
Easy
Julie
4.2
191.3
12:24 p.m.
30:19
7:13
34
Easy
Heidi
4.5
195.8
12:54 p.m.
38:57
8:39
35
Moderate
Mandy
4.5
200.3
1:33 p.m.
41:43
9:16
36
Moderate
Mary
5.8
206.1
2:15 p.m.
51:55
8:57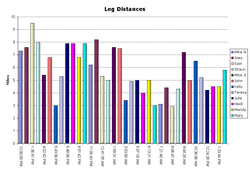 Distances for each of the legs
---