Home » Endurance » Running » Marathons » Psycho WyCo
Psycho WyCo — February 9, 2008
Introduction
After an absolutely wretched performance at my first long trail race in Colorado, I vowed to never again attempt one outside the Midwest unless I lived somewhere that afforded better conditions to prepare for such demanding terrain. So in keeping with my promise, less than a year later I registered for the Psycho WyCo "Run Toto, Run" 50K Trail Race in pancake flat Kansas. The course's description however, included: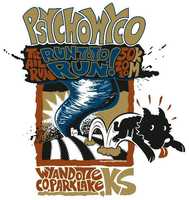 Loop course on rocky, rooty, and hilly bridle trails and single-track trails. These trails aren't "sissy" groomed or paved trails; they're the real thing.
I first learned of this adventure organized by the Kansas City Trail Nerds while searching for a race during my Moab trip, but Bad Ben's Endurance Planet interviews reminded me about the opportunity. I was already deep into training for the Boston Marathon, so this race could be a "fun" long run. After all, if twenty milers are good for marathon training, thirty-one must be even better. My preparation thus far had not fully prepared my for such an expedition, but that has never stopped me before so why would it start now? A ten and twenty mile race were run concurrently but just attempting one of those never crossed my mind.
For even more encouragement to partake in this fool hearty endeavor, I knew a couple living in Kansas City, so I could visit them and also have a place to crash over race weekend. With all the stars aligned, the evening before I loaded into a car with a couple ladies who also wanted to visit the couple and drove down. Hopefully, my last debacle racing on trails pummeled some lessons through my thick skull, and I would fair much better tempting fate on the trails once again.
We made it to Kansas City without a hitch, but upon arrival I was a little surprised to find snow still on the ground. I had dug out from under a foot of powder back in Iowa earlier that week, but the weather seemed warm enough in Kansas to have kept the ground clear. No such fortune befell me, but perhaps the hundreds of miles run on snow covered pavement at home would pay off. On a much happier note, seeing our gracious hosts and visiting with them was great. I fell asleep later than originally planned, but talking with everyone was much better than a couple more hours of sleep. Copious rest the night before a race is not vital, and I was not trying to set a record anyway.
Race Report
That night I dreamt of having arrived late for the start, and that somehow corrupted my psyche into becoming paranoid about missing the real race or having an incorrect start time. The extra last minute anxiety was unfounded though, as my carefully prepared plans were correct, and I had ample time before the race.
Arriving at the beautiful Wyandotte County Lake Park, I retrieved my packet on the brisk morning and organized my drop bag at the start/finish line. I would have access to it after every time around the lake since the 50K was a three loop course on bridal and single track trails. It had plenty of hills to surmount also, about 2500 feet of climbing was required every lap. No warm up was necessary for my long undertaking, so I instead stretched and mingling with other runners waiting for our journey to begin.
Lap 1
After the race director announced some last minute instructions from the top of the playground's slide, an unceremonious "Ready, Set, Go" ushered in the start of the race. I intentionally placed myself in the back of the pack, and the crowded field moved slowly through the opening stretch. This easy start was actually part of my strategy though, as I had some personally unique goals for this race:
Start stupidly slow, no matter what
Consume a ridiculous number of calories
Use 1. and 2. to survive the long day
Not only did the swarm of people keep my pace slow, but I also proactively conserved energy by walking up the larger hills. I could have run up them, but doing so would have only marginally saved time while zapping much more energy in the process. Any time lost in these very early stages would be more than recovered by being able to continue running at a steady pace during the second and third laps.
The course followed mostly nicely groomed equestrian trails with some very noticeable climbs, but power walking up the hills made them very manageable. A little less than three miles into the race, the course took a detour through a mile long section known just as the "Triangle." It was a very narrow single track, twisting confusingly in every direction and constantly going up and down. Since I was not attempting to set any speed records, running these winding paths was actually a lot of fun. A couple of the other runners commented how messy this part would become as the snow melted under the rising sun and hundreds of people trampled over it. They had no idea how much of an understatement their prediction would be.
After emerging from the Triangle, the trail continued through slightly more passable stretches, although still with some very tall and steep hills. The course even followed a paved road for a while (although climbing up a big hill at the time), before plunging back into the woods and eventually covering a section designed by the wanderings of the race director's dog. How much I loathed that pooch.
As expected, the early crowd thinned as I made my first trip around the lake. With an open trail though, I had to remain relaxed and not push the pace yet. Nonetheless, I regularly passed people while finishing out the loop. In telling the other runners "good job" and talking with them, I deduced that I was in the middle of the ten miler pack. I was content with that position since I still had 3x the distance to cover, but even if I was not, I could not have done much to advance my place anyway.
Lap 2
After a slow transition at my gear drop by the start/finish line, I jumped back in to start my second attempt around the lake. With the ten milers' day already done, the course opened up and solitude paid a visit. With no one blocking my forward progress, I had to consciously hold myself back from going too fast. Although everything was currently going well, I still had many miles left and plenty of opportunities to make unforgiving mistakes.
In an attempt to starve off bonking, I religiously consumed food and calories throughout the race. Having learned the inevitable perils in Colorado of going without, I carried a water bottle containing sports drink and a flask full of gel. Even when I did not think I needed them or wanted to down another shot of calorie encrusted snot, I gulped my supplements anyway. The expended energy needed to be replenished or things would not be pretty in a couple hours. These forced feedings (combined with good pacing) contributed greatly to my success in this race.
The race organizers also encouraged eating as, despite being an ultra trail race, they stocked plenty of aid stations around the loop with refreshments. Those doing multiple laps also had access to their gear each time they passed the start/finish line. All the support may have violated those who subscribe to the hardcore, independent view of trail races, but I was very glad for the additional food drops.
Besides providing food the race organizers also placed many small signs with clever and/or inspirational messages throughout the course to keep the runners' deranged mind occupied. A few of the many humorous quotes that my sodium chloride deficient brain remembered were:
I never met a carbohydrate I didn't like
If you're gonna be tough, you better be stupid
I never met a hill I couldn't walk
The second half of this loop became very muddy. All of the people passing through the trails mutilated them and created a mess. I initially attempted to keep my feet dry, but staying out of the mud eventually became futile, and I plopped through the shoe-sucking muck. I had to be very careful to keep my footing and not face plant into any of the puddles. This cautious stepping slowed me down but also kept me standing upright. I still passed quite a few people though, which was a very uplifting way to spend the middle third of the race.
Although the loop course was advantageous in that I learned what to expect each lap, and it provided access to a drop bag, passing the finish line multiple times also provided an easy way to cut my race short. Instead of being stuck in the middle of nowhere with no outside way to extract myself, I observed all the hot food and comforts at the completion of each lap. A warm and dry car was nearby that could whisk me away from my troubles. The people from the shorter races also lounged around in their post race relaxation. It took some real mental fortitude to head into the woods for another ten miles around a lake I already circumnavigated at least once.
Lap 3
I originally thought my gel would last the entire race, but feedings came early and often and my reserves were gone by the end of my second loop. I tried locating some type of gel around the drop area, but no one could immediately find any. Although probably not a good idea, I hated being stopped so I just grabbed some Pringles and gummy bears before heading out for my final lap. About a mile in though, a volunteer actually tracked me down and handed over a gel. He had rummaged around, found one, and went so far as to make a special delivery on the course. How awesome and what great volunteers!
The course became lonely on the third lap though as the field was spread very thin. For a while I contemplated if I would even see anyone else the entire last lap. Occasionally though, I did pass people on the narrow trails, some for position, but mostly ones still battling through their second lap.
I was not feeling horrible, but I still had to dig deep to keep myself on task and running. My legs definitely felt all the hours and miles I put on them, but I never doubted finishing. The hills had somehow grown much steeper this third time around, making the course all the more difficult. I kept motivated by reminding myself that despite its ease, walking would only greatly prolong my time on the course. I would finish the race much faster and be able to enjoy the comforts at the finish line sooner if I continued running.
Only the latter half of the second loop was a quagmire, but the melting snow and additional runners turned the entire third lap into a muddy mess. Big puddles and slick surfaces challenged me the whole way. I never fell, but came awfully close several times as I horrifically danced along the trail. The infamous Triangle was virtually impassable, and in many sections I had to carefully grab from tree to tree to move forward and stay on my feet. I slid down the inclines as much as I ran on them.
The remainder of the race only became worse, and I just had to deal with what lay ahead and ignore any effects this terrain had on the unimportant clock. Many stretches that I quickly cruised through on the first lap, I now had to slowly walk through unstable muddy ruts. The muck greatly hampered my progress and added a lot of time to my race. Everyone else had to deal with the same conditions though, and at least the watery mud was not sticking in big globs to the bottom of my shoes.
I made a mental note of the last hill, and when I reached its top I let out a little "hurray." All that remained was the slightly treacherous descent to the finish line, which I crossed a little over five and half hours after the start. Not many people decided to stick around that long, so less than ten people — volunteers, other racers, and their families — were there clapping. The low key atmosphere was actually very fulfilling, as everyone present had a sense of what was involved in this type of endeavor.
After my race I recuperated around the finish area with other runners and cheered in accomplished finishers. My mud encrusted legs were thankful to be done working, and I grabbed plenty of food before finally leaving. I then rejoined my friends and had a great time with them the rest of the weekend.
Results
I finished the 50K in 5:33, good enough for seventh overall and to win my age group. Any race where over eleven minutes per mile can win your age group has to be good. Despite the debilitating hills, squishy mud, and snow, my calculated marathon split was still faster than my first disastrous attempt at the distance on the road and my zombie wandering-mostly walking Ironman Wisconsin run split.
I do know the distances between the below splits, but they were mostly consistent between laps. I marked the course map to show where I took each interval. Their approximate locations were: Split 1 - At the aid station before entering the Triangle. Split 2 - The unmanned aid station at the end of the paved section. Split 3 - Road crossing just before the Amos family aid station. Split 4 - Start/Finish Line.
Psycho WyCo Splits
Split 1
Split 2
Split 3
Split 4
Lap Total
Finish:
5:33:33
Lap 1
29:09
30:51
27:15
21:13
1:48:28
Lap 2
28:54
28:36
25:35
22:00
1:45:05
Lap 3
27:55
33:30
32:45
25:47
1:59:57
I negative split the second lap, due to less crowding and a very conservative start. Although my legs were not exactly feeling refreshed, deteriorating course conditions and mud mostly contributed to my third lap slow down, rather than my own fatigue. Actually speeding up again the last time around would have been questionable, but I probably could have stayed fairly consistent if firm footing remained. My slow beginning also put me in a position where I did all the overtaking. For the entire second and third lap, no one passed me while I caught many people. With this in mind, I probably was capable of running faster that morning, but my approach was a good learning experiencing, validated some long distance running strategies, and dispelled the ghosts lingering after my near DNF at the Desert R.A.T.S trail race. This day was just another baby step towards becoming faster in the long term. Not to mention that playing in the mud was great fun.