Home » Endurance » Running » Marathons » Boston
April 21 — Marathon Monday
Early Morning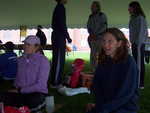 Waiting in Athlete's Village with my friends
As usual I awoke nice and early the morning of a marathon, using a slightly modified version of my pre-marathon ritual since Boston did not start until ten. I expected the T to be crowded with throngs of antsy runners ready to catch buses to Hopkinton, but most were less eager than me as I rode a nearly deserted train to Boston Commons. I avoided any wait for the buses as well and quickly boarded the next available cheese wagon. In an extraordinary coincidence, a couple other CVRA members rode the same bus. We had not planned on meeting but somehow still ended up together among the 20,000 runners. After a seemingly very long trip to the starting line (what, I have to run back?), I was deposited in athletes' village where I unexpectedly met even more hometown runners. Us four Iowans sat under the large tent, killing time and trying to keep our nerves at bay before the start.
Eventually though, the appointed time drew near, and I headed to my corral by the Korean church. Arriving early did not accomplish much, forcing me to wait merely in a different spot. At least it felt like progress was made. As the runners continued to fill the starting area, I eventually heard, but could not see, the wheelchair and elite women's start, meaning my appointment with destiny crept closer. About five minutes before the first mass of runners started bounding its way towards Boston, the clouds broke, permitting the sun to emerge. The temperature remained decent, but the possibility of the sun's adverse effects over the next couple of hours lingered in the back of my mind.
The Start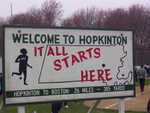 After all the buildup, the gun finally sounded, and I headed off with 10,000 of my best friends on our stroll to Boston. The start was crowded on the narrow two lane road, although not the worst congestion I have endured in a race. As with the introductory miles of almost any marathon, I felt great and unfortunately hit them ten to fifteen seconds below goal pace. Knowing the damage from starting out to fast, I tried to intentionally slow to get back on target, but the throngs of fast runners still swallowed me.
The roads were busy, but around 4K they became completely packed. A massive, congealed group proceeded along the pavement. As I finally maneuvered through this crowd, the cause of the backup became evident as my vicarious running nemesis, Lance Armstrong lay at the heart of this group. Apparently many people wanted to at least temporarily be in his posse and have a tale for after the race. Although easing my pace and joining as a groupie would probably have been more prudent, I worked through the mass and left the Tour de France champion in my dust…at least for the time being.
The crowds lining the race were absolutely great. Although recalling a specific instance of extraordinary spectator exuberance is difficult, a general feeling of excitement and genuine support extended along the entire 26.2 mile course. One slight exception to my memory hole was the fabled girls of Wellesley. Near the halfway point of the race, this institution of the Boston Marathon did not disappoint. A gradual roar built from half a mile away as the runners approached this gauntlet of young women. The screams literally brought goose bumps to my skin as I passed through the auditory tunnel. I intentionally eased my effort through this onslaught of coeds, letting their overflowing energy carry me as long as possible.
The Second Half is Longer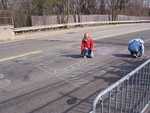 My aunt chalking the race course
I crossed the half marathon mark about ninety seconds ahead of my desired pace, and my race quickly headed south afterwards. In a very short time my legs tired and cramps attacked. My miles noticeably slowed as soreness encumbered by body, and I smacked into the wall very early in the race. I am not sure what caused this obstacle so early. My goal of 2:45 would have definitely been a hard stretch, but my training should have allowed me to last longer before things became really hard. My nutrition was not great during the race, but was still adequate to keep me going longer than fourteen or so miles. I did repeat the common mistake of starting fast (with one mile barely under six, oops), but not so speedily that the error would have burned me so early. The only thing I could find to blame posthumously was the quad killing downhill first half. Hill repeats (going up) had been an integral part of training throughout the winter, but despite hearing rumblings of the detrimental effects of descents, I did nothing to mitigate their subtle power to destroy a runner.
In any case, during the race I only knew of hurt and a quickly deteriorating performance. Although I kept pressing the split button on my watch every mile, these times would be for postmortem analysis only, as seeing my exact lethargic splits would only depress me further.
At least the weather did not add to my misery. Despite the lack of clouds most of the race, the temperature stayed decent and no winds surfaced. Poor weather could have been a convenient cover for my downfall, but I had no such excuse.
A highlight though, as my race fell apart, was passing Dick and Rich Hoyt around mile seventeen. They had started with the wheelchair division, and racing beside them, even for a short time, was very inspirational. Although their aging has caused them to slow, their accomplishments and heartwarming story remained just as impressive as ever. Not to mention that their marathon PR was still over twenty minutes faster than mine, even with my distinct advantage of not pushing a grown adult in a wheelchair as I ran.
The Newton Hills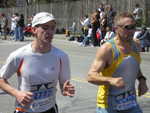 Me not feeling very well (left) and getting passed by a CVRA member (right)
The herd continued its assault on Boston with a turn by a certain fire station that welcomed us to the infamous Newton Hills. Although they were not monsters, I still struggled up the hills in my deteriorated state. Had my legs not already exploded, surmounting the bumps would have been little more than a footnote. Although that attitude may be a little overconfident, since these hills appearing late in the race give Boston its difficulty, not necessarily their slope. In any case, the damage had already been done to my motors and the ridges were an exclamation point.
The last and most famous of these inclines, Heartbreak Hill, humbled me even further. I am ashamed to admit that I resorted to walking part of it. The Goofy Little Speed Bump was again not that horrible of a hill, but I lacked the mental stamina to push up it. To add insult to injury, during this brief break my old enemy Lance Armstrong repassed me. My shoe somehow became untied as well (probably by one of Lance's henchmen, afraid I would beat his master), so I retied it at the top, which would eventually haunt me after the race.
I tried to take advantage of this unscheduled hiatus to suck down calories and muster a mythical second wind on the downhill, but nothing so miraculous occurred. My legs instead managed to cramp even more horribly on the descent, and I could barely even run normal. Everything around me became an anonymous blur during these last miles — just small glimpses of the cemetery following Heartbreak, the Citgo sign, throngs of people, and the incredible length of Boylston Street emerged from the fog. All else was just a glycogen deficient haze, with my sole focus on reaching the end so I could stop. My stammering eventually led me into Boston proper, but I could not enjoy the experience. The large, enthusiast crowds were no help as everyone and their brother passed me.
One other memory that remained from these last miles was overtaking an elite female, who must have had an absolutely wretched day. For someone at that level to continue to endure, despite her performance, was inspiringly perplexing. What drove her to the finish line, with all her goals seemingly missed and waiting for the next race most likely making more strategic sense? Her grit and determination gave me a little boost, knowing she must have felt even worse than me, but yet still kept running.
I finally spotted the oversized Citgo sign, indicating the longest mile of my life separated me from the finish. I eventually made the turn onto Boylston Street and saw the final banners a depressingly long ways away. Every last ounce of strength in my body just barely kept me moving towards them. This pathetic struggle eventually brought me over the mats, with the clocks showing a gun time of about 3:00:25, so at least it seemed like I least broke three hours. As I would later learn though, the marathon is a cruel mistress.
After the Finish Line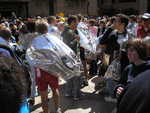 Walking through the chute, my legs once again found a way to continue cramping even worse than before. Even waddling was difficult. My demeanor matched my condition because at least a dozen medical personal concernedly inquired if I needed any assistance, but I stubbornly declined their kind offers. I continued struggling slowly through the ocean of Mylar blankets before retrieving my drop bag and changing into warm, dry clothes.
The next item on my agenda was to locate my relatives, but accomplishing that objective required an unexpected and very painful, very slow five block walk until we found each other. Reuniting with my family who had spent their morning giving so much to cheer for me was great, although expressing such sentiment in my condition proved difficult.
My legs were defiantly unhappy with my effort that day, so I waited in the long massage line for the soothing work. The cruelest part of the queue was a gut wrenching flight of steps. Anyone that has run a marathon knows how cruel going down stairs afterwards is. Why would the most prestigious marathon in the world do that? But since this minor inconvenience was the only thing I could find fault with throughout the entire race weekend (that, and Lance Armstrong's own special finish line…but I digress), I will let that oversight slide. At least while standing in line someone offered the sound advice of walking down the stairs backwards to slightly lessen the pain.
The wait was more than worth my time as it resulted in a great massage. My masseuse had actually worked with Olympic teams and other elite athletes. Anyone good enough for Olympians was over qualified for a schmuck like me. Lying on the table enjoying the expert massage, it took halfway through until I realized that my masseuse was blind. Hopefully I avoid sounding like some yokel, but as someone with very limited exposure to those with visual imparities, I was very impressed with her ability to perform such great work without the assistance of eyesight. Sight or not though, after the rubdown I could finally walk in an almost normal fashion, and I shuffled towards the hotel for a cleansing shower and rest.
Results
Through all this post-race activity though, my official finish time eluded me. According to my watch I came very close to the three hour barrier but was unsure if my result actually started with a "2." After coming so tantalizingly close at Chicago, this little detail held great concern. At a kiosk though, I finally learned my fate, which unfortunately started with a "3" — specifically, 3:00:03, four measly seconds away from breaking three hours. Yes, I still remembered that three hours was just an arbitrary round number, but still, smashing that mark would have been a nice consolation after a race that fell apart. To make my final time even more mocking, I could not forget tying my shoe atop of Heartbreak, which more than added four lousy seconds. Suffice it to say, I will be forever vigilant in securing my shoes before any future races. Perhaps looking at my watch in those last meters would have been advantageous as well. Although my legs were completely spent, out of desperation alone I probably could have squeaked out four extra seconds if I had known I was so close to the three hour mark. Perhaps another day.
Mile splits and heart rate
Later that evening I celebrated at the post-race dance with my future ex-girlfriend. I have no rhythm and cannot dance normally, so with barely movable marathon legs my moves were considerably worse and others must have winced in pain watching me. As such, dance clubs really were not my favorite pastime, and I generally looked like an uncoordinated fool the entire night, but still had a pretty good time overall.
Conclusion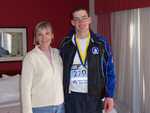 My aunt congratulating me after the race
Overall, I was very disappointed by my race. While it was technically PR (by a whopping three seconds), my fitness greatly exceeded my performance. Although my goal of 2:45 was a stretch, I should have at least been comfortably under three hours. To have invested so much time and effort only to fall apart during the big event was a huge let down. In fact, if I had traveled to Boston alone solely to participate in the marathon, the trip would have been a waste. I could still have been thankful for the opportunity to partake in such a historic race, but being so clock driven, my disappointing time would have clouded the entire experience.
Thankfully though, so much more occurred throughout the weekend with so many great people —from the Olympic Trials, to all my CVRA friends that raced, to visiting my family. I am convinced that these auxiliary events and community surrounding the marathon made the trip so much better than having a great, but lonely race. Of course experiencing all the above topped off with an excellent finishing time would have been ideal, but that would be getting greedy.