Home » Endurance » Adventure Racing » Miscellaneous Races
Miscellaneous Adventure Races
Quick snippets of adventure racing experience.
GMRAS
May 22, 2010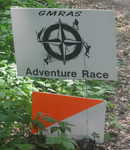 GMRAS was being held in Maquoketa, IA, only about an hour from my house. I did not have a team, had another race the next day, and a team from CAARA needed a crew, so I was off to help them. Milan and Larry were the racers, who had a lot of combined experience adventure racing. It was a good setup for me because I got to learn a lot from these two, while helping them compete in the race. This adventure race involved the normal disciplines of orienteering, mountain biking, a rappel, and paddling on the Maquoketa river. Unfortunately the caves were closed to reduce the spread of white-nose syndrome, which was killing bats, so the racers could not crawl through those.
Race day went very well, as my job was pretty simple — basically drive around their truck to the different check points, hauling their gear and nutrition. I got a first hand view of how the race transpired, learned a lot, and got jealous that I myself was not racing. It was a fun day crewing, helping the racers and mingling with other crews. I reunited with some people from Lightning Strikes as well as networked with a couple other people from my area. Maybe I will be able to race next year instead of just crewing.
Snowgaine 2011
For my first ever purely orienteering race I headed to Mississippi Palisades State Park in mid February. I partnered with a person I crewed for at GMRAS. He was a more experienced at orienteering than me but had an injury so I would not slow him down much. The event was advertised as a winter orienteering, but usually the weather is not too brutal by that time of year. This year had reasonable temperatures, but about a foot of snow covered the ground. This blanket made travel much slower and more strenuous.
The race was divided into two different sets of checkpoints on separate maps, and racers were only allowed to find CPs from one group at a time. Although I looked through inexperienced eyes, it seemed impossible to grab them all within the time limits (especially with the snow), so teams had choose which CPs to locate based on their distance apart, difficulty in reaching, and point value. Around twenty to thirty CPs were on each map. The maps themselves were highly detailed LIDAR maps, which provided a very accurate representation of the landscape.
Without much time before the race started, we quickly ball parked a strategy before heading into the snowy forest with the rest of the teams. The snow cover made travel difficult. Even on established trails or roads we could not move very quickly. We mostly walked throughout the race to conserve energy, only occasionally jogging on an easy downhill. We also had to be careful traveling not to trip over any logs hidden beneath the snow.
For navigating I was most followed my partner, making my own guesses of where we were and where to go next, and comparing those against what the expert decided. It was a great way to learn, and he also explained his decisions. I also got to lead the way to some CPs towards the end of the race. For finding our way around the park, we mostly used sighting and terrain features, rather than compasses. The detailed maps and highly varied landscape made keeping track of our location fairly easy. We could usually find the general area of the CP quickly, but the marker itself would often be more difficult to find, being hidden on a tree, a depressions, or some other hard to spot place.
As the race progressed and we searched for CPs others had already found, we took advantage of their footprints in the snow, sometimes following those to the marker. They did not always go to the correct spot, but helped more than once.
Eventually time ran short and we grabbed our last CP or two on the way back to headquarters. Hot spaghetti awaited the racers, which tasted great after frolicking through the snow for six hours. We ended up placing in the middle of the field, and I had a great first time at an orienteering race.
Lightning Strikes 2011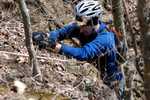 Climbing up a wire ladder
For the second year in a row, I headed to Mt. Carroll in late April for the High Profile Adventure Racing camp. The setup was very similar to the prior year, with speakers doing "course work" on topics like orienteering, paddling, and ropes as well as practice doing these those disciplines with expert coaching.
The instruction seemed to fly by this year, and had I not been exposed to some of the information last year, I think I would have been lost. As it was though the professionals refreshed my memory and enlightened me in many areas. The rope setup around camp for both the race and practice was even more amazing than the elaborate setup the year before. Flow had been improved over the prior year as well, so I got to do all the stations multiple times without excess waiting.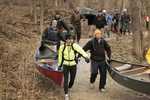 Carrying the boats to the launch during the race
On Sunday was a sprint race, and once against I did not have a partner going in the weekend, but scrambled and found someone. The race format was almost identical to last year, with a short orienteering section, followed by paddling, mountain biking, and more orienteering and ropes. Although the course was awesome, it was a little disappointing for it to be so similar. The CPs and ropes were in different spots, but almost all the same roads, rivers, and areas were used. There are only so many ways to adventure race around the same relatively small area, but it just seems wrong when an adventure race course feels familiar.
The longer orienteering section around Mississippi Palisades went alright, as I was getting to know that park pretty well from TOMRV, Snowgaine, and the race last year. When the race took us back into camp at the end, the race director had an awesome rope setup. One rappel ended in a shallow section of a river, only to be followed by ascending back up the same cliff face. A more traditional rappel or two and a zip line were in the race as well, interspersed with finding CPs.
My impromptu two personal all male team finished in the top half of the back, and we had fun and a great time racing.