Home » Adventures » Ten Thousand Islands » Sandfly Island
Ten Thousand Islands: January 5
Sandfly Island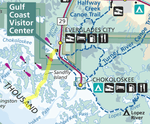 Route I paddled this day
I was up early for my final (half) day on the water, as I needed to return my rental car to Orlando by 4 p.m. When I popped my head from my tent it was low tide, and the ocean had receded considerably. I was fortunate though, as my boat's parking spot was by an inlet in the now exposed rocks, so I only had a yard or two across the sharp, hard stones to the water instead of thirty.
I successfully navigated the Chokoloskee Channel towards the mainland. I stopped at Sandfly Island for a small stroll. The hike went through various plants and relics of old settlements. This loop of less than a mile was the only "hiking" I did this trip, and I wore booties and a PFD throughout. After the land based excursion I jumped back in my boat for the short trip across Chokoloskee Bay. Although not bad, I still fought the hardest wind of the trip. Thankfully the water stayed calm so I quickly reached the launch site next to visitor center.
Traveling Home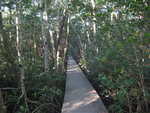 Boardwalk on Sandfly Island
I unpacked my boat and repacked my gear for my flight later that day. If I left Everglades City then, I would have had a leisurely drive to Orlando, so I naturally crammed in a few more activities before leaving town. Since I had been off the roads for a few days I threw on my running shoes for a six mile jog to Chokoloskee and back, a nice warm weather run in January. Afterwards I reduced my time to travel to Orlando even more by eating at a local restaurant, rather than grabbing fast food along the way. This meal was unquestionably better than any mass produced, preservative-laden course, and I tried alligator, which was good and tasted like lamb.
The extra activity, while enjoyable, now left only four stress filled hours to drive like a bat out of hell through orange groves to return my rental on time. Despite four hours not being enough time for the journey, I would have made it if any gas stations were on the south approach to Orland's airport (there were three impossible to avoid tolls though). I finally found a petrol station that did not charge a 100% markup for being next to the airport and then had the pleasure of waiting through a busy security check before finally leaving Florida's sunshine to return to the cold up north.