Home » Adventures » Santa Monica Mountains » To Musch Camp
Day 2 — A 1,000 Mile Journey Begins with a Bus Ride
The Bus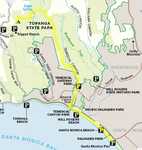 Route I Hiked This Day
I awoke before sunrise ready for adventure, but I was not quite brave enough to explore the still dark streets. So I instead lounged around my hotel room, unsuccessfully trying to obtain a weather report from the TV. When the sun did finally decide to peak over the horizon, I suited up and began my expedition. Before I could do much backpacking though, I first needed to leave the concrete jungle near LAX and get to some mountains instead. My method of exodus would be the friendly city buses, which conveniently included a stop about a block from my hotel. So there I was waiting for the bus with a fully loaded backpack, flannel shirt, and Gilligan hat standing on the corner of Century and Hawthorne Blvd, next to a convenience store. I must have been quite a sight to see. Since I possessed no firsthand knowledge of the bus system, I relied on the venerable internet for planning. With a multitude of bad experiences using computer generated directions, I was apprehensive about actually getting to my destination, but by some miracle — through a combination of the hotel clerk, bus drivers, and random other people — I was actually able to exploit the bus system and escape to Santa Monica Pier, with almost no troubles.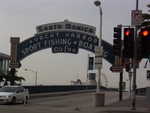 Although feeling relieved by completing half my bus travels without incident (I still needed to ride the bus back to the airport), I must have appeared just as odd, considering my bus stop was actually for a mall near the pier. Then again the natives are probably used to encountering people dressed and acting in all imaginable demeanors, so maybe I did not stick out too much. In any case, I must be the only person who can get off a bus at an L.A. mall to begin backpacking.
After stepping off the bus, I would not be using motorized transportation for the next five days so I began walking. I had a several mile hike up the beach before I picked up actual trails in the Santa Monica Mountains. Although I later discovered that a different bus route would have dropped me several miles closer to the trailhead. All was not lost though, since I was in California to hike, and I hadn't seen the Pacific Ocean in over ten years. The ocean did not smell as salty as I remembered, but it was probably just the smog drowning it out.
The Beach
The first sight I encountered as I strolled down the beach was people constructing an Iraq War protest. They were placing a cross in the sand for each soldier killed in Iraq (I believe around 1,300 at the time). After thinking about those fallen heroes, I started down the beach, walking on the edge of the continent with the Pacific surf crashing at my feet. Hiking along a California beach…everything I needed for survival strapped to my back…I felt like quite the hippie (which is pretty ironic, since I am a pretty staunch conservative on most issues, the environment being a notable exception). At least I thought I had everything I needed to survive on my back. After only about a mile into my multi-day hike I noticed that my water bottled had fallen from my pack, my first major trouble of the trip. I remembered having it after leaving the bus, so it must have slipped from my pack somewhere along the beach. Since water is one of those things which is hard to survive without, especially while backpacking, I had no choice but to turn around and backpedal in the hopes that someone had not picked it up or it had been swallowed by the ocean. I hurried back towards my origin, scanning both the breaking waves and sandy beach for my bottle. Contingency plans started running through my head as what to do if I could not locate it. I saw some shops near the road that, if they were open on a Sunday morning, perhaps sold a replacement. I even picked up a discarded bottled water container, thinking I could wash it and use it as an alternative. As the pier from which I departed grew larger and larger, I was losing hope of actually recovering it. But then, no more than fifty yards from the pier, by the war protest, was my hydration container resting gently in the sand. Being extremely grateful for finding it, I hooked it much more securely to my pack and started down the beach — again.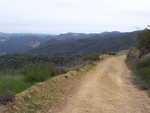 Much of the trail followed fire roads
With my detour eating valuable time, I decided to continue along a paved bike path set slightly back from the shore rather than on the beach itself, since crossing pavement would be faster than loose sand. I received a couple strange looks from roller bladders and bikers out for some early morning exercise, but I am pretty used to those by now. I continued up the beach for about three miles until it intersected with Temescal Canyon Rd., which lead into Topanga State Park, my entry point into the mountains.
The Mountains
I did not actually start at the Backbone Trail's head, which was located in nearby Will Rogers State Park, but instead hiked trails inside Topanga State Park which paralleled the Backbone Trail for several miles until they merged. The trails I followed passed through almost solid, dense brush as they climbed steadily away from the ocean. The inclines, which were very different than those found in Iowa, quickly reminded me as to why this area was part of the Santa Monica Mountains. It was also easy to see why Southern California has suffered from so many major wildfires. The brush had grown so thick that you could not wander from the trail even if you wanted to. I could only imagine how quickly a fire would spread through here during a dry, hot summer.
Using general trail maps from the NPS's website for directions rather than detailed ones bit me in the butt. My vague map showed only a lone tail passing through the valley. In reality, however, it contained a plethora of winding and branching side trails. A detailed map of the state park would definitely have been welcomed. Perhaps I should have heeded the warning on my map which stated "not for navigation." I have never been one to do something like that though. Instead, drawing on my vast and rich orienteering ability (i.e. I was just damn lucky), I chose the right trails and was generally able to follow my originally planned route.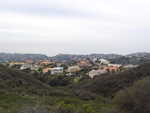 Some of the extremely expensive houses just off the trail
The scenery throughout Topanga State Park was not outstanding on the order of Yosemite or Yellowstone, but the mountains, shrubbery, and rock outcroppings were still scenic, especially considering they were only a couple miles north of L.A. The area, though, never departed too much from civilization. For most of the day, I could see houses, power lines, or evil cell phone towers from the trail. Those houses definitely were not started homes either. Located in Southern California, high in the mountains, and with more bathrooms than most houses have rooms…I do not event want to know what the price tags on one of those were.
While within the confines of the state park there were actually quite a few other people using the trails, probably enjoying nice day hikes on a day free from the drudgery of their jobs. As I progressed deeper into the mountains fellow people began to dwindle, and I was pretty much by myself for quite a bit of the time. After hiking all day, my feet had also developed some pretty bad blisters. I applied some band-aids for a slight cushion, but it was still a bit painful for me to walk. My boots were not the best, but I had never developed such bad blisters on those areas of my feet, even on occasions when I had hiked significantly more miles. My only guess was that walking those miles in the morning across the hard pavement affected my feet a lot more than trails do.
The Camp
A little after 4 p.m., as dusk was beginning to arrive, I stumbled into Musch Camp, my blisters still burning. I had covered a total of about 12.5 miles since I left Santa Monica Pier that morning (add probably one or two more if you count my backtracking to retrieve my water bottle). The camp only had about six sites, and it seemed like it was used by more equestrians than hikers. None the less, it had small bathroom which included running water and a flush toilet — high class luxuries while backpacking.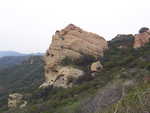 Eagle Rock
I erected my tent and had some dry food for supper. As I was getting ready to retire into my tent for the night, I hung my food from a nearby tree and stuck my backpack in the bathroom, the driest place around since a light drizzle had begun. It was not until I was already secured in my sleeping bag that I had the obvious idea of putting my food in the bathroom along with my backpack instead of having it exposed to the elements all night. I did not feel like stepping from my cozy tent into the rain though, so I left my food hanging and fell asleep to the gentle rhythm of the rain tapping on my tent.