Home » Adventures » PCT » Journal
Pacific Crest Trail 2014: Journal
I kept a daily journal throughout my hike, but it is not reproduced here. Although I enjoyed the PCT, my personal day by day account is not very interesting for someone else to read, especially after the fact. Anyway, my experience was not that unique, with plenty of other trail journals from that year already online to read. The following are a few general thoughts and observations from throughout my hike on the west coast though.
Southern California — The Desert
Campo to Kennedy Meadows
The first 700 miles of the PCT through southern California was boring. I mostly walked through the same monotonous desert almost every day for a month. True, there were a few mountains and forests to break up the desolation, but these were limited and not overly grand anyway. The only really interesting parts were Eagle Rock, Vasquez Rocks, and the Tehachapi Pass wind farm.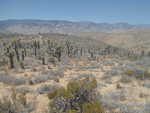 The initial stretch was a good time to get in a rhythm and my trail legs through. There was amply resupply and support, a flat trail, abundant daylight, and big mile days were not needed. Even with all my previous hiking, I intentionally took it slow here. Many injuries other hikers suffered were from hiking too many miles too early.
Southern California also introduced the PCT's over-engineering. Being graded for horses, the trail often circuitously followed a contour line, barely changing elevation, while veering wildly out of the way. A lot of trail had been built to keep the right of way from being very steep. If the grade dared to go over 3% in many places, the trail could have been 25% shorter and not missed anything. The most egregious example of this routing was the descent from San Jacinto Peak, where it took sixteen trail miles to lose 6,000ft and progress only four "as the crow files" miles, all along a nearly horizontal path (that even went slightly uphill a few times).
Trail angels, water caches, and hiker magic abounded though. The number of people who specifically went out of their way to help hikers amazed me. Their aid ranged from putting out water or snacks, grilling food, or even building entire dormitories onto their houses. The overabundance of support felt a little odd after a while though. Although I definitely do not fault the peoples' generosity, I do not believe thru hikers are doing anything special that merits the charity of others. So to be treated so kindly and pampered by strangers on a routine basis just because I was out for a long walk sometimes felt weird.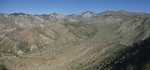 A couple fire closures persisted from the prior year, which in my thorough lack of planning I did not even know about until I was already on trail. One I did not discover until I walked up to a big "trail closed" sign blocking my path. Nonetheless my footsteps still connected the whole way, even if this did involve a few detours and road walks.
I happened to avoid most of the boiling heat for which this stretch of the trail is infamous. Most days were warm and sunny, with an afternoon siesta being helpful, but I never had any of the three digit scorchers often seen here. The area definitely was arid though, with many long, heavy water carries needed to get from one water source to the next, even taking into account the numerous water caches maintained by amazing trail angels.
Wildlife was limited through here to a few rattle snakes that usually got out of my way, and countless lizards that always scurried away quickly. Some blooming flowers or cacti greatly enhanced the color palette in places, and I had a few amazing strolls through natural gardens.
Central California — The Sierra Mountains
Kennedy Meadows to Chester
The Sierra Nevada Mountains were the highlight of the PCT, particularly where it coincided with the JMT. After the monotony and dryness of the desert, I was quickly transported into towering snowcapped peaks, alpine lakes, and luscious valleys. The trail also passed through thick forests and blooming wildflowers. It also started undulating much more, forcing me use my muscles as I went up and down mountains. While climbing Mt. Whitney (the highest point in the continental United States), I could not help but think the PCT should have just started at Kennedy Meadows and skipped southern California.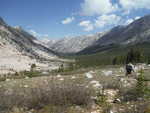 The Sierra had had a very low snow year, which made passage through these mountains relatively easy. I left Kennedy Meadows in early June and still crossed very little snow, even over the passes. None of the fords were difficult either. These conditions allowed me to make miles as I wanted and not be constrained by what was underfoot. Therefore I made it all the way from Kennedy Meadows to Mammoth without resupply — 220 miles over eleven nights, including a side trip to the top of Whitney. The only scary part was after Glenn Pass, where I still had to traverse a steep, snow covered slope. A well worn set of footprints led the way, but a slip would have resulted in an express ticket all the to the rocks at the bottom.
I took the detour from the PCT into Yosemite Valley, including climbing the cables on the back of Half Dome. Scaling those cables was the scariest part of my entire hike. In every other encounter with the National Park Service, whenever something in a publication geared towards the general public was described as difficult or dangerous, that warning had always been aimed toward suburbanites who came straight from the couch and have never been in the wilderness before. The government sanctioned activity had always been well within my ability and not overly risky. The cables on Half Dome, however, were precarious. They climbed about a 40° slope across smooth granite with no backup safety system. I had to pull myself up the steel wires using mostly my arms, with no arresting device had my hand or foot slipped. I was very nervous and uneasy with my life literally being held in my hands. I was amazed that so many people from all walks of life go up and down them everyday with almost no incidents. At least looking down into Yosemite Valley and at El Capitan from the top was stunning.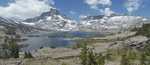 Yosemite Valley itself was very beautiful, and also very crowded. I took the shuttle and hiked all around the valley on a "rest" day, enjoying the waterfalls, gorgeous views, and gawking at the crazy climbers.
The scenery continued to be amazing outside Yosemite National Park as well. Weeks on end trekking through the seemingly endless wilderness was a magical and tranquil way to spend the summer. They mountains were not always as magnificent, but their own unique beauty and open expanses never got old. I saw much wildlife as well, including several brown bears and a mountain lion. The latter was standing in the middle of the trail as I came around a bend and was less than twenty-five yards away. I only saw its back half, but it looked like a lion you would see in a zoo (or the plains of Africa) and not some house cat.
Northern California
Chester to Ashland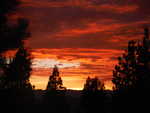 After taking nearly two weeks off trail for Project AWARE, I continued on for the second half of the PCT. Northern California was a bit of potpourri, with mountains, geothermal features, dry hot expanses, lava tubes, waterfalls, fires, and sunsets. The variety of landscapes kept the trail interesting through the last lengths of California.
One of the highlights through here has the plethora of swimming holes. Many different lakes and rivers along the trail provided excellent opportunities for a dip. They were an excellent chance to relax, cool off, and clean up. Their only problem was they would suck me in, and I would not want to leave the wondrous oasis to get back on the dusty trail.
The extreme fire danger that had been plaguing all of California finally exploded while up north. A little past Shasta City, while walking a ridgeline I saw a large lightening storm roll through. Many of the strikes soon resulted in plumes of smoke. One in particular that I hiked towards for an entire day grew into a large cloud that filled the entire horizon. Many spotter planes and a few helicopters toting water buckets flew overhead during this time.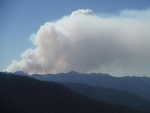 Accurate information on how the fires affected the PCT was scare, although rumors from other hikers was rife. I did not know if the trail would close or become impassible further on, and had to take it a day at a time. Things came to a head around Etna, where I squeaked through the Russian Wilderness hours before the trail officially closed. The lack of prohibited travel did not in and of itself make the area safe though, as the wildfire burned on the other side of the valley, and I wore a bandana over my mouth to filter the smoke. The fire was not burning very strong, but a shift in the wind could have changed the situation dramatically in a matter of minutes. I passed through unscathed though, but still had to put up with thick smoke and nearby fires in a few other places. One night the bottom of the clouds in the next valley glowed orange from the fire burning over there. Unlike many other hikers though, I was never blocked by a conflagration and my footsteps connected. And of course my run-ins with fires did not even compare to those of the firefighters or people who live in the area, some of who had their homes destroyed.
Oregon
After the seemingly endless trek across California, the Oregon border was a much welcome sight. Upon crossing I entered Oregon for the first time. The trail through here was also comparatively flat, which was a nice break from the mountains of the Golden State. And with a "mere" 450 miles of tread, the state flew by.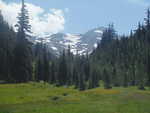 Oregon had a duel personality though, composed of long stretches through relatively mundane forests and mountains, punctuated by spots of sheer awesomeness — Crater Lake, Three Sisters Wilderness, and Eagle Creek among the pinnacles. Many other wonders were along the trail as well, including waterfalls, volcanoes, old lava flows, and glaciers. Wildflower filled alpine meadows sitting below snowcapped mountain peaks in the Obsidian Limited Entry Area of Three Sisters Wilderness was my single favorite spot on the entire PCT.
In the northern part the trail passed next to Mt. Hood, the highest point in Oregon. I happened upon this standalone, glacier capped volcano (and also the awesome buffet at Timberline Lodge) during the start of the Hood to Coast Relay Race. The loud music and emcee drew me in as I climbed the last stretch. When I finally arrived and discovered the crowd of racers and twelve passenger vans, they brought back memories of my running days and the couple Ragnar Relays I raced.
Washington
Washington was a magnificent finish to the PCT. The entire northern half of the state was continues spectacular beauty. Goat Rocks, Alpine Lakes and Glacier Peaks Wilderness, the North Cascades, and in between were all amazing mountains. Everyday was a wonder to behold. Some of the peaks, like Mt. Adams, were large standalone behemoths, but others, such as the North Cascades, were large ranges that stretch as far as they eye could see. Despite some cloudy days, I was also able to catch a glimpse of Mt. Rainier.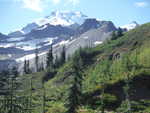 I never knew so many glaciers were in the Pacific northwest. Without putting too much prior thought into it, I assumed these mountains melted off in the summer like the Rockies. With the massive snows they receive though, glaciers still call these mountains home (at least for the time being). The trail never got real close to these massive ice sheets, but several were visible on nearby peaks.
With the mountains though came a little bit more challenge. The trail was more vertical than through Oregon, so occasionally I had to earn the views by using some muscles to cross the passes.
I was very fortunate with the weather, as through the whole rainy state of Washington, I only had a couple days of precipitation and a handful of nights where it dropped to freezing. I beat any early snow showers and still had time to hike through Glacier National Park.
Summary
Overall I enjoyed my summer hiking the PCT, although I still liked the CDT better. The west coast offered its own amazing mountains, deserts, valleys and forests. With over 1,000 people at least starting the PCT however, I shared these wonders. The trail seemed very busy, and I saw at least another hiker everyday. If I took a break, more often than not someone would pass while I rested. The trail was never overly challenging, and instead sometimes felt like a walking parade, especially when we were so welcomed in town or by trail angels.
Still, few places in the world can one hike such a long, continuous stretch of trail. Being able to walk 2,600 miles in four months over almost entirely public land and have few worries was an amazing, liberating experience.