Home » Adventures » North Shore Trail » Back Home
Day 6 — The Conclusion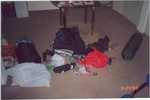 All my junk dumped on the floor
We woke up the next morning and had instant oatmeal for breakfast. Unfortunately, we did not do any hiking on the trails at the park or look at the falls they have, but just headed back to school. We got back to school before noon and had quite an anti-climatic return from our "backpacking" adventure. We unpacked the van, all of us smelly and unshaven. I headed for my apartment and took a nice long, hot shower which felt really nice. I had a couple of days to relax (aka tooling it out) before school started again.
Conclusions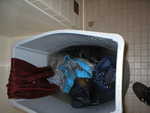 One way to clean clothes
All in all, this was a pretty good spring break. The park hoping across four states was fun. I think I would have enjoyed things more if we had been able to backpack along the North Shore Trail in semi-decent weather. But if it stayed cold and rainy, I think we definitely made the right choice to back out. Hopefully another opportunity will arise for me to try backpacking sometime in the near future. Till then, I will just have to enjoy some day hiking in state parks. Thus concludes my Spring Break Adventure, 2003.