Home » Adventures » New Zealand » Nelson Lakes » Traver's Saddle
Dec. 21 — Crossing the Saddle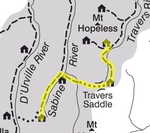 Route I Hiked this Day
Following the long previous day I slept late and left John Tait Hut past 8:30. No harm though, because although a good bit of ground lay between me and my next accommodations, I was not in a hurry, with the whole day to travel while enjoying the wilderness.
My journey continued up Travers Track deeper into Nelson Lakes. This path was well used, with the thousands of boots that preceding me wearing a distinct path in the ground. This heavy usage left many deep roots and rocks over which I had to carefully step. I also needed to avoid the constant mud and puddles from the previous day's rain.

Panoramic view from the top of Travers Saddle
I made the short side trip to Traver's Falls, a huge fire hose erupting from the cliff side. Following that my trek brought me to Upper Traver's Hut and my march over the saddle. The ascent was not overly difficult — definitely less steep than Cascade Track. Reaching the top took slightly over an hour, and its apex had a spectacular view — mountains with snow capped peaks all around and a pure blue sky above. I sat atop the saddle and just enjoyed being there, soaking in the radiance.
The far side of the saddle was more challenging than my climb from Upper Traver's Hut, with a steep path producing a knee jarring, blistery descent. The way down towards West Sabine Hut crossed several avalanche paths, where I hopped across the now bare rocks, which tumbling snow previously rearranged. In the forest though, I meandered continually amongst roots, mud, and trees. This section included crossing many streams running strong, some bridged, some not. I only had to remove my boots once though.
To Blue Lake
I advanced along the Sabine River towards Blue Lake Hut, fording even more streams, some quite large. I crossed avalanche fields as well, and the potent destructive force of snow was fully evident. The winter avalanches had strewn large boulders across the mountainside, and rearranged enormous tress to be no longer vertical. Some major forest redecorating had occurred.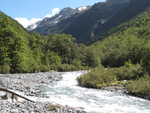 Sabine River
The powerful Sabine River was amazing in its own right, with its unending flow of water cascading through powerful rapids. I could hardly believe so much winter snow pack continually melted to feed the insatiable appetite of this roaring river. Thawing peaks nurtured the river as they turned into the endless waterfalls tumbling hundreds of meters down the cliffs on all the valley's walls. In any clearing I could glance up and see dozens all around.
Although through a picturesque area, the last hour of hiking stretched on as my energy dwindled. The long day's hike, including the pass over the saddle, made my legs sore, and I was more than ready for respite. I had to be extra diligent not to make a mistake in this reduced state. Carelessly misstepping and turning an ankle would have been easy. The climb to Blue Lake seemed endless, and for good measure one of the day's most difficult sections occurred just prior to the hut. Finally though, I arrived at Blue Lake Hut, and my feet were grateful to be finally free of my boots. I ate dinner and chatted with other guests who planned to attempt a summit of nearby Mt. Franklin the next day. All the while the hut's included stove kept us toasty while simultaneously drying our gear.