Home » Adventures » New Zealand » Nelson Lakes » Sabine Track
Dec. 23 — Not Crossing a Pass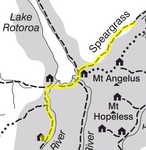 Route I Hiked this Day
A relatively benign path (at least by New Zealand standards) snaked along the D'Urville River, and I enjoyed a walk under the nice morning sky. After covering three mountain passes or ridges in as many days, I finally had a break from such trials with a stroll towards Rotoroa Lake. Unbeknownst to me until arriving, the wide D'Urville River crossing was not bridged. I took off my boots, and the cold river and rocky bottom stung my bare feet as I carefully walked across. It maxed out at only around knee deep, but the frigid, uneven riverbed made a painful crossing.
On the other side of the river I continued along Rotoroa Lake and through the forest before arriving at Sabine Hut. There I ate a late lunch and ran into the people I met at Blue Lake. Unfortunately they were not able to make it all the way to Mt. Franklin's summit.

Panoramic view of Lake Rotoroa
Even under the trees' shade, I sweated profusely in the warm afternoon sun on the initial climb from Sabine Hut. The remainder of the tramp progressed nicely through the forest. Unfortunately, my feet acted up again. The slight damp insides after the D'Urville River crossing rubbed my feet raw, making each step excruciating. My legs held fast, but I needed both systems working in unison for an enjoyable trip. This deficiency led to drudgery the last couple hours.
When I finally arrived at Speargrass Hut, taking off my boots and lying on the mattresses were marvelous. Such freedom for my feet was a giant relief. I need to rectify my footgear situation, as my feet become very sore whenever my boots are damp. Unfortunately, even with Gortex covering, feet will always be wet in the backcountry, if from sweat alone.