Home » Adventures » New Zealand » Nelson Lakes » Moss Pass
Dec. 22 — Crossing Moss Pass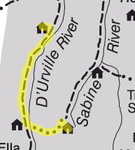 Route I Hiked this Day
I took another lazy morning and again hit the track after 8:30. My schedule called for crossing Moss Pass, whose sign contained the ominous caveat: track is steep and exposed. When New Zealand's DOC specifically erects a warning sign far into the backcountry, it is usually for a good reason. Despite the word of caution, I embarked on the track, although now more alert.
This track received fewer visitors than the others which had brought me here. Dew covered plants encroached on the right away and soaked my lower pants, but the path was still easy to follow. It climbed steadily and required some huffing and puffing to ascend the mountain. Under a clear blue sky I encountered a false peak and crossed a boulder field before the track became significantly steeper. Specialized gear was not required, but I could no longer walk normally. I had to use my hands for extra support while carefully scrambling along the route and keeping at least two points of contact.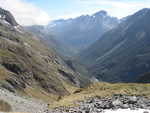 View on the climb over Moss Pass
Near the pass's top, snow filled the depression the trail followed. With my experience and gear, my rule was never to cross a snow patch. Unfortunately the marked trail marched straight through the powder. After some searching I found a snow-free detour that reunited with the official track at the peak.
Two hours elapsed from leaving Blue Lake Hut until the top, but excellent views of giant valleys and mountains all around were my reward. The other side of the pass was another steep, bone jarring descent. After reaching the bush line conditions became even tougher. While the trail deviously descended at an extremely steep angle, its surface consisted of mostly moss-covered rocks and roots. These decorations made footing very precarious. To decrease the coefficient of friction even more, a thick canopy blocked the sun, allowing the ground to remain damp and slick. Each step was very deliberate, and I hugged trees most of the way to keep from falling.
Down from Moss Pass
My elevation lowered quickly, but my as the crow flies distance advanced cruelly slow. Each meter forward came with the steep price of descending through this treacherous terrain. After enduring the tumultuous drop, the trail eventually leveled slightly in its approach to the D'Urville River. Even as it paralleled the river though, the track continually undulated through uneven terrain, requiring much more effort and concentration than an even path.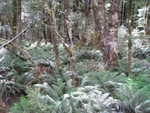 The enchanted forest
Throughout this difficult work, the forest had an enchanted aura. Although I did not meet any hobbits, I crawled amongst giant trees, roots, and moss-covered boulders. Birds chirped, rivers raged, and gorges cut steeply though the mountains. Mist, bold colors, and seemingly prehistoric plant life were everywhere.
I took a siesta at Lyon Hut and perused Readers Digests from the 1980s. Original plans called for reaching Sabine Hut (or at least D'Urville), but since conquering Moss Pass required more time than I expected at five hours, I would not get there before dark. Remaining in the warm and relaxing Lyon Hut tempted me greatly, but needing to be back in St. Arnold in less than a day and a half forced me to overcome this desire. Such is the downfall of being on a very tight schedule.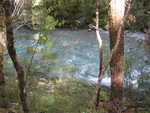 Rich colors of the D'Urville River
Mercifully though the terrain eased approaching Morgan Hut, and I made decent time without having to kill myself. One creek crossing did get the better of me though. It was small, but my route across was still dicey. My way would have worked, but my last step was onto a loose and slick rock that moved as it bore my weight, and I slipped into the shin-deep water. Only my pants got wet and not my gear though, and by the time I reached Morgan Hut my trousers were dry (at least as dry as pants get in the backcountry).
That evening was spent in Morgan Hut with a quartet of enthusiastic fly fisherman, as we tried to solve international relations over dinner.