Home » Adventures » New Zealand » Egmont » Pouakai
Dec. 28 — Along the Side of Egmont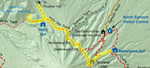 Route I hiked this day
I awoke to a cloudy morning and headed straight back up the access road I descended the prior afternoon. This cover, although obstructing views, had a few advantages. First, it kept the morning cool during the extended climb. Second, it reduced visibility to about fifteen meters, hiding the true extent of the depressingly long road rising steeply in front of me. I could only trudge up the vertical path towards the Tahurangi Lodge, putting one leg in front of the other, not knowing how long it would last.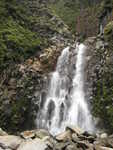 Bell's Falls
After burning a few calories I finally reached route connecting to Holly Hut Track that went along the edge of the mountain. I wished to have reached Egmont's peak, but the few visible patches of snow and extremely low visibility created unsafe conditions for me. Not to mention my time in Egmont was limited.
By late morning the cloud cover broke slightly, and I could see the slopes below. Haze still clung to Mt. Egmont above, hiding its peaks. I took lunch at Holly Hut and dropped my pack there before exploring Bells Falls. The short walk and some subsequent rock scrambling led me to a tall waterfall that cut through shear faced cliffs. Some fun rock hoping along its river brought me very close to the base of the falls, and I was rewarded with more rock hoping to depart.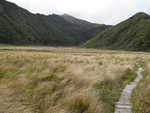 After returning to Holly Hut to retrieve my pack I continued towards Pouakai Hut. The track crossed a moss swamp, with boardwalks protecting the delicate land. The lack of brush also provided great views of Mount Egmont — that is if clouds had not still hugged its slopes.
Copious subsequent climbing up a long, wooden staircase led to Pouakai Hut where I physically relaxed, but exercised my brain with a crossword puzzle, which got the better of me. Thick clouds rolled in again that evening, so unless it cleared by morning, gleaning a good view of Egmont seemed unlikely.