Home » Adventures » New Zealand » Egmont » Mangorei
Dec. 29 — Leaving Egmont and into Plymouth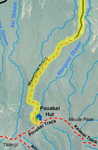 Route I hiked this day
Throughout the very early morning while I still lay in bed, a howling wind and sheeting rain assaulted the hut. This weather discouraged to crawl from my sleeping bag very quickly. When I did finally arise, I was still not in much of a hurry due to my schedule and the rain. I had to reach New Plymouth that day, but did not have any appointments to keep.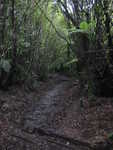 Mangorei Track
I lounged in the hut for a while, waiting to see if the weather would clear. With the Sudoku vexing me, other hut mates having ventured out, and the weather perhaps improving slightly, I myself donned rain gear and entered the abyss. My outer shell provided less protection than usual since nature stole my pack cover in Nelson Lakes, but plastic bags made adequate substitutes.
The weather was tolerable hiking from Egmont National Park along the Mangorei Track, with its foliage and hills providing cover from the worst of the elements. Much work had (and was being) done on the track, installing boardwalks and steps along most of it. These improvements made the walk easy as I plodded through the endless puddles.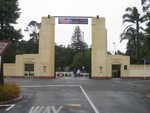 The terrain relented slightly as I left the park, and within short order I found myself at the trailhead and a gravel road leading to New Plymouth. A long walk into town lay ahead of me, and my MP3 player's batteries were now dead so I could not even entertain myself with the remainder of my audio book. Looking back, some relatively cheap shuttles may have run between New Plymouth and Egmont National Park, but I found none in my pre-trip planning and lacked any details to rely on them now. So I took the slow route and put one foot in front of the other in the direction of New Plymouth.
Within short order though, a kiwi passed and offered me a ride (I had not even tried hitching), which I gladly accepted. It eliminated a long walk and gave me more time in New Plymouth. I had no plans in town though and could not find anything exciting in the last minute. I just browsed the city center shops, toured Pukekura Park's elegant public gardens, and walked along the seashore for a leisurely afternoon. Unfortunately the persistent mist cancelled the festival-o-flight, a band concert, that evening, so I had a lackadaisical evening in the hostel's TV room.