Home » Adventures » Maine » Day 7
April 25 — Acadia National Park
My hiking legs had mostly returned to normal after the marathon, so some bigger fish were on the plate, with Acadia National Park next. I went with my mom and aunt, but since their hiking demeanor is more along the lines of most reasonable people, I trekked separately from them, following a slightly more adventurous route.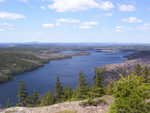 View of Somes Sound
My first point of exploration was on the trail leading to Acadia Mountain. It climbed steadily through nice forest before an exquisite view of Somes Sound emerged. The trail continued circling around the area, but unfortunately nesting birds had closed the path directly along the shore. I turned inland instead and maneuvered around St. Sauveur Mountain, which included more climbing and descending through terrain with many boulders and trees.
Back at the trailhead I met my relatives, and they took me to another trail at the end of Beech Hill Road, between Echo Lake Beach and Long Pond. I trekked around the back of Beech Mountain until reaching the fire tower at its peak. Satellites had long ago replaced this labor-intensive structure's function so the abandoned tower was locked shut to prevent anyone from having too much fun there. The top of the mountain still had a nice view of the national park at least.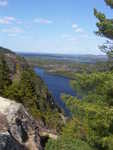 View from above Echo Lake
From the tower I continued down to Long Pond, which was a chilly, beautiful body of water. From there I turned back towards the trailhead, but took a different route in search of some of the area's unique trails. Having not read my guidebook very thoroughly, I missed the path with ladders that led to the beach. I did, however find another gem that paralleled a sheer cliff along Echo Lake. The narrow trail dropped precipitously to the water hundreds of feet below. The adrenaline pumping edge provided a superb, unobstructed view of the pure lake underneath. I managed to avoid taking the first big step down though and arrived back at the trailhead to reunite with my ride and head back home.
Although my exploration only encompassed a small portion of Acadia National Park, it was time well spent. Those parts were beautiful, and I will have to return one day to see more.