Home » Adventures » Maine » Day 6
April 24 — Beginning to Explore
Camden Hills State Park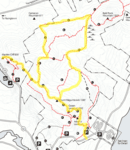 Route I Hiked This Day
Although still not fully recovered from my little run, my restlessness pushed me towards nearby Camden Hills State Park. The steep, rocky trail I chose made its way up Mt. Megunticook to Ocean Lookout. My partially marathon-weary legs held fast on the ascent to the vantage point. After absorbing a nice view of the bay, I headed along the southern boarder of the park on Ridge Trail. Exposed roots and rocks covering this path made progress slow and slightly painful. Although because of the marathon, descents actually hurt more than climbing. They required more effort, but the lack of pain made me prefer going up to the alternative.
I arrived at Maiden Cliff, whose sheer rock face provided a nice look onto Megunticook Lake. Others had made this trek as well, and we shared the experience. Afterwards I continued back through the forest to conquer more miles in Maine. My return loop took me towards Bald Rock Mountain, although I never reached that summit. The path eventually transformed from a narrow grass passageway to a wide gravel road, used mostly by snowmobiles when white stuff covers the ground. The surface was uninterestingly boring but did make for fast, pain-free travel. To change up the monotony, I diverted to the "Summer Bypass" near a remote lodge, but that resulted in a spring disaster. I followed the marked trail up the hillside, but the path became less obvious before it eventually disappeared completely.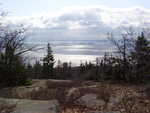 View from Ocean Lookout
My base trail map was powerless to provide accurate navigation (even if I had adequate orienteering skills), so I used my "excellent" intuition to more or less follow a ridgeline that seemed to proceed in the correct general direction. It, of course, did not, but my wanderings eventually led back onto a marked trail. I guessed (hoped?) that this alley was once again the Summer Bypass. The path climbed significantly more than it should have though, and I eventually deduced that Slope Trail, leading all the way back to the top of Mount Megunticook, was a more accurate analysis of my location. So after an unscheduled climb I enjoyed another painful descent to the parking lot.
Cars Suck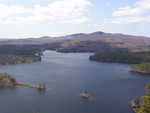 View form Maiden Cliff
Although reunited with motorized transportation, my day was not yet over as apparently starting was an optional feature on the rental for which I had not paid. I tried and tired to get her to turn over, hoping the battery would not drain in the process. Once, the beast did actually come to life, but only kept running long enough to reach the park's exit before dying.
At least having rented the contraption, repairs were not my concern and a simple phone call could resolve my problems (thank God some places still had payphones). After convincing the agent the car needed more than just a jump, a new, working vehicle was dispatched. The nearest rental car hive was in Bangor though, so an hour and a half elapsed before the car appeared. The new arrival was actually nicer than the originally rented one and had the distinct advantage of starting and running. It even came with fully topped tank of gas, which the dead one with the tow truck lacked.