Home » Adventures » Maine » Day 4 & 5
April 22 — Post-Marathon Tuesday
Victorious CVRA runners after the marathon
After sleeping in for the first time on this vacation, I indulged in the hotel's delectable continental breakfast before heading to Quincy Square to meet fellow hometown CVRA runners who had also raced the prior day. We enjoyed the odd meal of brunch together, while swapping marathon stories and our experiences. Everyone was now carefree with the big race behind us, and lounging around the horribly touristy area was a great time.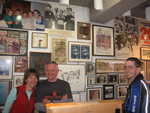 Inside Bill Rodgers Running Center
A visit to the iconic Bill Rodgers Running Center was also on the agenda. The unexpectedly small store contained a plethora of classic running memorabilia, but no exceptional running gear. Then again, quality shoes and clothes filled the space (with a very knowledgeable staff as guides), which is all the simplicity of running really requires. No fad-of-the-day gizmos necessary here, so the store would be very valuable to area runners. Bill Rogers and Bart Yasso were actually onsite signing autographs, but I skipped the wait for a signature. Instead, I quickly browsed the nearby historical sights before bidding Boston adieu for my aunt and uncle's house in Maine. I slept almost the entire way to their nice home in the woods outside Belfast.
April 23 — R&R
I once again enjoyed sleeping in late and took an aunt-guided tour around the quaint New England town of Belfast after finally crawling out of bed. Still recuperating from the marathon, my legs were not up to much hiking in the Maine wilderness yet. Thusly I limited myself to perusing the woods around my aunt and uncle's house and spending some quality time with the family. Overall it was a quite unadventurous, but still very enjoyable day.