Home » Adventures » Maine » Day 2
April 20 — Pre-Marathon Sunday
Olympic Trials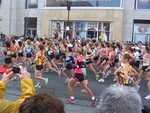 The start of the US Olympic Women's Marathon Trials
I awoke slightly later than the prior day, but still early for my last, very easy run before the Boston Marathon. On this morning before the famous race, elite US women were contending in the Marathon Trials for spots on the Olympic team. I would have watched such an awesome event regardless, but a member from my hometown running club who was competing provided extra impetus to find a good spot along the course. At this race's starting line in downtown Boston, I found my fellow Cedar Rapidians donning their green shirts in support of our local girl and marveled as the pack sped by us. Afterwards we hurried to the corner of Massachusetts and Commonwealth Avenue for the next two hours, admiring the impressive performances and cheering wildly for them. Watching these elite women push their limits was very fun and exciting, and the multi loop course proved very convenient for spectators. I eventually forfeited my prime spot to hurry to the finish line before Dana took the come from behind win. The hometown girl, Erin Moeler, ran awesome, taking tenth overall with a big drop in her PR— despite fitting her training around a full time job and being a mother, over one of Iowa's hardest winters.
Evening Activities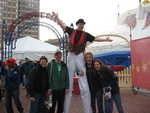 A clown on stilts welcoming us to the pasta dinner
With the US Olympic team selected, I retrieved my bib number and goodie bag from the expo. As expected, the vendors there lacked anything revolutionary, but the displays on the marathon's history was captivating. Even more amazing was meeting Dick Hoyt, of Team Hoyt fame. It was an honor to encounter this warmhearted, humble man, whose sole ambition to improve his son's life has touched so many others along the way.
That evening I met several runners from back home for the pre-race pasta dinner. For extra entertainment, organizers snaked the grub line through a circus's big top, which mostly consisted of some creepy clowns. For eating, the pasta was decent, as good as could be expected for a several thousand person buffet. Everyone had a great time though, visiting over bowls of carbohydrates. After the meal we took a quick stroll around Quincy Square, leaving us tired enough to retire early, maximizing our rest before marathon Monday.