Home » Adventures » Los Angeles
Los Angeles
On my way between visiting the Grand Canyon and starting my PCT thru hike I stopped in L.A. for a few days, mainly to attended a taping of The Price is Right, but I swung by a couple other sites while in town too.
Pictures
View the pictures from this trip instead of having to read.
The Price is Right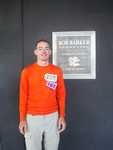 My main motivation for stopping in L.A. was to attend a taping of The Price is Right, my favorite childhood game show. I only had a standby ticket so I got in line very early in the morning to virtually guarantee entry. After they finally brought us off the street and into the CBS Studios complex, we stood or sat through several different long lines (while always staying in order) as we signed disclaimers, got our name tags (they have to be your legal name and are handwritten by pages), paraded in front of a green screen to sell you photos, and finally interviewed by the producers, who were picking contestants. Their chief selection criteria were who would act and look good on television. I knew I would not be chosen, with my introversion and lack of flare, but at least that alleviated me from making a total fool of myself on national TV.
After confiscating all cell phones and cameras, we waited even more before being finally ushered into the Bob Barker Studio where the magic happens. The studio was smaller than expected (it seats around 300), but was outlandishly decorated in the way only television fantasy can be. The stage was very crowded too, with the games, prizes, and many cameras. An intricate ballet constantly transpired during the taping to quickly move everything into its correct place so there was enough room to play the games.
I was seated way off in the corner next to the announcer, George Gray. I could not see very well from my spot with the sharp angle and all the production equipment. For some of the games the monitors around the studio provided a better prospective than looking at the stage itself. I could barely hear either, with the deafening audience noise and the microphones positioned for TV. Half the time I had no idea what Drew Carey or the contestant said and had to watch their reaction to know if they won.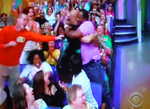 Me on TV
Attending a taping of The Price is Right was a bit surreal. Everyone is in a crazy mood with a ton of energy within the audience. It did not seem like these people were winning thousands of dollars worth of prizes, and I had the (almost nonexistent chance) of being next. During the first round of bidding I could barely think straight about prices, and I was still sitting in my seat, much less in contestant's row.
During the commercial breaks as the crew changed sets, Drew or the announcer would keep the audience entertained. Off camera he told a couple slightly off color jokes, which I was not expecting from a family friendly show, even if everyone in the audience had to be over 18. Many retakes had to be done for the show as well, which would be edited in later. Quite a few times Drew had to repeat his lines or the models redid a reveal for the prize. The audience behavior was very scripted too. We were told when to start cheering as they returned from commercial, and one person's sole job was to prod and encourage the audience in how to react. Being in the audience I felt like an extra in a movie being directed what to do, rather than having candid responses to the show. All this effort was to try and make good TV though and not necessarily document what transpired naturally.
I had fun though — cheering, laughing, and acting like a goofball. There is not anything else quite like seeing The Price is Right in person, and I am glad I waited through all the queues and spent most of a day to see it.
USS Iowa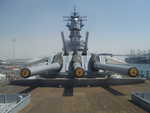 Being a former (and sort of current) Hawkeye, I went to see the USS Iowa, one of the largest battleships ever built. She served from WWII to the First Gulf War and is now spending her retirement as a museum. Walking around the old battle ship was very interesting as enthusiastic volunteers explained its operation. The 3x3 16″ guns were the most impressive, whose massive barrels could lunch shells at a target up to twenty-four miles away. How they aimed those weapons was just as remarkable, with an analog computer calculating an accurate firing solution based on ten unique variables. As a backup though, there was an eyepiece not much more complicated than the sight on a rifle. A lot of elbow grease was needed as well though, as nearly eighty people toiled to operate each turret.
The ship's armor was massive and measured up to its guns. Multiple steel hulls protected the ship. On the bridge the helmsman alone had 17″ of metal shielding the ship's driver seat. Various weapons played defense as well throughout its lifetime, from manually operated anti-aircraft guns when the Iowa was first commissioned to radar controlled gatling guns capable of firing thousands of rounds a minute at the end of her service.
The rest of the ship was intriguing to explore, with all the necessities of life stowed below deck somewhere and the cramped, harsh conditions of life at sea — even in peace time. Unfortunately the battleship was not very busy, which was a little disheartening seeing the genuine passion of the docents and all the work and dedication that went into restoring this ship. I visited on a weekday afternoon before school let out though, so hopefully it was just a slow time for this magnificent vessel.
L.A. Live Steamers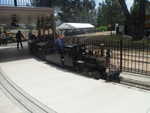 I took a stroll the length of Griffith Park over a couple big hills on my way to L.A. Live Steamers, a group which has created a 1⁄8 scale model railroad. These trains are big enough to sit upon and ride. While searching for their football field size layout, I happened upon Travel Town first. It contained full scale retired locomotives and cars, but the area was geared towards entertaining kids, with several birthday parties occurring. I followed my ears towards steam whistles though and found the steam up next door.
There I came upon their massive collection of trains. My personal favorite was a fully functional scale steam engine powered by vegetable oil. Several other locomotives were replicas of diesels, run by gas or electricity. They were powerful enough to haul half a dozen cars with people riding on top. I of course went for a ride and had a childish grin on my face the whole time. Their layout was enormous, and I had a great ride along the long length of track. They had done a marvelous job of decorating the layout too, with many scale buildings and displays along the route. A ton of work had been invested in their setup over many years and it showed. Only a fraction of the numerous rail cars were in operation and another entire section with maintenance facilities was not even open to the public.
Miscellaneous Spots Around L.A.
The La Brea Tar Pits are located in the middle of the city. The feature attraction, Pit Lake, resembled a stagnate pond with an oil sheen on top and black tar around the edges. The interesting stuff was inside it though, with fossils from animals trapped in the ancient tar pits. The nearby museum was captivating, mostly showcasing the skeletons that have been excavated in taxonomically interesting positions. I was awed mostly in an "ooh monster" sort of way, but I have never really been into biology. The museum was also a working lab, with excavations still ongoing and a cataloging of the massive collection of bones from the pits.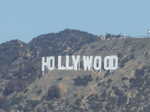 The Museum of the American West had many exhibits on its namesake geographic region, from Indian art, to cowboys, to western movies, to westward expansion. It displayed many artifacts from those eras, and the long history of the diverse people that have lived there. The lore of the West is still strong for me, even if it has no correlation to anywhere I have lived or what I have done. Still, the rugged, simple, tough, and independence which characterized these people has a draw, even when I know history has mostly idealized the era.
I spent a day at Six Flags Magic Mountain to ride the roller coasters. I was originally leery of going, since the park closed at six this time of year, but the park was nearly empty. By two in the afternoon I had been on every ride two or three times. Walking through the empty turnstiles would take longer than actually waiting in line. Several times I rode a coaster twice in a row, without having to get out. I guess a Monday when school is still in session is a great time to go. Although without all the waiting and rapid succession of trips, my body got quite shaken up. I felt my many trips on the aggressive rides at the end of the day. Or maybe I am just getting old.
I took the bus out to Venice Beach and enjoyed strolling along the sand on the edge of the ocean. I walked back up the boardwalk, which was loaded with idle hippies, hippies selling junk, and "doctors" offering prescriptions for "medical" marijuana. Some genuinely neat metal work was in a couple of the stores though. I could see Santa Monica Pier a few miles away, and I was half tempted to get my revenge on the Backbone Trail. I figured the Grand Canyon was enough of a warm-up for the PCT though, and I should actually start the trail sometime.