Home » Adventures
Crazy Adventures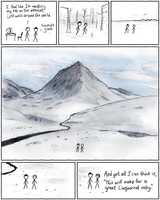 "Bored with the Internet"
Courtesy of xkcd
Although I majored in computer science and can admittedly be a geek, I still love playing in the outdoors. Everything from hiking, to kayaking, to camping, to most anything that involves nature and physical exertion. My extreme hobby is a little ironic too. Although my parents took me camping often as I child, it was always car camping and even then I complained that we were not in a big RV. At least they always banned bringing a television along. I never was a boy scout either. It was not until college, that I got my first real taste of the great outdoors, but I have not looked back since then.
Below is a semi organized collection of my most memorable adventures. As a disclaimer, I am not a trained author and mainly write these collections for my own edification. Too many sentences start with "I + verb," and I ramble on for pages. You have been warned.
Trip Reports
Date
Location
Activities
October 2017
Long Trail
September 2017
Isle Royale Kayak Circumnavigation
September 2017
Wind River High Route
July – August 2017
Great Divide Trail
April 2017
Grand Enchantment Trail
February 2017
Kayaking the Keys
January 2017
Costa Rica

Birding
Day Hiking
Sight Seeing
Snorkeling

October 2016
Pictured Rocks
October 2016
Porcupine Mountains
October 2016
Apostle Islands
September – October 2016
Superior Hiking Trail
September 2016
BWCAW
September 2016
Isle Royale
June – August 2016
Alaska

Backpacking
Sea Kayaking
Sightseeing
Whitewater Rafting

March – May 2016
Hayduke
January – February 2016
Florida Trail
November 2015
New York City
November 2015
Egypt

Hot Air Balloon Ride
Scuba Diving
Sightseeing
Snorkeling

October 2015
Israel National Trail
September 2015
Southern Africa Safari

Game Driving
Overland Tour
Sightseeing
Whitewater Rafting

September 2015
Alta Via 2
August 2015
GR20
July – August 2015
Pyrenees High Route
June – July 2015
Iceland

Backpacking
Day Hiking
Sea Kayaking
Sightseeing
Snorkeling

June 2015
Russia
May 2015
Japan

Backpacking
Day Hiking
Sightseeing

March – April 2015
Nepal

Canyoning
Game Driving
Sightseeing
Teahouse Trekking
Whitewater Rafting

December 2014 – February 2015
Australia

Bush Walking
Canyoning
Day Hiking
Scuba Diving
Sightseeing
Snorkeling

November 2014
Hawaii

Backpacking
Day Hiking
Sightseeing
Snorkeling

September 2014
Glacier Highline Trail
May – September 2014
Pacific Crest Trail
April 2014
Los Angeles

Amusement Park
Sightseeing

April 2014
Grand Canyon
January – April 2014
Patagonia

Backpacking
Canyoning
Sightseeing
Whitewater Rafting

December 2013
Washington D.C.
October 2013
New York City
October 2013
Holy Land
October 2013
Kenyan Safari

Game Driving
Overland Tour
Sightseeing

July – September 2013
Backpacking Europe
June 2013
Mongolia
June 2013
China
Dec. 2012 – May 2013
New Zealand Extended Holiday
June – November 2012
Continental Divide Trail
December 2011
Ten Thousand Islands
July 2011
Adirondacks
October 2010
Apostle Islands Try Two
December 2009
New Zealand
August 2009
Southern British Columbia
August 2008
Black Hills

Mountain Biking
Sightseeing
Trail Running

April 2008
Maine & the Boston Marathon
April 2007
Moab

Backpacking
Mountain Biking

June 2006
BWCAW
August 2005
Glacier National Park
December 2004
Santa Monica Mountains
April 2004
Great Smoky Mountains
August 2003
Apostle Islands
August 2003
Beartooth Wilderness
April 2003
North Shore Trail
October 2002
New River Gorge
Andorra
Argentina
Australia
Austria
Botswana
Canada
Chile
China
Costa Rica
Czech Republic
Denmark
Egypt
Finland
France
Germany
Greece
Hungary
Iceland
Ireland
Israel
Italy
Japan
Kenya
Mongolia
Namibia
Nepal
New Zealand
Norway
Poland
Russia
South Africa
Spain
Sweden
Switzerland
Tanzania
Turkey
U.S.A.
United Kingdom
Zimbabwe
Amusement Park
Backpacking
Birding
Canoeing
Canyoning
Caving
Day Hiking
Game Driving
Ironman Triathlon
Marathon
Mountain Biking
Ocean Swim Race
Overland Tour
Pilgrimage
Scuba Diving
Sea Kayaking
Sightseeing
Sight Seeing
Skydiving
Snorkeling
Thru Hiking
Trail Running
Via Ferrata
Whitewater Rafting
NPS Passport Stamps
My collection of the National Park Service's passport stamps
Olympic Cities
Cities that have hosted the Olympics which I have visited